Beginning during the spring 2019 semester, Eckerd Athletics, Tandem Construction, Sweet Sparkman Architects and a variety of Eckerd's donors set out to renovate Eckerd's oldest building, the McArthur Gymnasium. 
The renovations include the varsity locker rooms for men's and women's basketball and women's volleyball, as well as the visitors' locker rooms and the training room, according to Assistant Athletic Director Billy Evers. There will also be a new Tritons Lounge replacing the old offices that were moved into Cobb. 
The new Tritons Lounge will be a multipurpose room where the athletics department can showcase student athletes and the college's facilities to donors, families or prospective student athletes during recruiting trips. It will also serve as a place for teams to gather prior to practice, or even as a study room for athletes. 
Athletes are happy to see the new renovations. 
"We finally have our own bathrooms and showers. We don't have to share a bathroom with parents or the opposing team which is pretty satisfying. I'm truly grateful for the renovations with little to no complaints," sophomore basketball player Doug Williams said.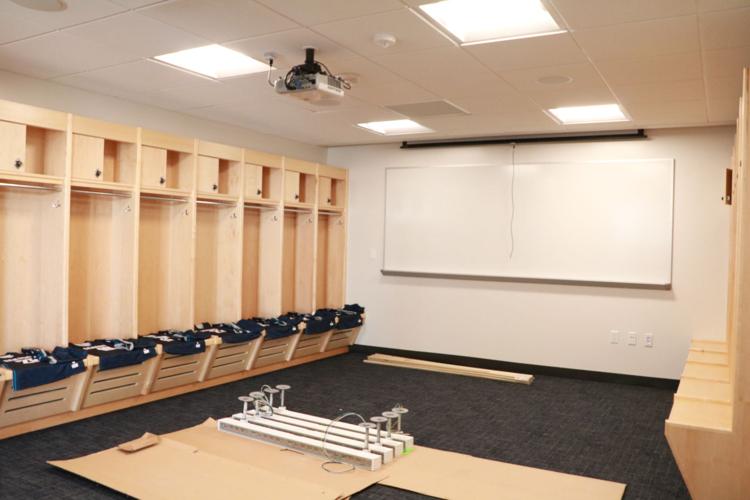 The athletic training room, which was temporarily relocated to the Makerspace and pool area while renovations took place, was also expanded. The new training room offers new rehabilitation equipment for Sports Medicine to care for student-athlete injuries and provide proper treatment. 
Evers noted that the renovations include new furniture and a new treatment hot tub, separate offices for trainers and connected bathrooms for NCAA drug testing. 
"It's a really exciting addition to what we had previously," Evers said. "It's really going to be a good thing for our student athletes." 
According to Evers, all the renovations went smoothly. The basketball and volleyball teams have already begun putting the new locker rooms to use. However, the projected completion date for all the current renovations are expected to be within the next month due to some of the furniture being behind schedule. 
"We had a great contractor with Tandem Construction. And also Sweet Sparkman who's our campus architect. They're fantastic to work with. So it was really a great collaboration," Evers said. 
All these renovations were made possible by sponsors, alumni and staff members. Evers said there is an exciting future as far as renovations within the athletics program. 
Following McArthur's completed renovations, there are plans to move on to renovate the facilities at Turley Athletic Complex. Turley is currently home to soccer, baseball, softball and tennis teams. 
The inside of the gym is the next phase of McArthur's renovations. The current red bleachers will be replaced with Navy to match Eckerd's school colors. 
"I'm expecting lots of Eckerd College colors to make it feel more at home," Willliams said. 
They will also be adding a new seat back side when you walk in on the left side of the gym. The next phase of this project is projected to begin next summer in 2020.