After an abrupt end to their spring 2020 season, the women's and men's tennis teams were two of five sports teams allowed to practice and compete at Eckerd this year. The men's tennis team began competing on March 5 and the women's team on March 9. The men finished the season with an overall record of 0-6 with one postponed match against Rollins College and one cancelled against Barry University. The women ended with a 0-8 record with one cancellation against Barry University. 
Women's tennis team captain, senior Cassidy Lear expressed that COVID-19 greatly impacted the team's preparation for the season. The team started the season with five women rather than the eight they had originally expected because of the pandemic. They could only practice with two people on a court in order to maintain social distancing policies. 
"In years past, I recall doing a lot of drills where there would be three or more people rotating around on the same court and we never thought twice about it. Due to COVID-19 restrictions, we have to wear a mask with more than two people on a court, so that has caused us to alter some of the drills we do to ensure everyone's safety," Lear said. "Overall, we were still able to get in good practices, we just had to be flexible and adapt some of our drills to keep everyone safe". 
But after the completion of the season, despite slight changes to the dynamic of practices, Lear experienced a change of heart. "It was honestly a really weird experience because of how normal it felt. Tennis was one of the few places where I could just play and forget about everything else," Lear said.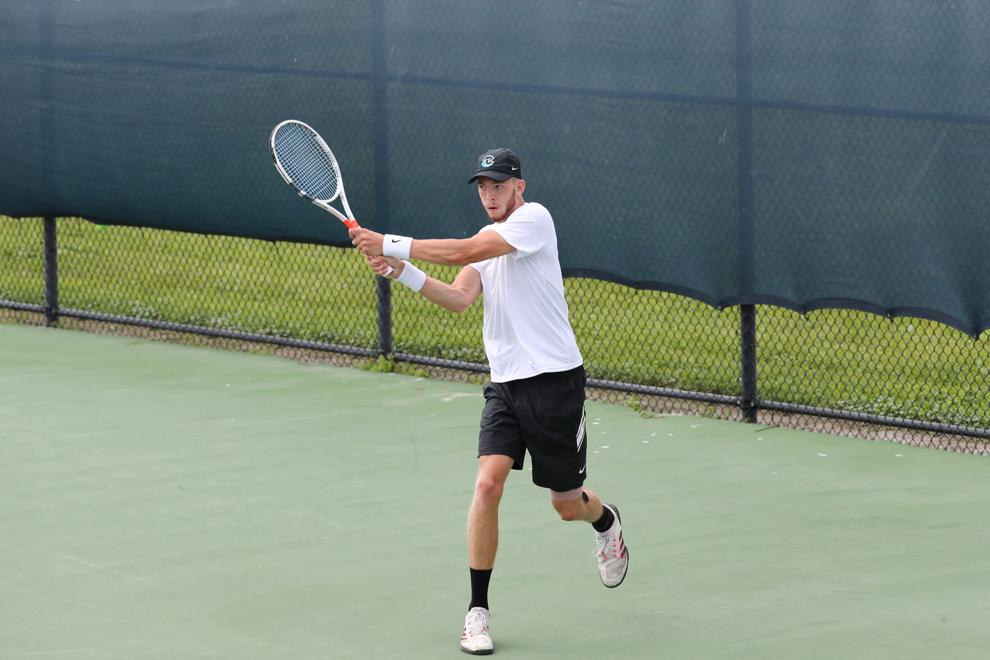 At the beginning of the season, some athletes, like the men's captain junior Sam Walker and senior Taylor Selby, expressed concern about the COVID-19 guidelines that athletes were to follow. 
"I think the COVID guidelines for athletes are more strict than regular students which I find to be annoying but if it means we can train and compete, it's worth it," Walker said. 
Selby also discussed how she thinks these guidelines could negatively affect the mental health of the students. 
"I have different opinions on prioritizing mental health and social interactions over extreme safety precautions, but I do respect and understand the school's stances and opinions on how to handle the pandemic," Selby said. 
Most of the athletes agree that although some guidelines caused obstacles and abnormalities, and at times seemed excessive, they were just happy to play. 
"I think they did the best they could given the circumstances. No decision is going to make everyone happy. I'm just lucky enough to have played a sport that allows for social distancing," Lear said. 
Walker said the team's main focus was to do the best they could with the circumstances they were dealt. 
"Playing in a pandemic is different, but still being able to play makes it enjoyable and we are appreciative of the opportunity to play," Walker said. 
COVID-19 wasn't the only challenge the teams faced this year. Women's tennis team captain senior Cassidy Lear said that they were in a very tough conference this season. 
According to Lear, the conference that Eckerd participates in is one of the best, including teams ranked top 10 in the nation. Usually, during a normal season the teams would have matches out of conference and at times those matches are not as intense, but due to COVID-19 they were only allowed to play against their conference. 
Selby said the intensity of the conference was nothing new. "Our conference is always very tough. It's challenging playing only conference matches, but I think we fought hard and did our best, which is all you can really ask for in teammates." 
Although members of the team agreed that losing was difficult, they were proud of how the team gave it their all and had fun while doing so. 
This season was Lear's last. She shared that she fell in love with the sport years ago so she looked forward to making the most of this season. "This wasn't how anybody pictured their senior season to go, but I was just very grateful to get out there and play. I went out there and made memories with my teammates and am proud of the way we played," Lear said. 
Selby said, "I am very happy looking back on this season. Of course there were plenty of ups and downs, just as with anything, but I had a bunch of fun and grew a lot as a person." Selby said.