Senior Katherine Porter spent around two years preparing to stand amongst 504 world champion level sailors, from 25 different countries and six different continents in the Hobie 16 World Championships. 
On Nov. 8, Porter and her crew went on to finish fifth overall in the women's competition representing North America at the event.
South Seas Island Resort in Captiva Island, Florida, the competition lasted from Nov. 1-17, Porter participated in the women's division which took place Nov. 6-8. 
This was her third time competing in a World's competition. The first world championships she competed in took place in Sydney, Australia in 2014. She was 15 years old and finished in 17th place. 
She continued to train in hundreds of smaller local regattas to prepare to compete in her second World Championships in Dapeng, China in 2016 right after her high school graduation.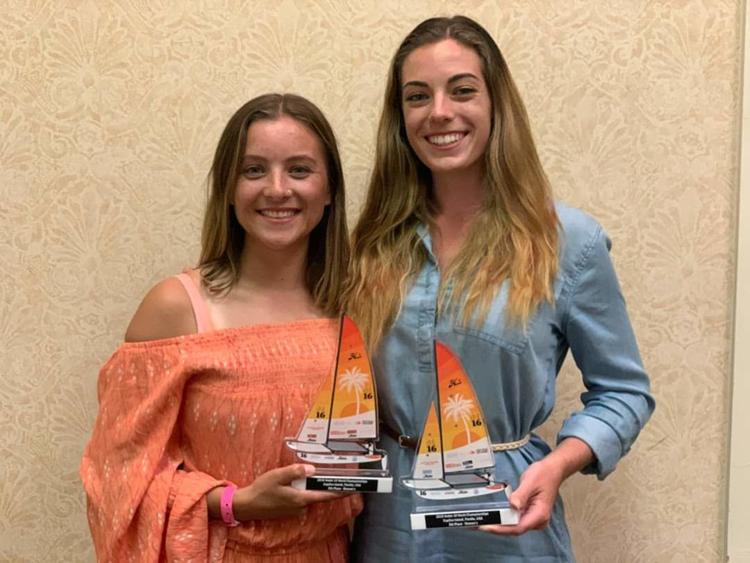 "The World's are usually every two to three years, so the training between each event is more of a marathon instead of a sprint," Porter said. "As the event grows closer, about six months ahead of time, I begin more intense workouts, diet plans, and weight management, because weight is a crucial part of racing."
The two crew members on the sailboat must have a combined weight of 285 pounds for this competition, so members must coordinate how much weight each will have to gain or lose to be as close to that weight as possible.
"Physical preparation was arguably the most noticeable preparation, but my mental preparation took a long time. Facing off with the top dogs from each country was super scary because I was the youngest skipper in the series," Porter said. 
Before the event, Porter practiced breathing methods, like the Wim Hof breathing method, to train herself to keep calm and collected during stressful times at events. She also practiced visualization and positive self-talk and spent a lot of time at the gym to make up for lost time on the water.
"All the mental preparation felt really silly at first, but I think it paid off in the end," Porter said.
While this was the third World Championship she has competed in, Porter was originally just hoping to have fun. She had not had as much time on the water to prepare as a full-time college student. But after her first day on the water with her crew, they were in second place and her mindset switched very quickly.
"All the nerves faded away. We were confident that our years of training would have to be enough, and all we could do at the moment was have fun, and sail as smart and fast as possible," Porter said.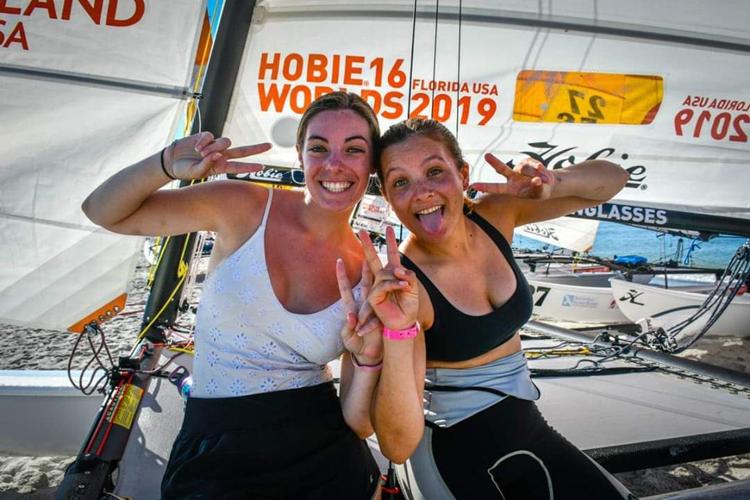 Porter's crew included 22-year-old Canadian Sarah Isaak. She flew in from Canada just to compete in World's with Porter.
"[She] had tons of spunk and energy that kept our morale up on the long days of racing," Porter said.
The duo met about five years ago at a North American continental championship, where they competed against each other. When the World's grew closer, a mutual friend suggested they sail together. Porter said they both loved the idea and despite never training together before the first day of racing, they still placed second in their first race.
"It was a bit scary, but after the first race it was obvious that we had great cohesion and teamwork, and now that the event is over, we are already planning on training for and sailing together in the next World's," Porter said.
Winning fifth overall gave Porter newfound confidence and inspired her to set new goals of becoming the next world champion.
"Sitting on the podium was the first time I stood amongst so many world champions, and I felt like this was the first step in becoming like them," Porter said. "It's really easy to lose sight of my sailing goals or to feel like I'm not good enough, but our fifth place finish has given me a ton of confidence and encouragement to keep going."
The World Championships last two to three days and can be physically taxing on sailors. But for Porter, these exhausting events are worth it.
"The really cool thing about this group of sailors is that most people don't mind sharing knowledge. I can spend time with the national champion of South Africa and leave with lots of new secrets up my sleeve. My training after a World's is always more aggressive and passionate because I get inspired by the bada** athletes around me," Porter said. 
Porter said she leaves this competition promising to continue competing in the World's, to learn and share the fun and love of the sport with fellow sailors. 
During her first year at Eckerd, Porter tried out for the sailing team but made the decision to step away from it due to the time commitment of participating in a collegiate sport. 
Although Porter said she sometimes feels sad about the decision, she said she was able to join a variety of clubs and participate in activities she otherwise would not have. 
"My whole life leading up to college, it seemed as if my identity was made up entirely of sailing, but when I got to college, I was able to expand that identity and for that, I'm really thankful," Porter said.