Behind each great modern athlete is a team of professionals helping with injuries and caring for their wellbeing. 
March is National Athletic Training Month (NATM), and colleges around the country are spreading awareness of the important role athletic trainers play in the world of sports, and their important jobs in taking care of patients, soldiers, workers and performers. 
Athletic trainers (ATs) are multi-skilled healthcare professionals who help prevent, treat and rehabilitate injuries, sports or work-related illnesses and medical conditions. 
At Eckerd, the athletic department has three athletic trainers. Lindsey Davis, Chad Parker and Nicole Shulz help take care of athletes whether they're on or off the court, field, course or water.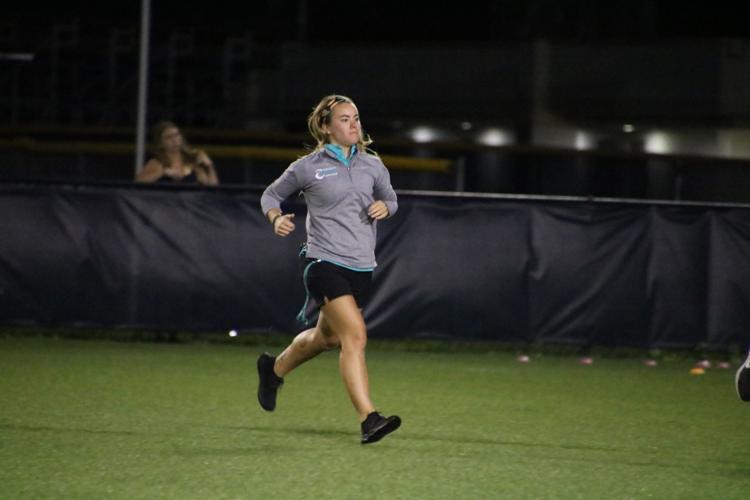 Countless people in various fields rely on ATs for medical assistance, and it is on track to become one of the fastest-growing medical fields, according to the U.S. Bureau of Labor Statistics.
At Eckerd, ATs are respected members of the community, and athletes are also grateful for their continued help and support. 
"They're good at what they do, and they've been really helpful, supportive and really understanding of our schedules," sophomore golfer Ali DiZinno said.
After an athlete gets injured, they sign up for an appointment to be treated. From there, ATs determine when athletes can return to play and are first responders on the scene when something goes wrong. 
While athletic trainers help care for injuries, they also help keep athlete's health in check with injury prevention programs. 
Junior and women's soccer center-back, Sophia Kopko, worked with Parker after she sprained her lateral collateral ligament (LCL) during fall 2019.
"They're there for you not just for your injuries, but also for a lot of other things. Chad is literally like a father figure for me on campus," Kopko said. 
The Eckerd Athletics Instagram account published a post on March 3, thanking the school's athletic trainers (@eckerdsportsmed) for their hard work.
"Thank you to our amazing @eckerdsportsmed staff of Chad Parker, Nicole Schulz, and Lindsey Davis for keeping us healthy all year!" the Eckerd Athletics Instagram account says.
Eckerd students, whether athletes or not, can show support by posting on social media with the hashtags "#NATM2020" and "#HealthCareThroughAction," using profile picture frames for Facebook and Twitter, or by thanking the athletic trainers for the work they do with Eckerd's student athletes. 
"What makes them so great is that they're accessible all the time and they're friendly. I love them," Kopko said.
Athletic trainers are recognized as "allied healthcare professionals" by the American Medical Association, Health Resources Services Administration and the Department of Health and Human Services.