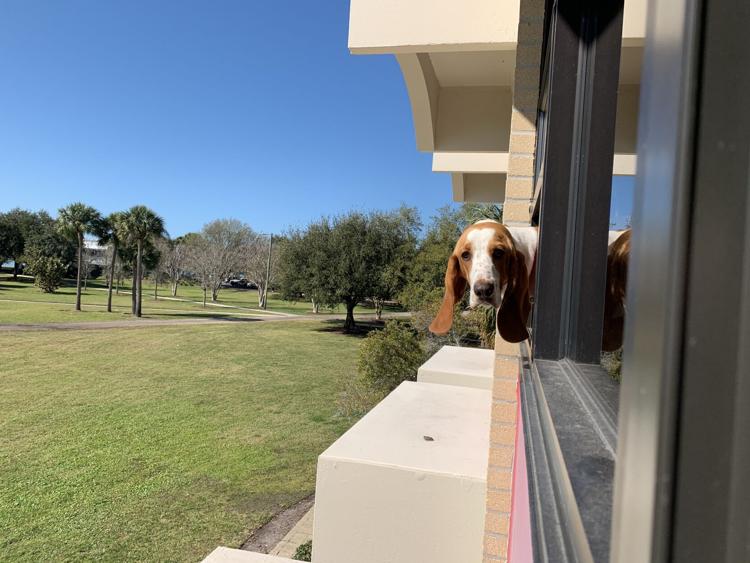 As students walked by Epsilon last year, they were occasionally greeted by a brown and white critter perched on the window sill on the second floor. Louise, a 2 year old basset hound, is junior creative writing major Boogie Phillips' beloved pooch, and has been watching over us from window sills ever since she settled into college life.
"I like to think of her as the overseer of Eckerd," Phillips said.
With 123 votes on The Current's Instagram page's Pet of the Issue contest, Louise is definitely a popular figure around campus.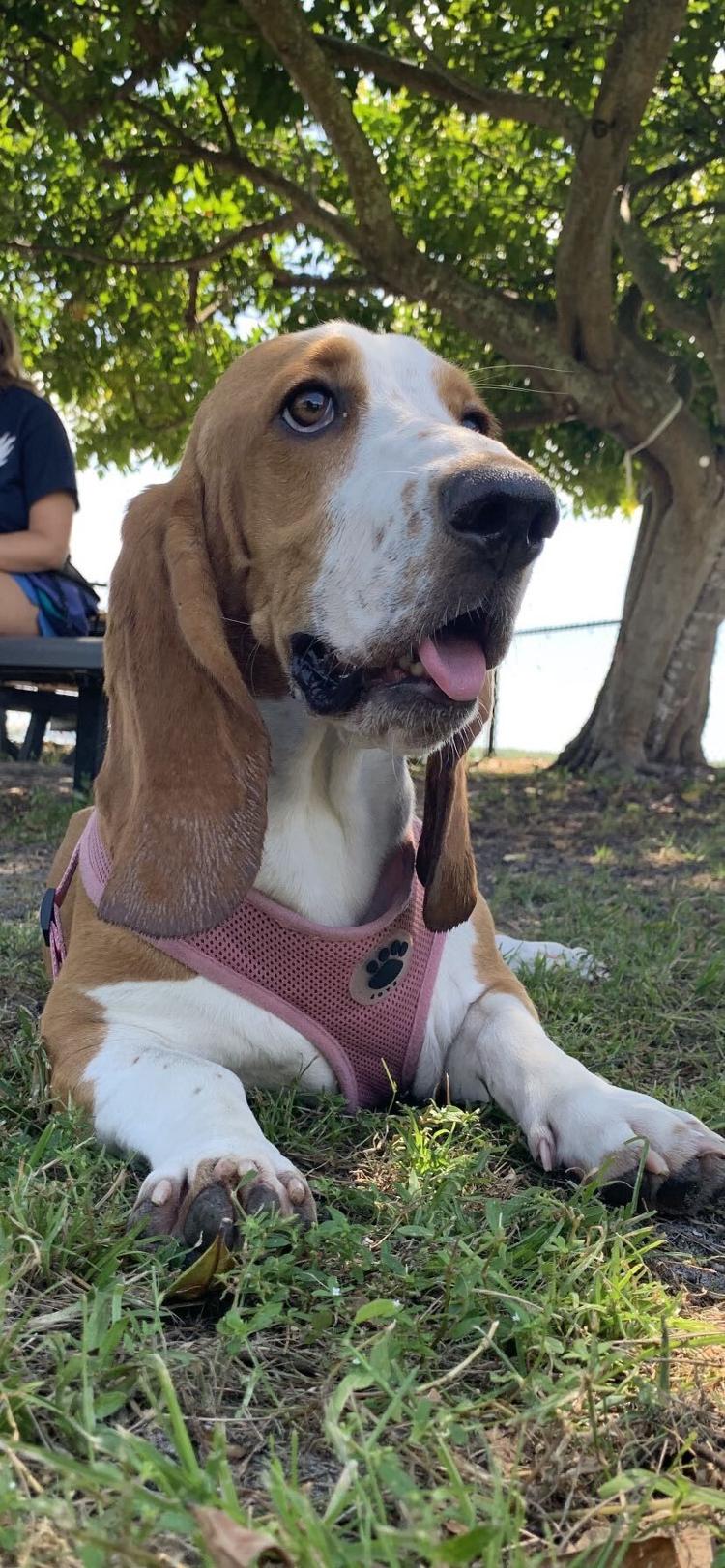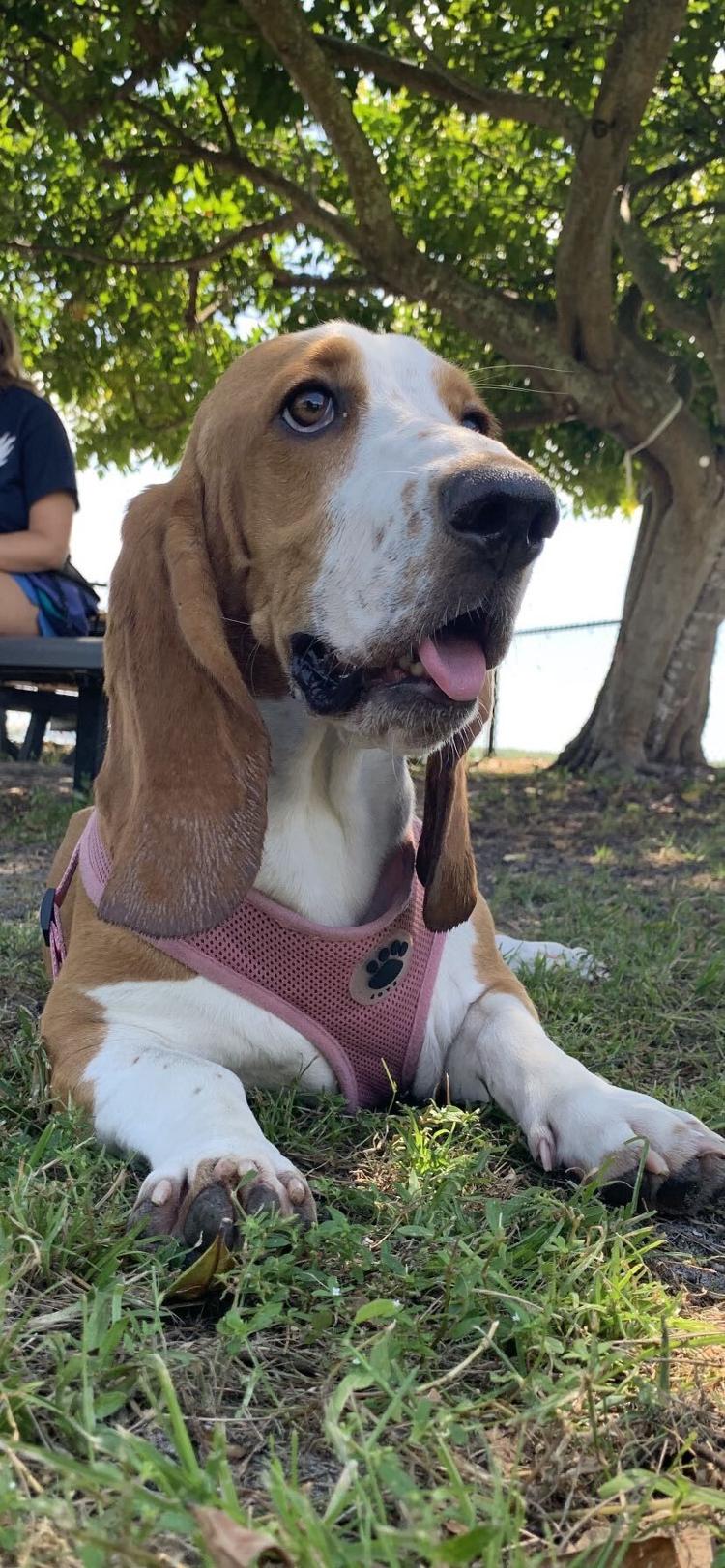 Though his family had traditionally owned mastiffs, when Phillips' neighbor's dog had puppies, he wanted to switch it up a little bit. He got Louise when she was eight weeks old. 
"If there were a million dogs that look like her, I'd still be able to know which one was Louise just because of how she acts," Phillips said. "The reason I picked her out of the two options of puppies is, I don't know if you can tell, but the top of her head makes a perfect heart."
Phillips named her Gypsy Rose Louise after a character in "Gypsy," one of his family's favorite musicals. He also calls her "Big L" or "Lou," and his mom calls her "Mittie" or "Mitters." But most people know the floppy-haired pup as Louise. 
"When she's sprinting full speed, it's just all wrinkles and ears dragging the floor and jumping up and down and stuff. Anything to watch her sprint towards me, I'm down to do it," Phillips said. 
For her second birthday on Sept. 23, Phillips brought her to a special place for a celebratory tradition: the McDonald's drive-thru. Louise seems to love chicken nuggets, but is only allowed to eat them on special occasions.
"She won't eat it unless she sees me take a bite, though," Phillips said.
Louise does know how to eat her vegetables, although she will only eat them with sauce if she sees that sauce is available. Phillips hides her other treats in the kitchen cabinets, but that has become somewhat problematic.
"Anytime she sees a cabinet and if it's a different house or something else, she'll just stuff her nose into the cabinet, trying to demand for her treats," Phillips says. 
Louise wags her tail the most when she is outside with her friends at Eckerd, whether it is a Saturday on Kappa Field or just walking around daily. 
"She's filled in because she's here [at my parents' house], and she doesn't have friends here so she can't be outside playing all the time," Phillips said. "Back at Eckerd, I had her in shape, she was like a running back."
A professional at "sit" and "stay," Louise also knows how to use her sniffer. Since she is a hound, Phillips likes to test her smelling skills with a fun game. He will make trails for her around the house by rubbing treats on the ground to spread their smell. Then Lousie will trot around on the trail, nose to the ground, until she finds the treats.
She also has the signature basset hound "duck feet" look when she sits down, her feet spread wide apart. Phillips describes her as one of a kind, and since this is the first dog that has really been his, she is his "child."
"[She's] spoiled, narcissistic, but loving," Phillips said.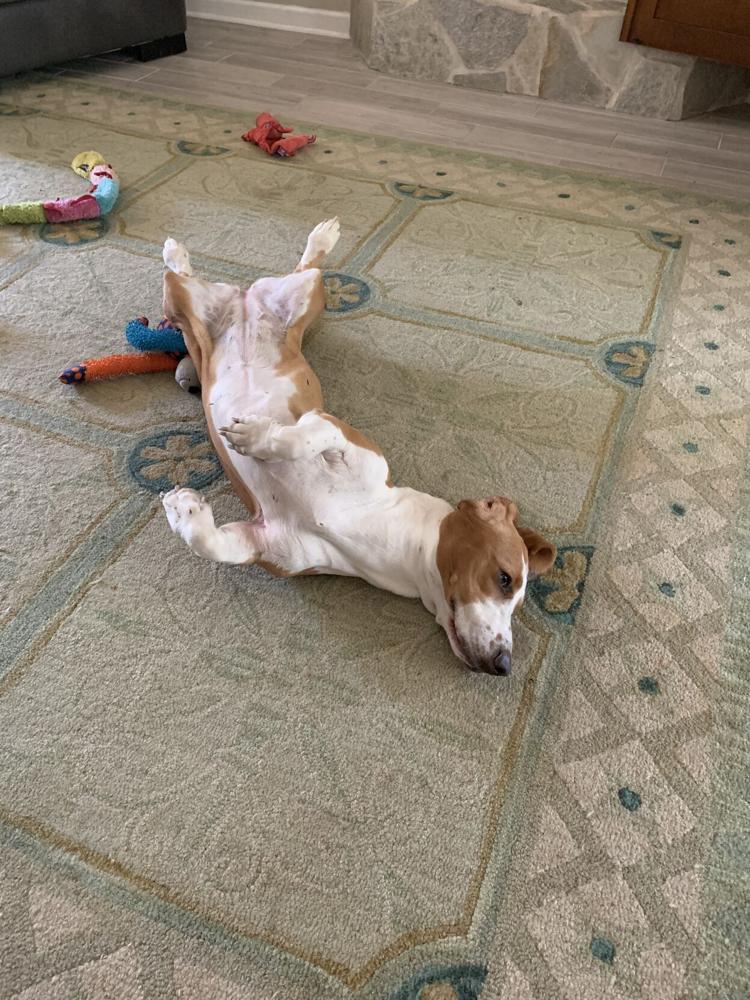 When students see Louise around campus, they usually come running to pet her. But she has her own attitude and sometimes ignores people since she is in her own little groove.
"She's her own world and she just walks right by them," Phillips said. "They just look at me so sad and I'm like 'That's just her, she's not into it'." 
It's almost like she seems to save all of her affection for Phillips. She is like his shadow.
"If I'm ever gone for a long time and I come home it's like she's whimpering from excitement," Phillips said. "Anytime she's run away, I don't even chase after her. I just yell her name once so she looks back and I just go inside, and when she sees that I'm not going after her she just sprints back inside."
Louise is 2 years old, but she probably will not get much taller. Phillips is excited for her to get bigger though, horizontally.
"It's funny, I feel like everyone wants a puppy. But I'm like, 'I don't want the puppy, I want the thick final product'," Phillips said. 
Louise and her dad will be back on campus soon, and she will resume her place in the window sill watching over everyone. Although it may look like she has a long face, she is still wagging her tail as students pass her by.