Eckerd students are surveying and tagging the North American horseshoe crab (Limulus polyphemus) with Visiting Professor of Marine Science Eron Higgins to learn more about the distribution and population sizes of these ancient arthropods.
Research students and student volunteers are studying the population dynamics of horseshoe crabs at Fort De Soto's East Beach. This species is one of four species of horseshoe crabs in the world. The other three species are located in Japan and Southeast Asia, while this species can found from Maine to the panhandle of Florida. 
Several of the research students are working on their own side projects with the crabs. Junior Ben Shirey, alongside Higgins, is putting together a project to compare distinct genetics in the different populations of horseshoe crabs from the Florida Keys and up the coast of Florida.
"They are very old creatures with interesting and fascinating capabilities in the modern and medical world. I consider them ancient relics," Shirey said. 
Shirey has been part of Higgins's research team since his first year at Eckerd.
Horseshoe crabs only come ashore during certain times of the year for spawning, prompting the team to work during the high tides of the full moon and new moon to tag the crabs and survey the beaches. 
The researchers collect data including the number of crabs tagged, the size and the sex of the crabs. With this information, they can estimate the male to female ratios and their geographical distribution.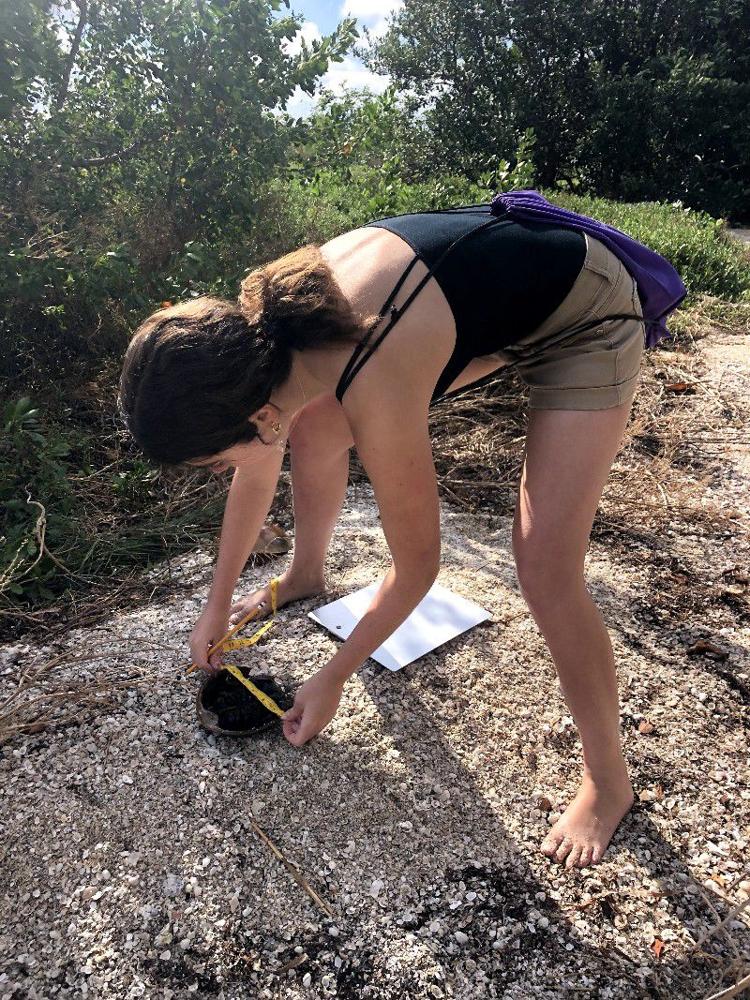 Horseshoe crabs are over 450 million years old, but the data is lacking for their life stages in the open sea. Their blue blood contains amoebocytes which are valuable for medical research. 
But, this popular demand has caused a decline in the population due to overharvesting which has led to the horseshoe crabs being labeled as nearly endangered. 
"The shoreline is the best place to discover anything about these crabs. Offshore, their life is mostly unknown," Higgins said.
This research project has been going on since 2014, starting at St. Petersburg College with a student interested in creating an ecology project on the populations local to St. Petersburg. 
The project began at Eckerd in 2016. Higgins created a team of eager students, mentees and volunteers who were interested in the project. Higgins works alongside Jane Brockmann of the University of Florida and the Florida Fish and Wildlife Commission (FWC).
FWC provides the materials needed for the surveys as well as the tags for the horseshoe crabs. The report and release tags contain a tagging number to input into the FWC website if recaught. 
"We are always accepting interested students and volunteers," Higgins said.
The goal is for research on the animals to expand to other locations. Higgins has tagged a couple of horseshoe crabs at Picnic Island Park in Tampa and hopes to expand the project to more locations on the west coast of Florida. 
Interested students can email Higgins to get involved in the project.