The Science Outreach Club hosted a tabled event in Hough Quad on Thursday Nov. 19, to allow Eckerd students and staff to make their own hand sanitizer using 99.9% isopropyl alcohol, vegetable glycerin, water and essential oils. 
The event allowed students to learn about science while creating a sanitizer to help reduce the spreading of germs on campus during a pandemic.
"You get to learn something while also creating something, so it gives students an interactive component," senior Bostony Braoudakis said.
The Process:
Step 1: Add 36mL of the 99.9% isopropyl alcohol to the spray bottle.
Step 2: Add a small amount (4-5 drops) of vegetable glycerin to the spray bottle.
Step 3: Fill the remainder of the bottle with water.
Step 4 (optional): Add 1-2 drops of essential oils to the bottle.
Step 5: Shake the bottle and test it out.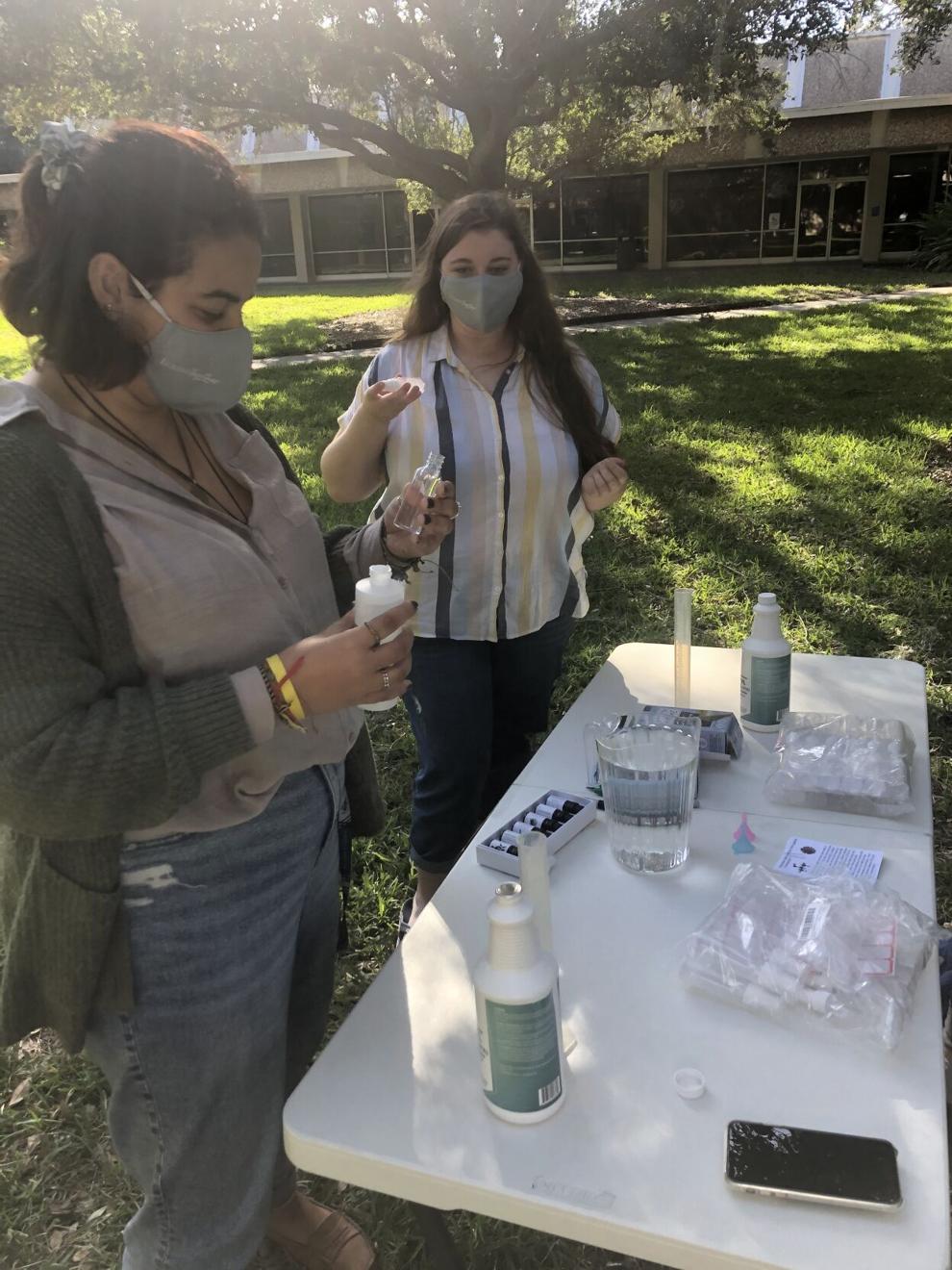 The isopropyl alcohol works to kill the viruses and bacteria while the glycerin aids in the drying characteristic of the alcohol. The water is used to dilute the solution and the essential oils are for people who prefer a fragrant sanitizer.  
"Since the sanitizer we made is the same percentage of alcohol as found in store-bought sanitizers, it is equally as effective," senior and club head Katie Sklaver said. "The sanitizer made is liquid based, rather than gel, so it is less sticky."
The Science Outreach Club has several other upcoming events planned for both this semester and spring semester. These events include decorating your own mask, COVID-19 trivia with prizes and a College Program Series lecture series about medical racism. 
"Our purpose of our outreach club is to make science more accessible to science students and students who aren't in the sciences, to try and make it more relatable for the entire Eckerd community," senior and board member Kristi Stari said.