Every Saturday, Associate Professor of Marine Science and Biology William Szelistowski's Biology of Fishes class went on a fishing trip for their labs. These trips took place in many different locations, allowing students to catch and identify multiple species of fish. 
The Biology of Fishes class is a hands-on experience. It allows students to catch fish using many different techniques seen around the world today. The lecture portion of the course was taught during Block 1, but the students are taking the lab portion of the course in-person during the module. 
In this class, students use a handful of different fishing gear and techniques while learning about the fish themselves. For example, on Nov. 14 the class went trawling with an otter trawl, which is a large net that gets dragged behind a boat to scoop up the fish.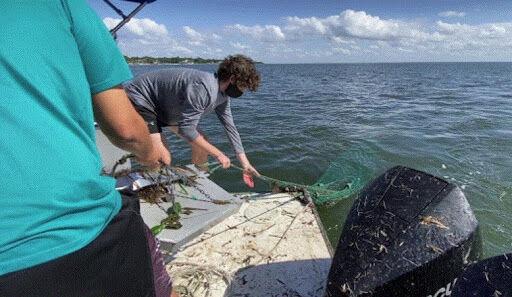 The next Saturday, Nov 21, students caught a 3-4 feet tarpon in the pond on campus. The class never knows exactly what they'll find during each lab day.
"Being able to see the fish, actually look at them, hold them, learn ways to catch them, all of that stuff I think is really important," Zachary Capilitan, a senior marine science major in the course, said "It's one of the reasons I came to Eckerd to begin with."
The students have been able to catch fish like pufferfish, hammerheads sharks, tarpons and stingrays. After catching the fish, the class puts them into kiddie pools in order to identify and examine them. Once identified, Szelistowski will go over the natural history of the fish that were caught.
"The purpose of the Saturday portion of the labs is for students to get the chance to see and use different collecting techniques and technologies used to collect fish," Szelistowski said. 
This class prepares students to go into marine biology professions like fisheries.  Alongside the fieldwork, students normally get to go on field trips to aquariums, fish stores and fishing and wildlife centers. But due to COVID-19, the class will not be able to go to any institutions this year as of right now.