Toward the end of April 2019, Erin Clack, a sophomore at the time, woke up from a nap on a sunny afternoon to her phone ringing. Her boss, Eckerd College Search and Rescue (EC-SAR) Assistant for Training and Operations Jordan Kuperberg, asked if she was available for an alpha case, which is a very intense emergency case. Clack gave a quick yes and got ready.
"Oh, are you allergic to cats?" Kuperberg said over the phone to Clack. 
According to Clack, she responded in the heat of the moment with a no, even though she is. She sprinted to the Waterfront and was given a plastic bin, towels and gloves. Kuperberg explained that they had to go rescue a cat on the fenders of the Skyway Bridge. 
"There's this cat. It's in trouble. You have to go fast and go get this cat," Kuperberg said. "This is the most important case you will ever go on."
This is the story of Skyway, the Waterfront cat.
Clack and the team raced to the fenders of the second small bridge of the Skyway to find an orange and white, battered, malnourished cat tucked between the horizontal beams of the fender. 
"He was not having it," Clack said. "He was wet, and very sad. Just super sad-looking."
He was meowing frantically, wide-eyed and scared. Two of the EC-SAR members grabbed him, wrapped him in a towel and drove quickly back to the Waterfront.
"He's in this box trying to escape, meowing louder than the engine," Clack said. 
After no one claimed him, the Waterfront staff became very attached to him, and Eckerd's Office of Pet Life agreed to let him stay inside the Waterfront building. 
"He became our unofficial mascot," Kuperberg said. "He's been a really good addition to our waterfront family."
Director of the Waterfront Renee Register claims that Skyway came at the perfect time. Only a couple of days before, a team of EC-SAR students had a difficult case involving a child that had drowned, so Skyway helped boost moral.
"It seemed like it was meant to be," Register said. "It was a really sad time but he brightened up everyone."
Skyway has quite the personality. He jumps on tables disturbing people's work, walks in between legs during EC-SAR's team meetings for attention, sneaks into the women's bathroom and loves interacting with people in the Waterfront classroom.
"As he's getting fatter, he's getting more confident," Clack said. "He's pretty cute, and pretty smart. He's kind of sassy."
Skyway can be a troublemaker. Once he called someone using EC-SAR's phone. 
"He has no boundaries," Clack said. "You'll be in OPCOM, [the Operator Communication Manager room], and he'll grab your hair if you're sitting in a chair. Or he'll find himself in the radios, on top of them like 'Hey, what's up?'"
The staff installed a cat door in one part of the Waterfront. This way he can move around more at night since he would cry so loud when EC-SAR students were on the other side of the building for night cases, according to Kuperberg.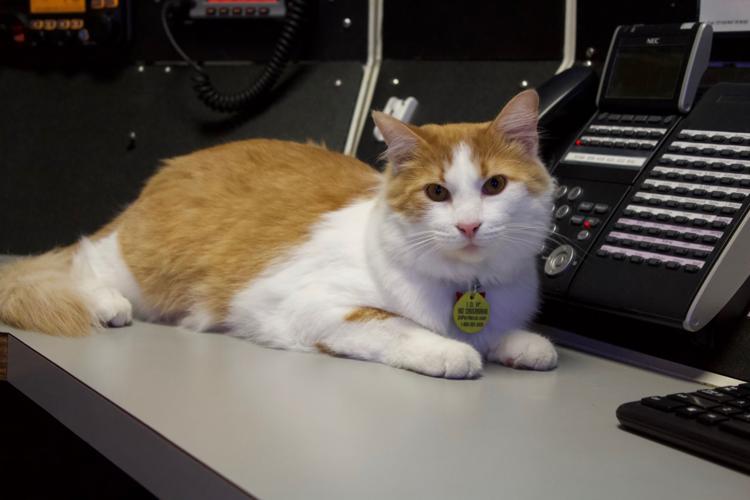 Skyway will eat almost any type of food, especially meat. But he loves treats in particular.
"Register has a ritual where she gives him treats every day before she leaves," Kuperberg said. "So he goes and sits in her office towards the end of the day waiting for his treats."
Even though he sleeps a lot, Skyway can also be very feisty and playful. He will play with the training ropes or one of his toys.
"We have this one [toy] that is just a square of catnip, and he goes crazy for it," Kuperberg said. "He enjoys if you just run up and down the hallway with a ball of yarn."
Skyway reminds EC-SAR students and the Waterfront staff about the little joys in life.
"I'm really glad I got to go on that case," Clack said. "It was really cool to see how we can actually affect something that's not a person."
Kuperberg and other Waterfront staff encourage everyone to come by and visit Skyway while they use the Waterfront. Students can follow all of his adventures on his Instagram (@skywaykitty).