Our next Pet of the Issue is one of your favorite TV stars that brings a special something to a fabulous team. Raphael is the real teenage mutant ninja turtle in the flesh, owned by sophomore Olivia Page. 
"I was watching the Michael Bay 'Teenage Mutant Ninja Turtle' movie, and there's just this one scene where one of the other turtles like Leonardo just yells at Raphael. I was like, 'Wow, that's the perfect name,'" Page said. "I like the Renaissance painter a lot too, so that helped factor down the decision." 
Raphael, or Raph as Page fondly calls him, is quite the creature: an African spurred tortoise, or sulcata tortoise. Page estimates that he is a little over a year old. She adopted him last year from Animal House on 34th street. 
"He looks very angry all the time. When you are staring out into the living room and stuff. It's very cute," Page said. 
When she first got him, he was really tiny since hatchling sulcata size is about two inches, and now he still fits in the palm of her hand. But, tortoises live a long time, and Raphael will grow to about 200 lbs in the next couple of decades.
"I really like longevity with pets. And he's a lifelong partner," Page said. 
Although some may think that turtles are slow and boring, Page begs to differ. Raphael has a big personality, and he's always doing something.
"My favorite part is how cuddly he is," Page said. "He looks at everything, he's very intuitive. He doesn't just sit there. He's always trying to look for something."
The chubby tortoise loves eating lettuce, and Page has also started growing wild grasses and flowers to supplement his diet. Raphael loves eating carrots as well. 
"He also is a messy eater," Page said. "So there's always green stains all around his mouth for weeks on end."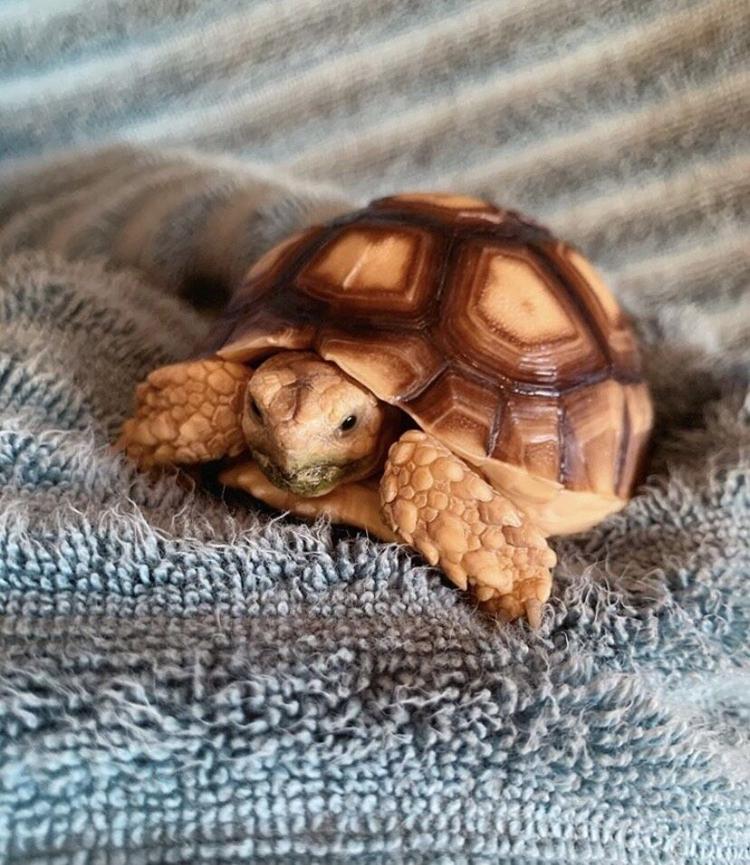 When they are small, they can be kept in terrariums, tanks without water. As Raphael grows, Page will have to get bigger and bigger terrariums until he cannot fit inside anymore. Eventually, she will transition him into living outside. 
"I took a month to know that I actually wanted him because he's a big commitment, and I wasn't gonna just give him up at any time at all in my life," Page said.
Raphael does require some water, but instead of having a water bowl in his terrarium, Page gives him weekly baths, scrubbing him with a toothbrush. She then lets him wander around her apartment to dry off. 
"Whenever I let him run loose, he's just all over the place. He's a fat, speedy, little guy. He really loves to explore," Page said.
Page and Raphael will continue their lives together long after she graduates, and for now he is a great companion during these times when everyone could use an extra friend.