As a liberal arts college, Eckerd has many opportunities for undergraduate research, and the Animal Studies discipline is no exception. The Animal Studies Research Collaborative is comprised of several different labs, one of which is the Frick Animal Behavior Lab, affectionately nicknamed the FAB Lab. It was created by Assistant Professor of Animal Studies Erin Frick shortly after she joined Eckerd's faculty in fall 2019. 
"I'd always wanted to have my own research program so that I can work with students one-on-one," Frick said. "So it's been exciting that that all came together fairly quickly."
The FAB Lab has a general workspace in the animal studies offices, though they hope to have a more concrete lab space on campus soon. They usually conduct research with groups outside Eckerd to work with a variety of animal species. Frick designed her lab to be largely student led and student run, granting her researchers a lot of independence in their work. Junior Kerri Olzewski, Frick's lab manager, appreciates the liberties she and her fellow researchers have been granted.
"[Frick] lets us have so much creative freedom of where we want to take projects and do things, and she just gives us the tools and all of her knowledge that she can provide us along the way for success," Olzewski said.
Despite existing for about a year and a half, the FAB Lab has numerous projects well underway. One such project involves Amazon river dolphins, a species Frick herself has a lot of experience with. 
This project collaborates with the Amazon River Dolphin Conservation Foundation (ARDCF), according to Frick. The ARDCF is led by Suzanne Smith, who has given the lab audio data.
They will be analyzing the parameters of the acoustics, or the average maximum and minimum frequency points of the whistles. This data is valuable as there is much less known about acoustic behavior of river dolphins than more popular saltwater species of dolphin like the bottlenose. 
Frick has also been named an advisory board member of the ARDCF, and is hoping to partner with them in order to give Eckerd students even more opportunities to conduct hands-on research. Currently, she is working with the foundation to create a winter term program that would send Eckerd students to the Amazon to work with river dolphins.
Rough-toothed dolphins, on the other hand, are a species that stay farther from the shore, and are therefore less commonly studied. In fact, Clearwater Marine Aquarium (CMA) is one of only two facilities in North America that work with this species of dolphin, in part due to their capabilities as a working marine life hospital. The aquarium came to house these unique animals after they were deemed unreleasable by National Marine Fisheries. Student researchers, led by Olzewski, are working at CMA with two dolphins, Rex and Rudy, to assess behaviors of the species. Student researchers record their day-to-day behavior, and will compile this information into a behavioral profile for each dolphin. These profiles will aid in further research into this understudied animal.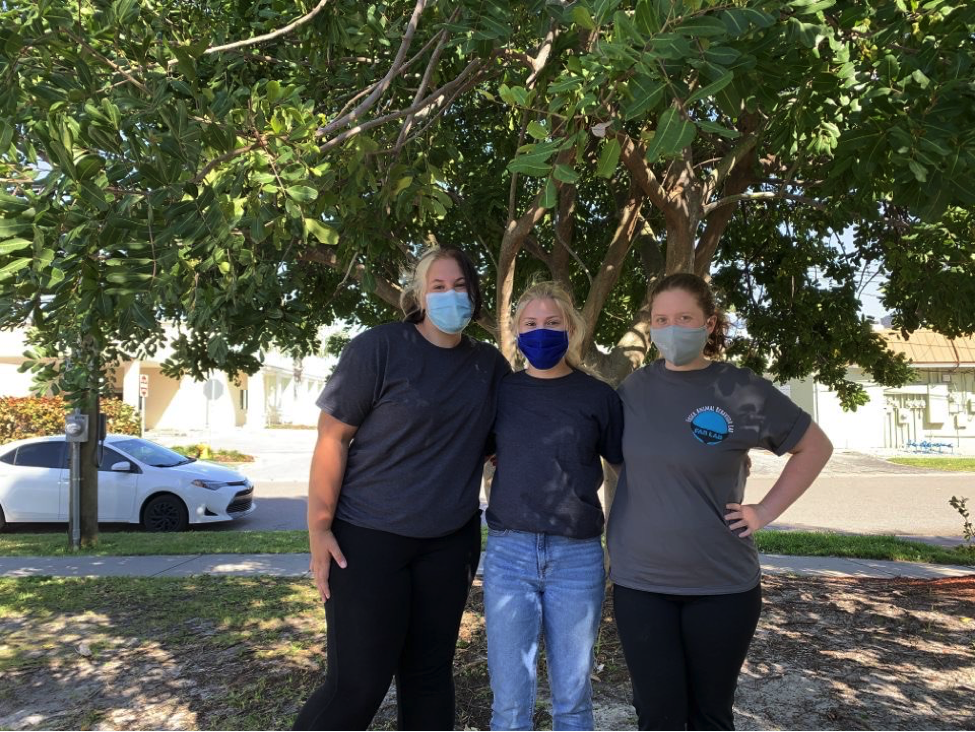 Another project that Olzewski herself has taken the lead on is the Otter Enrichment Efficacy Project, conducted in conjunction with the Florida Aquarium. There, students will be assessing enrichment devices, like puzzle feeders, to determine if the river otters are properly stimulated or if they are instead engaging in stereotypic behaviors (repetitive, abnormal behaviors sometimes seen in captive animals). 
Frick and her researchers plan to conduct similar enrichment studies on sea turtles, which will also take place at the Florida Aquarium. These sorts of applied animal behavior studies utilize methods of Applied Behavior Analysis (ABA). ABA is most often used in human psychology, but it is a scientific way to study behavior that Frick and some of her colleagues in animal studies have begun to use too.
"A lot of us are like, 'Well why not?' Behavior is behavior," Frick said.
Frick will also soon start an enrichment study at Eckerd on some of our most popular pets: reptiles. The focus will be on snakes, geckos and chameleons, and will look at enrichment requirements of the different species, along with how those needs are being met here.
"There's lots of people who have snakes and lizards and all sorts of reptiles, and they need to be enriched just like your dog or cat would," Olzewski said.
The lab is collaborating with Eron Higgins, visiting assistant professor of marine science to discover the intricacies of horseshoe crab learning. Sophomore Dylan Davidoff is at the head of the project which uses methods of classical and operant conditioning, two important theories in behavioral psychology that explain how human and non-human animals learn through experience.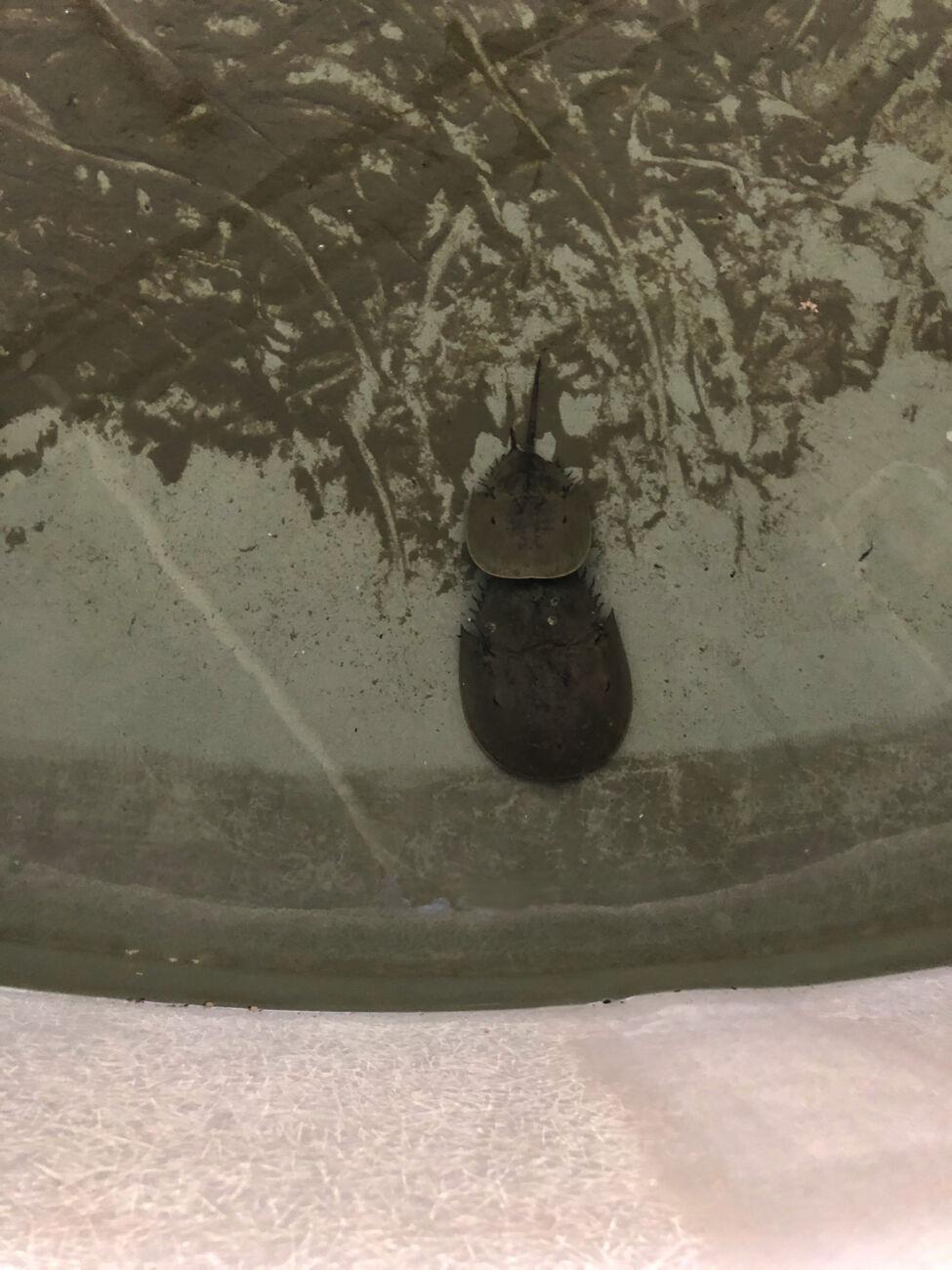 Lab manager Olzewski believes that studying crustaceans like the horseshoe crab is just as important as studying "charismatic megafauna," or large animals that are popular in various human cultures, like elephants, dolphins and giraffes.
"People lack to realize that horseshoe crabs serve a huge purpose in our society," Olzewski said. "They have similar blood patterns to humans so we often use them for drug studies and things like that too."
In fact, according to Olzewski, their blood is used to test for contaminants in human medicine. She believes that learning more about horseshoe crab behavior would benefit humans, as we rely heavily on the species to ensure our own health.
The FAB Lab's diverse projects include a study about attitudes towards conservation involving the hit documentaries "Tiger King." This study examined the impact of the series on perceptions of big cat welfare, with the ultimate goal of assessing the role of media in public perceptions of animal welfare. Specifically, they looked into how viewers' tendencies towards intuitive (subjective) or analytical (objective) thinking impacted how they thought about types of animal facilities, like roadside zoos versus accredited ones, as well as how they felt about programs that reintroduce animals to the wild. They also looked into how these methods of thinking apply to perceptions of what makes someone an expert in the field of animal welfare.
"'Is it more just experience or the title or education?' Things like that," Frick said.
Frick believes that the research she and her students conduct not only helps prepare them for careers beyond Eckerd, but also has greater real-world applications. 
"This can be in so many applications in terms of how we interpret an animal's behavior. What that means for wild animals as well as those in human care," Frick said.
Recently, the FAB Lab has been getting more outside recognition. Early this semester on March 30, both Frick and Olzewski, along with another student researcher, were interviewed by ABC Action News about their behavior study of rough-toothed dolphins at the Clearwater Marine Aquarium. 
"It's essentially just talking about, very briefly, the research that we're doing and how we're going to view their behavior and get a good baseline of what they do in a day in order to advance the general knowledge we have with these animals," Olzewski said.
Frick promises that this is just the beginning for her animal behavior lab.
"Keep an eye out," Frick said, "We have some projects that we're hoping to be submitting papers on soon, so we're hoping to start publishing."
The FAB Lab takes applications at the start of each semester, and is always looking for new researchers from first-years to seniors. They hope to work with even more students in the future.