Despite the waterfront views and beautiful sunsets, Eckerd's campus lies right next to a not-so-beautiful sight: a wastewater treatment plant.
Students grumble about the smell from the reclaimed water sprinklers and from the plant itself. On Nov. 6, students could smell it all the way inside the James Center, disrupting chemistry tutoring.
"I'm getting a headache and I cannot concentrate," junior Yasira Oritz said.
Sigma and West Lodge residents deal with a not-so-refreshing odor every day when they walk out of their rooms.
"I wish it was not so close to Sigma because I don't like the smell," first-year Solenne Miller said.
The Southwest Water Reclamation Facility directors have implemented technology to help diffuse the smell. They have "giant Febreeze sprayers" near the process that produces the most smell, but it cannot mask all of it, especially when the wind blows the smell directly toward Eckerd.
Director of Water Resources for St. Petersburg, John Palenchar, oversees the plant. Palenchar is in contact with Eckerd's Vice President and Dean for the Division of Executive and Continuing Education Kelly Kirschner and Assistant Vice President for Operations Adam Colby to alert the campus if there is ever an issue.
According to Palenchar, a lot of the aroma comes from digesters for a new project to convert biosolids to energy. This project attempts to produce energy in the form of methane gas from the waste of the plant.
"This is a full-scale waste to energy facility," Palenchar said.
Kirschner said they have worked on the project for the last three years, but it really took off this summer.
"My office is in that Sigma-West Lodge area and I can tell you and for anybody that works in Franklin Templeton it's definitely been a change since this new waste to energy," Kirschner said.
The plant does not intentionally dump anything into Tampa Bay, except for one major incident that occurred in 2015.
Kirschner said that 18 inches of partially treated sewage flooded Avenue of States all the way to the Upham Administration building. Faculty were sent home before their cars could get stuck. All of that sewage ran into Frenchman's Creek and Tampa Bay that day.
"It was really bad," Kirschner said. "We don't want what happened in 2015 to ever happen again."
Prevention measures include infrastructural improvements to raise capacity and building a large earthen berm, basically a large pile of dirt, near Alumni Grove to stop a spill from reaching campus. This has caused major construction on that side of campus.
According to Eckerd College President Donald Eastman, there is also a pipe that will run off the property of the plant out into Frenchman's Creek. A valve can be opened if a spill occurs to prevent the sewage from spilling onto campus.
"We'd like for them not to use it but if they get the kind of [weather] conditions we had in 2015 for twice as long or three times as long as they got it in 2015, they might have to use it. We think they can handle what happened 2015 now, but who knows how increasingly intense, not just the sea level rise is going to be, but the storms [will be]," Eastman said.
The plant treats an average of 18 million gallons of water every day but can handle a maximum of 40 million gallons. In a single hour, the plant can fully treat 70 million gallons in case of rain.
But, during extreme rain events, the plant can go above maximum for several hours, and insufficiently treated wastewater goes into the injection wells.
"They're kind of like Walmart parking lots," Kirschner said. "Those Walmart parking lots are never full, except maybe on Black Friday. And these treatment plants really are never used at capacity, until you get these really large rain events. And then you really hope and cross your fingers that they have enough capacity to treat it."
Many people do not know exactly what lies beyond the fence and how the plant actually operates. So, how does it work?
First, sewage flows to the plant and into digesters. Here, the water waits to start the decontamination process. It begins in an aeration basin, where tiny microbes eat the organics within the wastewater.
"Waste is food for other microbes, just like we talk about the microbiome inside of our guts," Palenchar said. "They have adapted to feed on our waste; that's this great circle of life."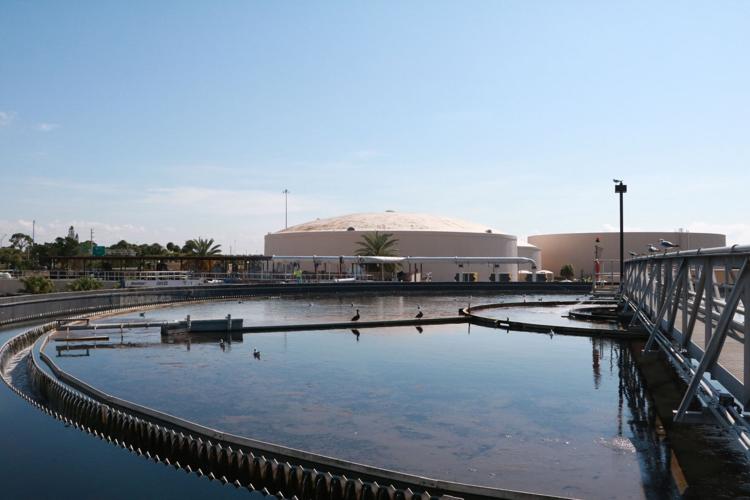 From there, the water moves into a settling basin that settles out biomass like dead microbes. Effluent, the clearer water on top, is decanted off of the settling basin into a clarifier.
Filtration then removes all of the suspended solids before it enters a chlorine contact chamber. A chemical reaction forms a disinfectant chloramine.
After that, the water has been disinfected and is pathogen free, meeting the primary and secondary drinking water standards.
"It's not drinking water, but it meets all those standards," Palenchar said. "I think they can do a better job of setting those standards."
From there, the treated waste is either injected down into the aquifer with the water or converted into methane gas to power the plant. It is never discharged directly into Frenchman's Creek. If there is "overflow," it means that a higher concentration of suspended solids was injected into the aquifer with the treated water.

"We're the only ones with injection while everybody else discharges to the bay," Palenchar said.
According to Kirschner, there is some debate over if injecting the waste into the aquifer is environmentally friendly. But, since the aquifer under St. Petersburg is not used for drinking water, Kirschner agrees it is the best of all bad options.
However, the plant commits some violations, especially during the rainy seasons. Since Florida is so flat and has strong storms that dump a lot of rain, it can be difficult for the plant to keep up.
A violation in August 2019 resulted in a very high flow rate in which they exceeded the maximum of 5 mg/L of suspended solids for the end product treated water, injecting turbid water into the aquifer.
"It was coming in so fast, it didn't have the time to settle properly," Palenchar said
Palenchar said he and the rest of the crew at the wastewater treatment plant are dedicated to finding solutions when problems like this occur.
The original treatment plant was built in the 1970s with different codes and regulations.
Director of the Waterfront Renee Register described the growing issues in St Petersburg.
"There's a big debate," Register said. "You're building more here and there, more this, more that. It's old systems trying to keep up with it all."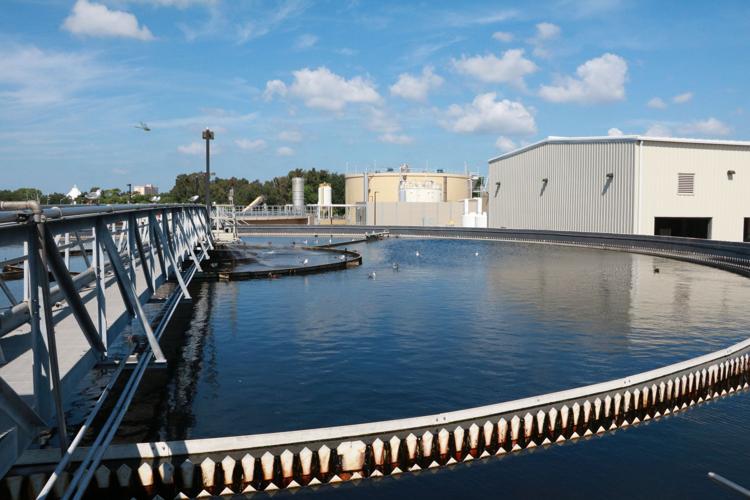 Kirshner believes that a lot of the issues aren't resolved because it is not exactly an attractive topic for local government officials.
"If you are a municipal elected official you never want to put all the money underground because it's not sexy," Kirschner said. "You don't necessarily get reelected because you put in 50 miles of new pipe. And so it was very easy for that to be neglected over decades."
There have been many improvements from the original design and there is ongoing construction this year to help the plant function more efficiently.
"I think, to the credit of this city council and this mayor, this gentleman Claude Tankersly [Public Works Administrator] quite accurately, they've invested $321 million into the system. And the plant next to us has basically doubled in capacity," Kirschner said.
With investment and work of elected officials, Eckerd's neighbors are addressing its sewage issues with the new berm along Eckerd's border and the waste to energy project. But, Eckerd community members remain impacted by the plant's noxious smell when the wind blows it toward the college.