The United States has historically welcomed refugees across its borders and into its communities. As students, and college faculty, we should continue that tradition by answering calls to action.
Diya Abdo, doctor of philosophy, launched Every Campus a Refuge (ECAR) in 2015 at Guilford College. The program is a national call for all U.S. colleges to house at least one refugee family in need. Wake Forest University and Lafayette College have joined the coalition among four others, and Guilford has already hosted 45 refugees, Abdo said via phone call.
Guilford framed ECAR using Pope Francis' call for every European parish to house one refugee family. Their thinking was that American universities are similar in size and population, so they likely had enough resources or will to contribute. Our universities also preach inclusion and progressiveness. These values alone should make schools consider ECAR or other similar programs, because we have a duty to respond to crises.
Our country grants refugee resettlement to vulnerable people who have been forced to flee their country due to persecution, war or violence, according to the United Nations Refugee Agency. Right now there is a global refugee crisis and many are in need of support.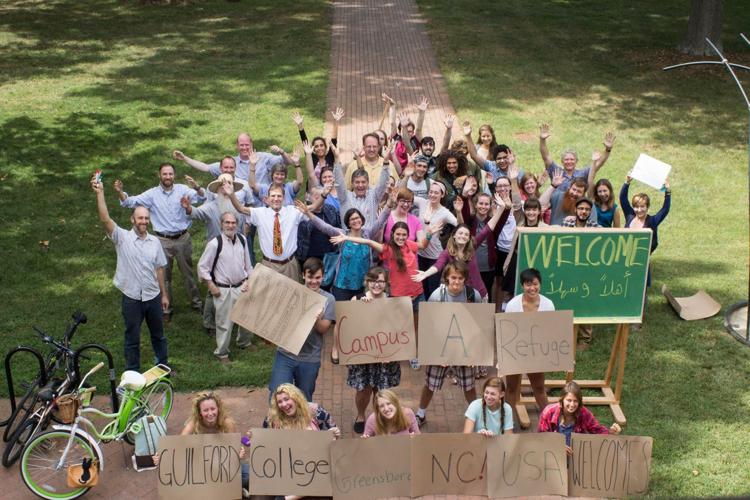 St. Petersburg's Catholic Charities has run a resettlement program for people with refugee status, but recently issued a statement on their website that they are no longer taking in new applicants, though they will continue to support existing members. This creates an even stronger demand for ECAR in our community.
While Abdo continues to spread word of the program, it is the duty of American colleges and universities to consider or spread awareness of the program, so we can aid the crisis in any way possible.
A lack of resources is the easiest excuse for colleges not to get involved in the program. But housing refugee families is cheaper than most schools think, and creativity is what makes the program work.
Most colleges have on-campus housing or apartments, and many of these units are vacant for at least a few months of the year. Abdo emphasized via phone call that ECAR is asking for colleges to host one family each, so schools must only spare one housing unit for a small group of people, over any amount of time they can.
Funding for these units, and other basic resources is generally provided by donations, or local refugee organizations, Abdo said, so colleges must simply enroll in the program and put any useful resources they can towards the resettlement.
For example, Eckerd leases off-campus apartments for student use during the semester, but if there are vacancies in these apartments during summer or Winter Term, we could offer them to local refugee families. If this is not an option for Eckerd, or other schools with similar situations, we should still respond or offer what we can.
Funding should not be an instant roadblock for colleges to get involved. Schools can still spread awareness or collect donations to support the program.
When an administration declines to even consider such an important program, students should advocate for it harder. Colleges are built for students, and it is our duty to stay active in our community and call people to action when we feel it is needed.
Students can start by speaking with community engagement offices, or any faculty members who work closely with the community to initiate ECAR at their schools. For Eckerd, Abdo suggested contacting our Office of Service Learning.
Eckerd's mission statement says our school exists within a relationship with Presbyterian USA, whose core values include community engagement and social justice, according to their official website. We at Eckerd should follow our mission statement to act on these same values by considering ECAR, and responding to other global crises.