For almost a decade, the Eckerd Health Promotion department has been implementing what they call the Eckerd Smoke-Free Initiative.
Spearheaded by Lindsey Barrett, Director of Outreach and Health Promotion, the initiative began in 2010 as a slow transition to eliminate smoking from Eckerd's campus. Beginning the smoking initiative was a move to remove the use of tobacco products starting with the academic side of campus. Barrett explained the program will ideally curb all smoking on the campus by 2020 when the use of any and all tobacco products will be phased out of use.
"Since then we have incrementally restricted smoking across campus. The process has been slow to give people time to prepare for the change," Barrett said.
Drafted by the Office of Health Promotion, the initiative is ideally being used to stop secondhand smoke and pollution from cigarette butts being strewn around campus. However, it also claims to provide "tobacco cessation support and resources" around campus to help smokers. This is a great aspect of the program, but one that nobody knows about, at least unless they were to ask Barrett herself, as emails only show so much.
To a student simply reading emails, the stranglehold on smoking seems to come from thin air. In years past, smoking was allowed on the residential side of campus, and had become a deep seated part of Eckerd culture, leading to many feeling like the ban is too strict and too sudden. This adjustment to four designated smoking areas, and a transition to tobacco free seems too quick to really be effective.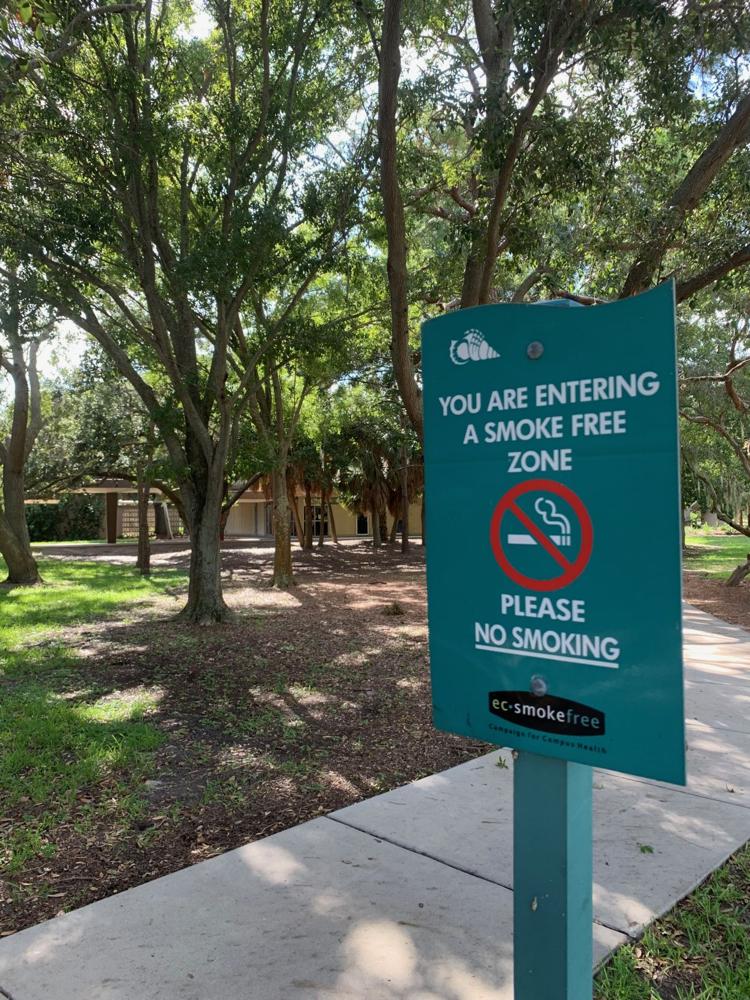 While it is drafted to be run by students and faculty to hold one another accountable, the student body stands in solidarity with one another, almost defeating the point of turning one another in. Eckerd's culture fosters an interdependence on one another and a mutual respect of unwritten rules, which is pressed by the idea of students giving up other students. The solidarity of the student body as a collective unit is affected when one group is pressured into reporting others for the sake of an initiative fronted by the administration instead of students.
Eckerd Sophomore Kirsten Spolyar expressed her interests and reservations for the initiative, especially in regard to the growing popularity with Juul brande-cigarettes.
"I think that smoking, especially Juul, is a genuine issue at Eckerd and for our age demographic in general," Spolyar said. "Seeing how many people are developing lung diseases that seem to be tied to vaping is very concerning. I'd like to see Eckerd take steps to address the root causes of smoking, how Juul markets to young adults and teens and how addiction is a real disease. I think that banning it has good intentions but I would like to see if it actually reduces the tobacco use or if it just keeps it out of sight."
While punishments come only after a student or faculty member is a repeat offender, it seems like the more the semester goes on with older students in the dark about the initiative, faculty and students may butt heads about the idea. While professors are referred to the Human Resources department on campus, students are brought before the Office of Community Standards.
The Health Promotion office has its heart in the right place but seemingly hasn't thought about how they will introduce upperclassmen to the idea of absolutely no smoking. Paired with an age where a Juul is as important to some students as a pencil, a ban on tobacco products just won't work.
For this initiative to work, more publicity is needed and a more gradual ride into a tobacco free campus, even if the school does provide alternatives. Asking college students to quit smoking cold turkey in a generation where cigarette alternatives are plentiful and cheap won't work, but it will drive the problem underground. Students will begin just hiding their habits, retreating to areas like the palm hammocks or smoking out of dorm windows if they even try to hide it. Hopefully the information given to incoming first-years during Autumn Term will trickle upwards through the community, or the Health Promotion office has some marketing to do to help students realize that while it may be a far sweeping initiative, it is for the greater good.