On July 29, President of Eckerd College Damian Fernandez announced the phased-return plan that has left many upperclassmen frustrated, confused and upset. Many juniors and seniors wondered why first-year students get the privilege of being back on campus in August while they continue to take their classes remotely for half of the fall semester. 
One of the reasons given during the Town Hall meeting with Eckerd administration members on Aug. 4 was that first-years are more likely to follow the guidelines set by the college such as maintaining social distancing, wearing face masks and refraining from large gatherings. But only two weeks after welcoming first-years on to campus, it is clear that this may not be the case. 
Friday Aug. 28 brought a beautiful, classic South Beach sunset. Unfortunately, it also brought groups of first-years who were seen clustered into close groups, dozens of them not wearing masks and swimming close together in the ocean. 
First-year Kimberly Puopolo said, "There were also rumors of an Airbnb party off campus that some freshmen were throwing … but someone cancelled the reservation and we all got a strongly-worded text from our peer mentors."
Additionally, social media platforms such as Facebook have been flooded with students and parents alike sharing their experiences during the Pre-Block 1 week. 
"My mom is on the parent page and she . . . saw a bunch of moms talking about how a group of freshmen boys that were 'anti-maskers' bullying a group of girls that were wearing masks in the dorm," junior Jae Jamieson said.
The post has since been deleted from Facebook, but if there is evidence of this kind of behavior in the future, Eckerd does not have the space to quarantine the results of "anti-mask" students' decisions and will likely result in closure, leaving upperclassmen to finish out their semester completely remote. 
Following these COVID violations, on Sept. 2, Associate Dean for Community Standards Joanna Ellwood sent an email to all Eckerd community members to remind everyone that commuter students are prohibited from throwing large parties and residential students are banned from attending said parties
The email says, "This monitoring of off-campus student behavior is a necessary measure to ensure that each member of the community is held accountable for how their actions can impact the health and safety of the Eckerd community." 
Previous reports show that peer mentors have had to cite first-years planning parties and other violations of the COVID-19 protocol. Additionally, the James Center has already had to remove the indoor tables because students had started taking their masks off in the lobby.
These reports are especially disheartening for upperclassmen that feel as though their needs have already been overlooked by keeping them off campus until October. Many juniors and seniors are missing out on certain classes, labs and jobs they previously held on campus. 
"It is impossible to learn anatomy remotely because the lab needs to be in person," junior Claire O'Brien said. 
O'Brien also had two jobs on campus, one with Bon Appetit and one as a lab assistant. Because many companies aren't hiring during the pandemic, she cannot find the work and regular payment she would have if she was at Eckerd.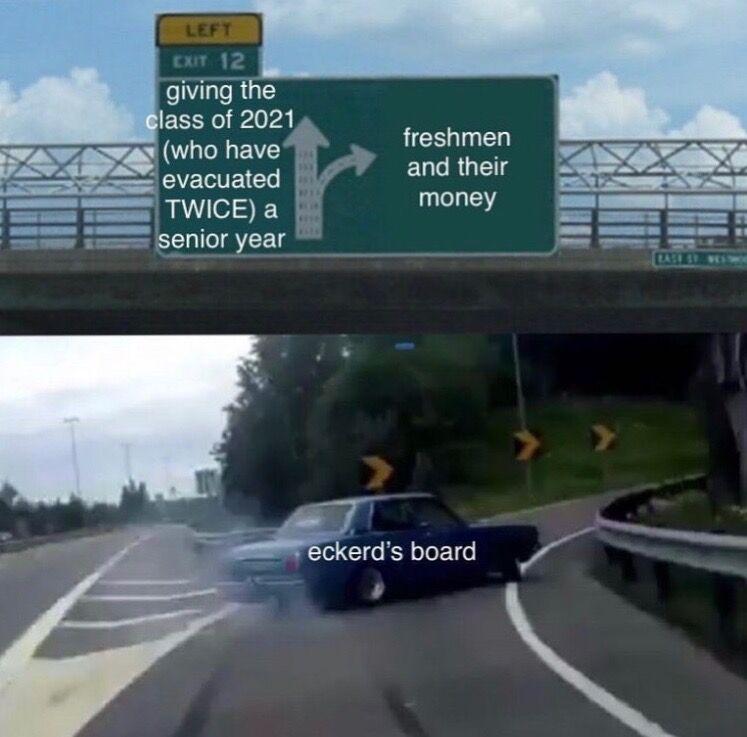 Upperclassmen have a lot more ties to campus given it has been their home for the last two or three years, meaning they have jobs, internships and research opportunities here at Eckerd that first-years simply do not have yet. 
The goal in discussing these things is not to label the entire class of 2024 as being ungrateful or wreckless because many of them continue to respect COVID protocol.
"I honestly think the majority of first-years that I've seen have done a really good job with it, because there's enough beautiful outdoor space so it's really easy to spend time outside. . . and there's definitely six feet of space to do that," Puopolo said.
However, several students need to recognize the gravity of their actions and consider how their behavior these next couple of months impacts their fellow Eckerd students - people who have invested so much into this community already - and keep our campus the safe, respectful place our upperclassmen have worked hard to maintain over the last 4 years. 
First years, your arrival on campus is a great privilege that has come at the cost of upperclassmen learning in person. Please don't ruin this for them.