At the Eckerd College Organization of Students (ECOS) debate on March 3, the candidates for President and Executive Vice President (EVP) of ECOS, Olivia Hager and Chloe Marcum, made insensitive comments after being asked by an Afro-American Society member why none of the candidates in this election have attended any of the club's meetings. Both candidates were running unopposed at the time. 
On March 4, AAS sent a formal complaint to the ECOS Elections Committee pertaining to the comments made by Hager and Marcum. The elections committee voted unanimously to remove both Hager and Marcum from the race on March 5. 
Since then, the elections committee has rescinded their removal of the candidates. Hager stepped down from her position as EVP and dropped out of the race on March 8. ECOS President Will Shedden has recused himself from the election process in order to ensure the process remains impartial. During a senate meeting on March 17, Marcum, the ECOS parliamentarian, motioned to impeach the elections committee for allegedly violating the ECOS constitution, which did not pass the ECOS senate's approval.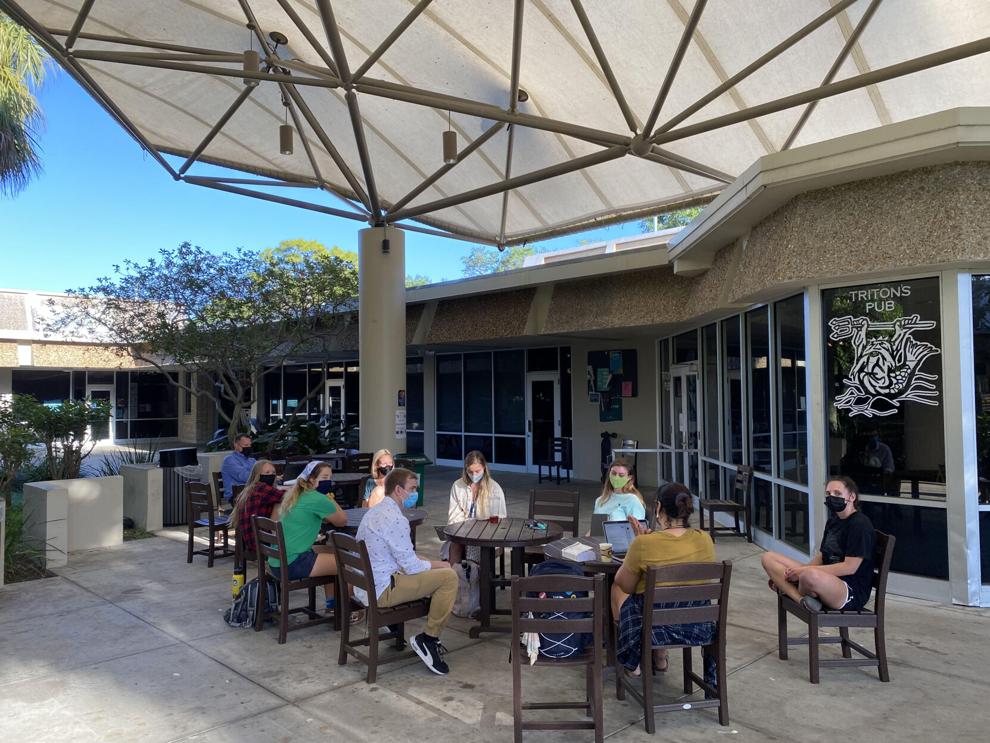 The Debate
According to Elections Director Linnea Goodwin, the virtual debate on March 3 was running smoothly before she asked all of the candidates about diversity and inclusion at Eckerd. As the moderator, she asked the candidates how they felt Eckerd and ECOS have been doing after refocusing on diversity and inclusion, and then how they planned to engage students in diversity and inclusion. 
After the candidates responded, two Afro-American Society members, Vice President Aryelle Lipscomb and Events Coordinator Briana Hashim, asked why none of the candidates attended any AAS meetings and why only one mentioned intersectionality in their answers. 
According to Goodwin and Hashim, Hager responded that she did not have time to attend, felt the messaging of the club was "aggressive" and that she was "scared" to attend AAS meetings. Goodwin and Hashim said Hager's answer provided no context to what components of AAS messaging was aggressive or what made her fearful of attending their meetings. Hashim said this was a racist microaggression that portrayed Black women as angry. Marcum then responded to Hager, saying that she agreed that the club's messaging was aggressive. 
"I was feeling exposed, attacked and kind of profiled," Hashim said. 
The responses started a conversation that, according to Goodwin, lasted around 40 minutes between the audience and the candidates. The conversations escalated with some of the audience members being upset and confused by the candidates' comments, while the candidates defended their statements. The elections committee did not record the Zoom debate, nor were there any members of the ECOS Executive Council or reporters from The Current present. 
"The [two] candidates had responses that the [elections] committee deemed particularly harmful towards Black students in our community," Goodwin said. "Because they suggested that Black students, and Black organizations like AAS are aggressive, scary and uninviting. This constitutes a microaggression towards our Black community on campus."
Marcum claims that, in the debate, she said that there was anger in the question and the situation, not in the person asking the question. Hager claims that when she used the word "aggressive," she was referring to the AAS club emails and social media blasts, and when she used the word "intimidating," she was referring to her struggle with social anxiety in a group setting. 
Goodwin ended the debating between candidates and audience members by asking the candidates to quickly give their closing statements about campus life. At the end of the debate, Hager said she would not apologize. 
The Aftermath
AAS sent a complaint to the Elections Committee on March 4 at 4:47 p.m. stating that in the debate, "Olivia Hager and Chloe Marcum were one-sided, defensive, aggressive, accusatory, false and/or blatantly racist." They stated that this violated Article VI, Section C, Paragraph 2 of the Elections Committee Bylaws because it was defamatory and demanded the removal of both Hager and Marcum. Briana Hashim was involved with drafting this complaint along with other AAS officers including President Joelle Clayborne. 
Specifically, the complaint outlined that the candidates disregarded AAS's work in diversity and inclusion programming by saying there were not enough CPS events around these topics. It also says that Hager profiled Black students as scary and uninviting and that Marcum said their recruitment tactics were aggressive. The complaint said that, "Chloe openly displayed her blindness towards Black issues which could compromise the rights of AAS and Black people on campus if she is put in a place of leadership on the ECOS executive board."
"At first, I didn't really know what to say because it was all coming out so fast and like their comments were obviously damaging," Hashim said about the debate. "You don't expect anybody to say or feel that way about you." 
Article VI, Section C, Paragraph 2 of the Elections Committee Bylaws states that "Candidates and their agents will also refrain from any act reasonably calculated to be libelous or to compromise the rights of any student, faculty member, or student organization." 
Goodwin held an elections committee meeting on March 5 to discuss the matter after receiving the formal complaint from AAS. The four voting members of the elections committee voted unanimously to remove both Hager and Marcum from the race. According to Goodwin, the meeting would have happened without AAS's complaint. She said the elections committee did not discuss this with either candidate nor did they reach out to AAS for any follow up.
Marcum rejoins race, Hager resigns
The ECOS Elections Committee Bylaws, Article VIII Section B, states when a party is injured by a candidate's actions, they must first work with the candidate and try to negotiate before lodging a formal complaint with the Elections Committee. The complaint filed by AAS was sent directly to Goodwin without being brought to the attention of Hager or Marcum. The committee then voted without a formal hearing taking place. 
Because proper procedure was not followed according to the bylaws, the elections committee deemed their actions unconstitutional and overturned their decision to remove Hager and Marcum from the race on March 10. Marcum has decided to continue running for EVP and will remain ECOS parliamentarian. Hager dropped out from the race and stepped down as current EVP on March 8, stating that she has felt unsupported since the incident. 
Since the elections committee overturned their vote to remove Hager and Marcum, Marcum and AAS have until March 29 to come to a settlement. If they do not, the elections committee will hold a formal hearing to determine if Marcum will be removed or not, according to Goodwin. 
On March 4, Hager met with ECOS President Will Shedden to discuss the events of the debate. According to Hager, she wanted to apologize as soon as possible. Shedden has recused himself from the rest of the election process to remain impartial.
"I was like, 'I want to fix this and apologize but I want to do it properly, because my words have hurt people and I don't want my words to further hurt people,'" Hager said. "So I went in to try and ask for help and he said, 'Don't apologize, wait a little bit of time, it's too soon to reach out.'"
Shedden stated that he was impressed by Hager's willingness to apologize quickly, however felt like it was not time yet. 
"When I said wait, that was because emotions were still very high," Shedden said. 
Hager also stated that she felt as though her fellow ECOS members were trying to settle things quickly and quietly without having hard conversations. In response to this, Shedden said that he wanted to meet with everyone quickly so he could understand all sides of the situation, as he did not attend the debate. 
Hager resigned from her position as EVP on March 8 at the weekly meeting of the ECOS executive council. 
On March 12, one week after the debate, Shedden sent an email to the student body discussing diversity, equity and inclusion in ECOS. He described shortfalls ECOS has had in the past, including the ECOS constitution never referencing diversity issues and that the organization partakes in "performative activism" while leaving students of color to "bridge the gap." He also said his own "arrogance" kept him from starting conversations about diversity and inclusion sooner. According to Shedden, plans are in the works for a summer leadership development practicum that focuses heavily on diversity, equity and inclusion for ECOS leaders. 
Since the debate, Hager and Marcum claim that they have been receiving backlash from the community. 
Hager stated that she does apologize for the words she used, however does not apologize for her feelings. 
When asked about her response to the question regarding AAS messaging during the debate, Hager stated that she felt the question was "pointed."
"I obviously wanted to poke back and that was an emotional response, not a professional response, not an ECOS member response, that was [my] poor response," Hager said.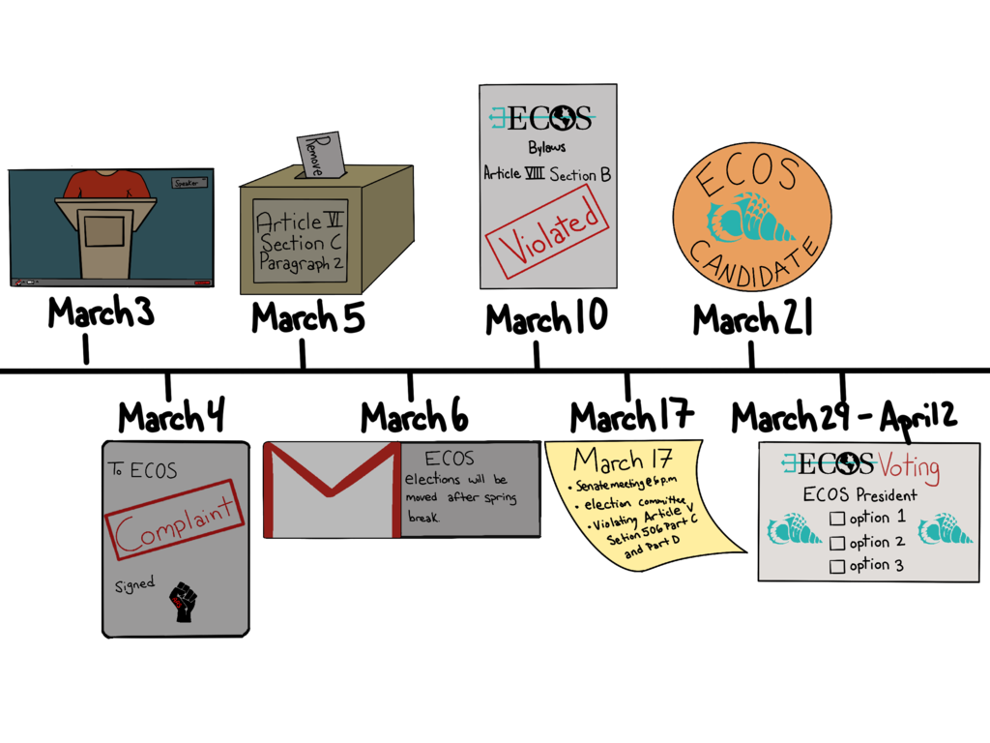 What's next?
On March 6, the elections committee voted to reopen the executive elections after the removal of Hager and Marcum, as the removal left a vacancy for president and EVP.  Even though the committee rescinded its vote and Marcum remains on the ballot, the election process has started over.
A period of declaration of candidacy started on March 6 and is open until March 21. During this time, anyone can file to run for any position on the executive council, not just president and EVP.
"I hope as many candidates as possible file for the new elections," Shedden said. 
So far, Ava McLeod filed to run for ECOS president rather than continuing to run for vice president of academic affairs. No one has filed to run for VP of academic affairs since. One other person has filed for president, according to Goodwin. So far, three have filed for vice president of student engagement, one for vice president of financial affairs, and one for EVP. Briana Hashim said she is planning to file to run for EVP. She said that this means she would not be able to run for an officer position on AAS next year, but that this is for "the greater good."
"Honestly," Hashim said. "I won't let this affect my time at Eckerd because I know that for the few that see me different and that are afraid of me, there's many more that will uplift me and that will love me and that aren't afraid of me or my ambitions, or my greatness." 
However, according to Article V Section 506 Part C and D of the ECOS constitution, executive council elections must happen before Spring Break, which happened on March 15. Now, voting will take place March 29 - April 2. 
Section 506 D says that "Special Elections will be held in the event of a resignation or impeachment from a single position" and that "in the event of multiple vacancies, the Director of Elections will have the authority to determine the timing of the special elections." The constitution is unclear if vacancies refers to vacancies in elections or in already existing executive council members.
On March 17, a senate meeting was held to discuss the actions of the elections committee raised by Marcum, who attended as parliamentarian. Goodwin was also in attendance to debate Marcum. 
Citing the alleged violations to the ECOS Constitution and Election Committee Bylaws made by the elections committee, Marcum motioned to impeach the five members of the elections committee: Linnea Goodwin, Alicen Nico, Ally Dotson, Sarah Langsdorf and Julia Bennet. Sophomore and Iota senator Evan Kohuth seconded the motion made by Marcum, allowing for a discussion between the senators, Marcum and Goodwin. 
The discussion began with Marcum explaining why she felt as though the committee violated their bylaws. Senators were then allowed to ask questions and Goodwin defended herself and her committee's actions.
After the discussion, acting EVP Christyna Reagan motioned for a roll call vote. Kohuth abstained from the vote, and all other senators voted nay. The nay votes included West Lodge senator Maddie Reifsteck, Nu senator Caralyn Stein, Omega senator Sophia McNally, Epsilon senator Sophia Koshansky and off-campus senator Tezzerah McLean. Gamma senator Abby McKay and Beta senator Julie Baker were absent from the meeting. 
Marcum was disappointed with the outcome. 
"I feel as if that decision was largely based upon misunderstandings of the constitution and bylaws," Marcum said. "Obviously, I think that probably no other person on this campus has spent as much time with the constitution or with their bylaws as I have...I feel as if, unfortunately, I was not able to communicate that effectively enough to get the student senate vote."
If elected EVP, Marcum states that she would be open to going to AAS meetings and taking steps to move forward. 
"That being said, my busy schedule won't disappear," Marcum said. "But I will absolutely make every effort humanly possible within my schedule to be there and to hear what [AAS] have to say."
According to AAS Vice President Aryelle Lipscomb, AAS will start negotiating with Marcum immediately. These negotiations are in regards to AAS's complaint. If they do not come to an agreement, hearings to determine if Marcum violated the Election Committee Bylaws will be held after March 21. The next AAS meeting will be held on March 21 under Galbraith Marine Science Laboratory at 4:00 p.m. The meeting is open for all students to attend. 
"The negotiation process is something that we do not have experience with and has never happened before," Lipscomb said.
The next ECOS debate date and time has not been determined. Voting will take place on ECWeb from March 29 to April 2.