One in five undergraduate women are sexually assaulted, according to the Bureau of Justice Statistics. At Eckerd, only 13 allegations of sex offenses were brought to the Title IX Office in 2018, according to the Annual Safety Report.
The allegations included forcible (rape and fondling) and non-forcible (stalking, domestic violence and dating violence) sex offenses in the Annual Safety Report. The report also says that 10 of those allegations were formal reports, and only seven of the responding parties were found responsible through the community standards process. The college's reported numbers don't seem to reflect the same scenario as the Bureau of Justice's statistic.
The Title IX Office follows a complicated process that stems from the federal level. Since its creation in the 1970s, its policies are influenced by who is in the White House— and that creates a complex bureaucracy at schools like Eckerd.
Title IX is a federal law under the Civil Rights Office of the Department of Education. It protects people from sex or gender-based violence in schools that receive federal funding.
Under this statute, schools must respond to hostile environments that include sexual assault and discrimination. Based on these rules, Eckerd has its own code of conduct to state what sexual violence, harassment or discrimination the Title IX Office handles. The office defines sexual misconduct from non-consensual sexual inter- course, non-consensual sexual touching, sexual exploitation, coercion and intimate partner violence on the college's webpage.
While the definitions of what is or isn't sexual assault are clear, the application to real life cases can be tricky— especially when it comes to coercion and consent. When this happens, it can cause students to slip through the cracks when reporting with the Title IX Office.
Students come forward
One junior student, who The Current granted anonymity because of the sensitivity of her story, went to Title IX after a nine-month-long sexual relationship with a student during which she said she was manipulated, coerced and pushed in their relationship past her comfort levels.
The junior contacted and provided The Current with her formal report she filed with Title IX, which detailed non-consensual sexual intercourse, continuously texting after she told him to leave her alone, coercing her to do sexual activities she was uncomfortable with and non-consensual sexual touching that she said she experienced.
In spring 2019, the junior sat down with Joanna Ellwood, Eckerd's Title IX coordinator and assistant dean of community standards, told her story and said she wanted justice to protect future girls from her accused perpetrator. His name will remain withheld.
In one of her first meetings with Ellwood, the junior said she was told about the challenge the office faces.
"There's nothing Title IX can do about it if you don't have any proof, solid proof," the junior said she was told during one of her early meetings with Ellwood in regards to providing evidence for a case.
A sophomore student, whom The Current granted anonymity because of the sensitivity of her story, said she was told the same thing in one of her first meetings with Title IX. The sophomore, who contacted The Current, said she was also assaulted by the same perpetrator as the junior.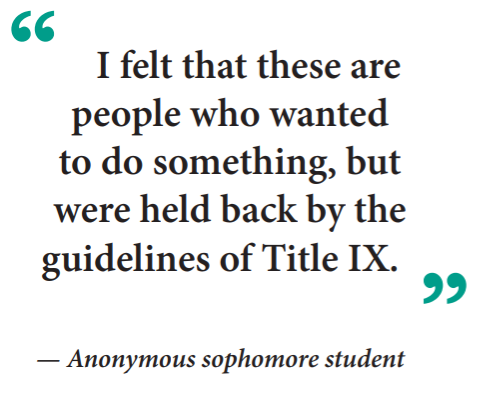 According to the sophomore, the junior reached out to her in February 2019 after hearing that the sophomore had cut off contact with the accused perpetrator. The sophomore filed a witness statement with the Title IX Office, which she shared with The Current, as a supporting document of the junior's formal report.
"Throughout my experience with Title IX, I felt that these are people who wanted to do something, but were held back by the guidelines of Title IX," the sophomore said.
When the sophomore filed her witness statement over summer 2019, the Title IX Office emailed her saying they would let her and the responding party know if the report would be used in the case. She was never contacted again, inferring that her statement was never used.
The junior said she was informed that the responding party no longer attends Eckerd, although he walked at the graduation ceremony in May. At the beginning of the 2019 fall semester, the junior says she was told that the student did not wish to continue the case because he is no longer an Eckerd student. She also said the case was put on pause and has not been opened since, to her knowledge.
Ellwood explained in an interview with The Current that after a responding party stops attending Eckerd, the case can be stopped and the student will be banned from entering campus. The student will also be banned from returning in any other campus-affiliated activities until they complete the investigation process whenever they left. However, on a rare case-by-case basis, they have rights to access certain areas on campus.
"Technically yes the college could continue that process because during the time that it happened they were both my students. But I can't compel that student to participate because he's gone now. OK, so I can try, and we do, it's not like we say 'OK you get it, you get a free pass.' We try, but at that point they owe us nothing, and they don't usually respond to us," Ellwood said.
The reporting party, Campus Safety and Resident Advisors are notified of people who are not allowed on campus. But according to the junior, it has not been enough. She claims she has seen the responding party on campus multiple times since he paused the case. The sophomore says she has not seen him.
"Sometimes I'll see him walking around and I just can't do anything. He still hangs out here because he has all these freshman girls and stuff. It just bothers me a lot because I went through hell last year," the junior said.
Title IX's role at Eckerd
Eckerd's Title IX Office is responsible for ensuring gender equality and that Eckerd is safe from sexual misconduct outlined in the Equal Opportunity, Harassment, and Nondiscrimination policy.
Through providing training for faculty, staff and students, the office sets the expectations for Eckerd's community to follow. The office enforces the rules set forth in the student code of conduct and rules from the federal government. Even if something may not fall under federal Title IX laws, Eckerd's Title IX office will investigate it if it breaks the school's code of conduct.
According to Eckerd's Title IX website, sexual harassment, sexual violence, sex or gender-based bullying, hazing, stalking, retaliation and relationship violence (including domestic violence and dating violence) are all under its jurisdiction.
Various resource guides on Eckerd's Title IX webpage give clear-cut examples of students who take advantage of incapacitated students and employees "rating" students' looks.
But not every case is as clear as that.
"I would say I am a victim of those things [sexual assault, coercion and manipulation], and I don't think that Title IX does. I don't think Title IX does those situations justice in taking action on them," the sophomore said. "I guess rape isn't just, like, get some girl drunk and have sex with her when she's asleep. It's not just grab a stranger by her hair off the side of the street and pull her into an alley. It's, especially in this day and age — it can be a lot more complicated than that."
Ellwood will show a reporting party in their first few meetings the various definitions of sexual misconduct if they are unsure of exactly what happened to them. But the difficulty lies with differentiating between force, coercion and consent — and whether it is communicated verbally or not.
"That [force, coercion and consent] is such a tricky, tricky area," Ellwood said. "If I said to you 'Is this OK?' you said, 'Yes' each step of  the way, which we know is not really how sexual activity happens. In a perfect world it would happen that way but that's not usually what happens."
Because of this reality, the Title IX Office says that consent can be given through word or action.
The break down: filing a formal report
Knowing if their case is worth taking to the Title IX Office can be a deciding factor for some survivors who are unsure if they should file a report. In intense cases of shock or if an interaction happened a while ago, it can be difficult for a reporter to know if their interaction matches a definition of sexual assault.
When the sophomore was having sex with the responding party, she said he made a graphic comment about raping her. The sophomore said she then tried to push him off of her so she could explain her dis- comfort, but he did not stop.
"I asked her [Joanna Ellwood], 'Does this fall under the category of rape or assault?' And she was like 'Well, unless you specifically said 'no,'" the sophomore said. "I can't remember the exact, specific words in that situation. I felt very helpless in that situation."
When reporting parties meet with Ellwood originally, they are given multiple options for emotional support and protection from the perpetrator. She walks through the process of Title IX, from writing the report, the investigation process, all the way to conduct hearings.
"One of the first things I ask them for [are] remedies. Like, 'What can I do to help you feel safe and feel better and in the immediate time until we get through this process?'" Ellwood said.
If a reporting party wants to go through the Title IX process, they first file a formal report. In a formal report, the reporter creates a timeline of the events and any evidence they may have. Though the office can give guidelines about providing evidence and a timeline, it is up to the reporter to write it themselves.
Once the report is filed, the responding party is notified of an investigation beginning and includes the allegation made, a meeting time with Ellwood as a facilitator (through her role in Title IX), notice of retaliation policies, remedies and resources and the name of the re- porting party who submitted it.
"I was just really stressed because I have to reread all of the messages and like, you know, it was like opening a wound," the junior said about writing her report, which is 104 pages. "I was just really scared and stressed because I remember telling Cory [Champer, assistant director of outreach services and health pro- motion] that I didn't want to relive all that happened."
In order to process the emotions that follow a report, Title IX gets reporting parties in touch with resources on campus that can help, including Outreach, the Center for Spiritual Life and the offices of Advocacy, Health and Counseling Services.
"We get that reporting party into a counselor, so that they can unpack and process everything that's happened, and that counselor is the one that usually walks them through 'these are the parameters of what we're talking about here. This is what's okay and what's not okay. And what happened to you is not okay,'" Ellwood said. "That's not my role, but I definitely want them to get into the resources that can help them understand and process what happened to them, and then hopefully they're able to articulate that in the investigation."
Reporting an incident can be a difficult decision for anyone who has experienced sexual assault, but students can reach out to the resources that Eckerd provides.
Joe Opaleski contributed to reporting.