Around 200 students stood in solidarity in front of Sheen Auditorium on Wednesday Feb. 5, 2020 before a faculty meeting at 1:40 p.m. In solemn silence, students held various signs, wore body paint, make-up and outfits to represent their cause against the administration's alleged mishandling of Title IX cases. 
"I'm hoping that the faculty, especially at the administrative level, really understands that we're serious about this," Sydney Luks, junior and co-organizer of the protest, said. "That we're not going to be taking this lightly anymore and that we're aware of their mishandling, and their silencing of our voices and we're sick of it."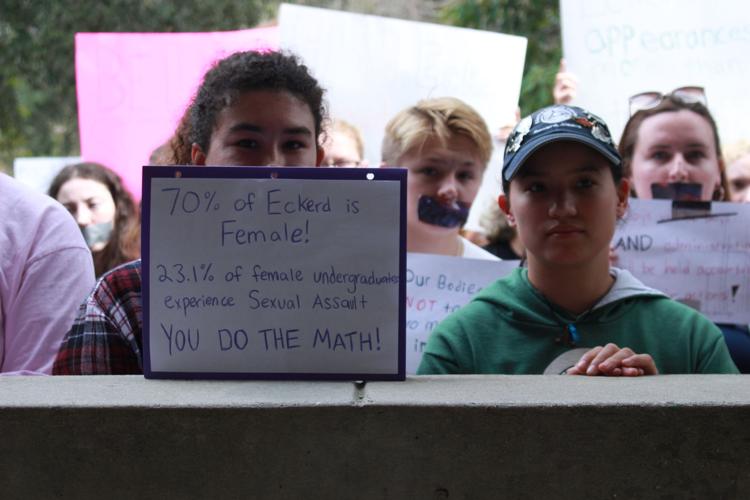 Luks along with juniors Shelby Scott and Kristi Stari arranged the silent protest, with the permission of Campus Safety, through social media and emails to the student body. 
A recent article in the Tampa Bay Times detailed a lawsuit against Eckerd College over the alleged mishandling of a case involving former Professor of Marine Science and Chemistry David Hastings "fondling himself" in front of a former student. 
The lawsuit detailed Dean of Faculty Suzan Harrison's alleged words to the student to not report the case, which spurred this action among the students.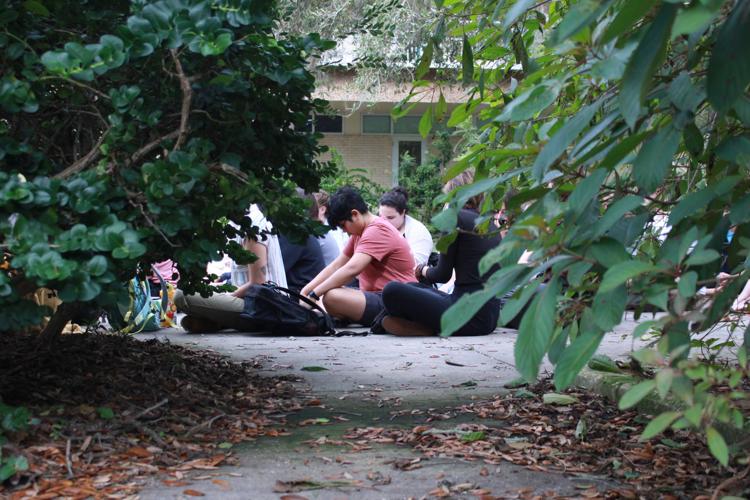 According to an email to students sent by Scott, the main purpose of the protest was to show the dissatisfaction with Eckerd's administration's handling of Title IX cases, not just the one detailed in the Tampa Bay Times article. Scott said the protest's goal was to create a candid conversation with Eckerd's faculty about Title IX as a whole.
"We already have a problem with rape culture on this campus," senior Amanda Scribner said, "and for a school official to know about it and actively discourage somebody from reporting an incident that happened, I can't even describe how angry that made me."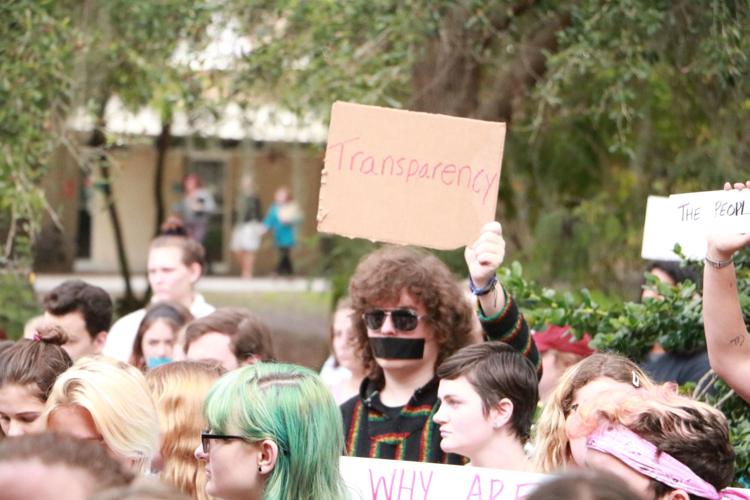 Faculty and staff had various reactions as they walked by the group of students. Director of the Center for Spiritual Life and Chaplain Doug McMahon passed in front of the protestors placing his hand on his chest and mouthing "thank you." He then sat with the students until the meeting began.
"At the student protest today, I felt the pain among the students and the power of the protest, as they held signs and stood silently as the faculty arrived at the faculty meeting," McMahon said. "As a chaplain, I am eager to be a part of the larger conversation on campus with students, staff and faculty about how to move forward as a community in ways that ensure that no one feels silenced. Everyone is prepared for an ongoing conversation to address student concerns."
According to Liza Conrad, associate professor of biology, the faculty meeting's main purpose was to discuss the general Title IX process and how it relates to Eckerd's faculty. President Donald Eastman and Harrison spoke to the faculty about their role in the Title IX process and their status as mandatory reporters. 
Title IX is a part of the Civil Rights Office of the Department of Education. It protects people from sex or gender-based violence in schools that receive federal funding. Eckerd's Title IX Office is responsible for ensuring gender equality and that Eckerd is safe from sexual misconduct outlined in the Equal Opportunity, Harrassment, and Nondiscrimination policy.
The lawsuit about former Eckerd professor Hastings was not discussed in the meeting, according to Conrad. There was no discussion about the protest that took place outside as the faculty walked in. 
"I think it's important that students use their voices to be heard and I think it's important that they communicate with administration, and I'm happy to see students doing that. I would like to encourage students overall to just talk to their professors and administration at the college. I think everyone has very good intentions to make sure that our students are heard and that we can address their issues," Conrad said.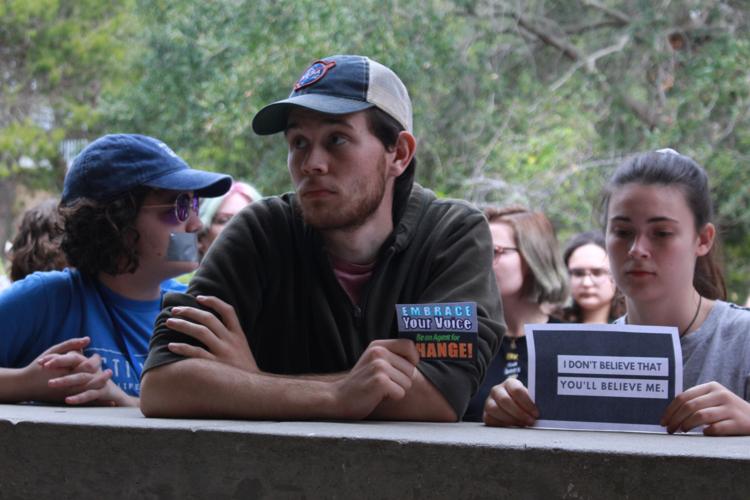 ECOS President Bailey Cross attended part of the protest and said she supports students' right to public protest. Alumni also attended. 
"I and a lot of other people would like to see a more strict attitude in the Title IX office towards not only taking care of student offenses but also faculty offenses and not trying to sweep it under the rug to maintain its reputation," alumnus Nate Klebe said.