Eckerd's waterfront campus comes with sunsets, a hands-on marine science program and an estimated 1-2 meters of sea level rise by the end of the century. 
The college has a plan to address that. 
Originally spearheaded by President Donald Eastman, Eckerd faculty, staff and students are working to create a campus resilience plan, specifically to combat sea level rise.
Potential changes students could see are buildings on stilts, canals throughout campus and more mangroves to absorb water.
One meter of sea level rise is projected to occur between 2050 and 2075, according to median local sea level projections from the National Oceanic and Atmospheric Administration's (NOAA) 2017 estimates.
And, those 1-2 meters do not take into account increased water levels from storm surge.
"With two meters of sea level rise, Eckerd's campus would be almost completely gone, if we didn't do anything to change it," Assistant Professor of Environmental Studies Joanna Huxster said. 
But with the Eckerd College Resilience Plan, Eckerd community members are taking steps to prepare for the effects of sea level rise as far as 2100.
"The overall goal is to increase the resilience to the campus and to have a long term plan in place," Eckerd College's architect Jerry Sparkman said.
''Little by Little''
Eastman began storyboarding preliminary plans to combat the effects of sea level rise when he first arrived at Eckerd in 2001.
While some of the first conversations about preparing Eckerd for long-term rising seas proposed raising all of the sidewalks eight feet to get around the campus, Eastman said, the ideas for what could actually work have evolved, along with a greater sense of urgency.
"Well, there's no doubt that there's climate change and while it's important that we make some distinctions about what's man-made and what's natural, it's climate change regardless. It's serious and substantial and accelerating," Eastman said. "And we need to respond to it."
Today, the plans include a present-day task force of executive college staff and faculty and a working blueprint for preparing the campus to deal with encroaching waters.
The task force includes President Eastman, Sparkman and several other administrative staff and faculty members. They work on establishing a framework to prepare the college for the most likely effects that climate change will bring to the Tampa Bay area, particularly Eckerd. 
In October, Eastman spoke about elevating the campus over time during a presentation to Eckerd's Board of Trustees. Eastman suggested that Eckerd will be ready to put money toward preparing the campus for sea level rise if budgeting starts now. 
"To make a serious response to almost anything, particularly at Eckerd College, you need to do it over a long period of time," Eastman said. "The title of my talk to the Board [of Trustees] was 'Little by Little' and my whole point is that the way that we get built, solid budgets, the way we've done so many things on this campus, both programmatic and physical, is to do a little here, and do a little there."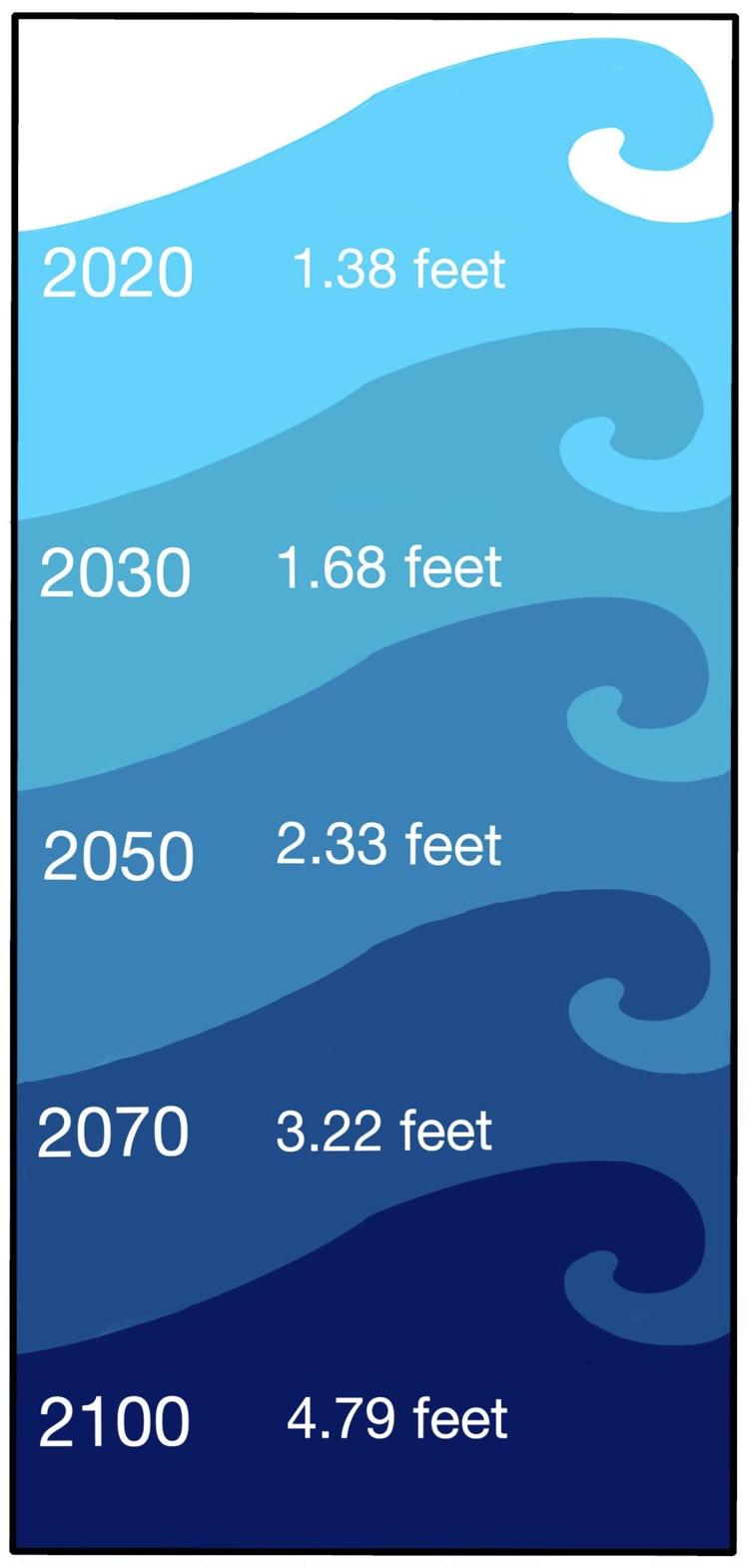 Trying to keep Eckerd, Eckerd
While the administration and faculty members have been spearheading the project, students are also concerned about the impacts of climate change.
"I think that at this point in time, it's kind of unpredictable. And it's hard to mitigate and prepare for it. But there are measures such as [a] taller seawall, more mangroves or erosion prevention," junior and environmental studies major Ally Sharbo said.
According to Eastman and Sparkman, unpredictability is something the task force has been working to address by gathering data representing the most likely predictions of sea level rise in the Tampa Bay area.
Students are also getting involved in the conversation.
On Feb. 6, representatives from SCAPE Landscape Architecture DPC, a "design-driven landscape architecture and urban design studio based in New York" according to their website, met with a group of Eckerd students and Trustees to discuss the resiliency plan.
Sophomore Elli Rogers, one of the students in attendance at the meeting, said the group talked about both physical aspects and culture of Eckerd that students value and want to protect.
"It was mostly about how we can keep Eckerd, Eckerd while still considering what climate change is," Rogers said. "It's apparent, it's coming and how we're going to conquer that battle while still keeping Eckerd the same Eckerd that we all know and love."
At the meeting, the students were the main drivers in the conversation, Rogers said.
"One thing that I really took away from that was how engaged they were with students and how much they took students' opinions and ideas into consideration," Rogers said.
So, what's next?
According to Eastman, the task force's goal is to have a master plan of action by May 2020. This includes finance details and a course of action.
"By May, I hope it will have a structure that says 'OK, these are the things we need to do next, in this order,'" Eastman said. "I'd like to see that we'd have the structure and direction for that before I get out of here."
One potential solution is already in the works.
Eckerd's main cafeteria is set to undergo construction during fall 2020. The addition to the building is going to be placed on concrete supports and extended into a two-story building. The overall design will try to lessen the effects of flooding near the dining hall.
But aside from the cafeteria renovations, the infrastructure of the campus is not currently built to withstand the effects of severe water damage and flooding that could come with rising sea levels.
To deal with this, one draft of the college's master plan illustrates proposed changes to the campus. Among them are man-made lakes and canals in front of buildings to divert water.
According to Huxster, some of the potential physical changes to the campus include limiting building new structures at certain elevations, putting some buildings on stilts, having raised pathways for students and planting new mangroves to absorb more water and serve as a more effective sea wall.
"The campus may look drastically different, but the hope is that we will still be here, and that we won't have to move, because that's why people are here," Huxster said. "One of the main reasons students come to Eckerd is because of the location. The idea of moving campus just doesn't make sense to us."
But beyond making the school a more resilient and adaptable campus as it is affected by sea level rise and climate change, Huxster also proposed how Eckerd can be an example for others.
"It's important that we have a plan that's based on real data," Eastman said. "But it's also important that we make a statement about the future. 
Gabrielle Reeder and Makayla O'Brien contributed to reporting.