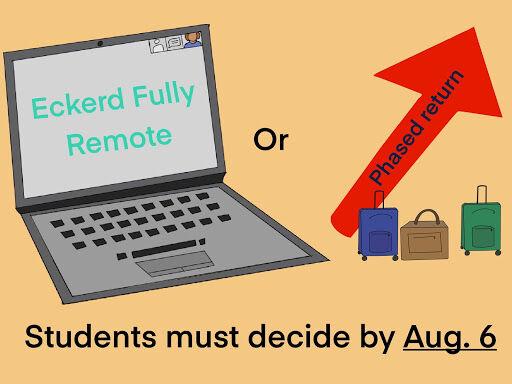 With COVID-19 cases on the rise, universities across the country must decide on a tight deadline how to continue the fall semester, whether online or in person. As the first day of classes quickly approaches, Eckerd has changed plans on reopening its campus. Now, students must decide to take their courses fully remote or in person through a phased return to campus.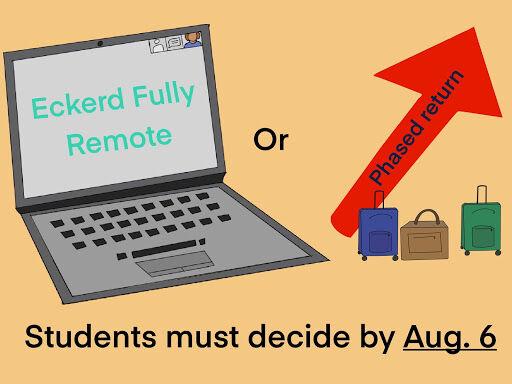 President Damián J. Fernández outlined students' options for taking classes, financial aid and tuition, and pandemic protocols in an email from sent on July 29, a little over a month before all students were expected to start in-person classes on Aug. 31. Students must decide by Aug. 6 if they will take classes remotely all semester, or return to campus staggered based on class standing. 
Phased return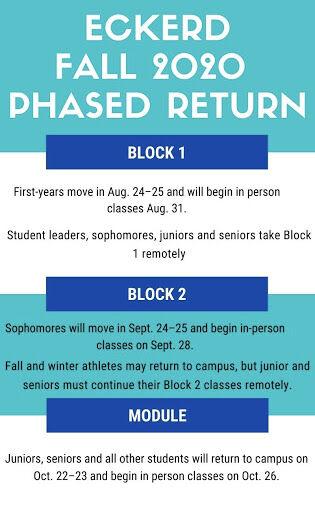 The Phased Return Plan, which has sparked debate on social media, allows first-years to begin their Block 1 classes in person on Aug. 31, while the rest of the student body takes their classes remote. The four-phased plan allows sophomores to join first-years on campus on Sept. 24–25 for Block 2, as well as juniors and seniors can return to campus for in-person Module classes on Oct. 22. 
Eckerd College Organization of Students President Will Shedden took to Facebook shortly after the announcement to answer student questions. He expressed that having every student come back in one month was "untenable" and though he personally disagreed, he said sophomores and first-years would return first because they are more likely to follow guidelines and not participate in unsafe activities. There will be a townhall for students to ask an Eckerd staff member and student leaders questions next week, according to Shedden.
Students and parents have voiced their concerns about the phased return on Facebook and Instagram. Some are happy about the precautions taken to mitigate the spread of COVID-19, like senior religious studies major Caroline Kothari. 
"I'm actually really happy with the decision. I haven't really wanted to come back, so I'm glad I will have some more time at home," Kothari said in a Facebook comment.
Others are frustrated and concerned with how this may impact juniors and seniors, student research and personal expenses. Senior Helen Wittenborn posted in the Class of 2021 Facebook group: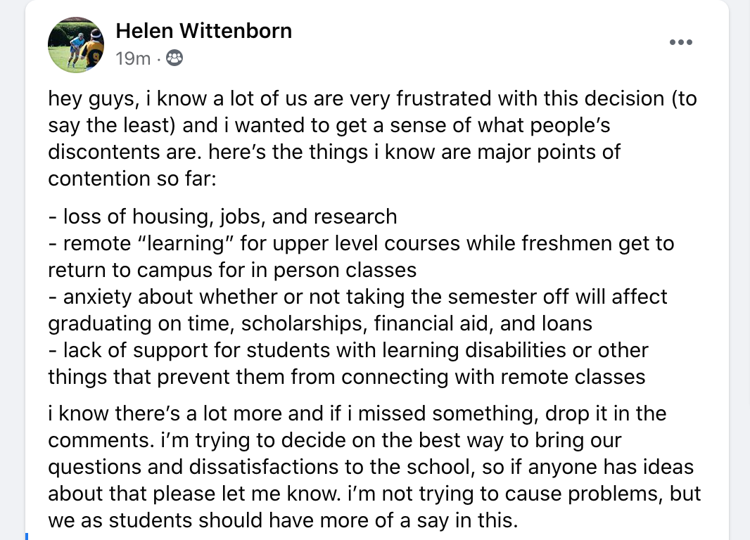 Those who choose the phased return option must commit to the Eckerd Together Promise and Student Requirements. The pledge includes face mask requirements, social distancing and hygiene protocols and restrictions on gatherings. Students who cannot commit to the promise must take their classes fully remote. 
Students must test negative for COVID-19 and have a flu vaccination before they return to campus.
Fully Remote
Students who choose to take their classes fully remote will not return to campus for the Fall Semester 2020. The email from Fernandez says that students who choose fully remote learning will forfeit their on campus housing and will not pay room and board fees. The email does not mention spring housing plans. According to Associate Director of Campus Housing Billy Otto, there is no guarantee that fully remote students will have their original housing assignments in the spring.
"We have to move a handful of students to different locations on campus, so it's very up in the air about which spaces are available and which are not [for spring semester]," Otto said.
Remote students must have a computer with a webcam and must be willing to attend all live streams or synchronous meetings. First-years who choose to take their classes virtually will be assigned to an Autumn Term class that is designated to be fully remote. 19 classes will not be offered remotely, including some theater, studio art, marine science and biology courses. 
The annual tuition rate will remain the same at $47,044 for all students, no matter which option they choose. The college cites additional costs in preparing the school for safety protocols, small class sizes, and how much course credits are worth as reasons for this decision.
According to The Chronicle, 16% of colleges across the country are offering a hybrid option for in person and online learning, 24% will be primarily online, 21% will be primarily in person and 27% have not yet determined theri fall 2020 plans.