From operating hours to the concept of the long-standing "Triton's Pub," and addition of a taqueria, dining services are changing with this academic year. Fueled by feedback from students, according to Associate Dean for Student Life Anne Wetmore '94, more accommodations will be implemented to fit students' tight schedules and dietary requirements. 
The main cafeteria will have longer hours, especially for dinner service, but will take away light lunch. Breakfast hours will be 7.30 to 10 a.m., lunch will be served from 11 a.m. to 2 p.m. while dinner will span from 5 to 8.30 p.m. Other changes include rearranging the stations within the cafeteria, such as moving the "Hemisphere" section to what used to be the grill section. In a few weeks, the outdoor patio will have its own outdoor grill section. The "Bare" section serves only food free of the top nine allergens and has specific pots and pans set aside to avoid cross-contamination. 
"You can't come in here and say that there's nothing to eat anymore," Bon Appétit General Manager Duke Walsh said. "If I have some type of dietary restriction, there's something in here for everyone. It's something different in every station." 
The menus will also be designed to be ever-changing and provide an ample amount of options at every meal service to provide more than one choice of protein or dish. Walsh stated that new cooks and chefs underwent extensive training during the summer to learn new techniques and broaden their culinary skills. 
"They spoke, we heard them, we listened and now, here's the outcome," Bon Appétit Director of Operations Dawyn Patterson said.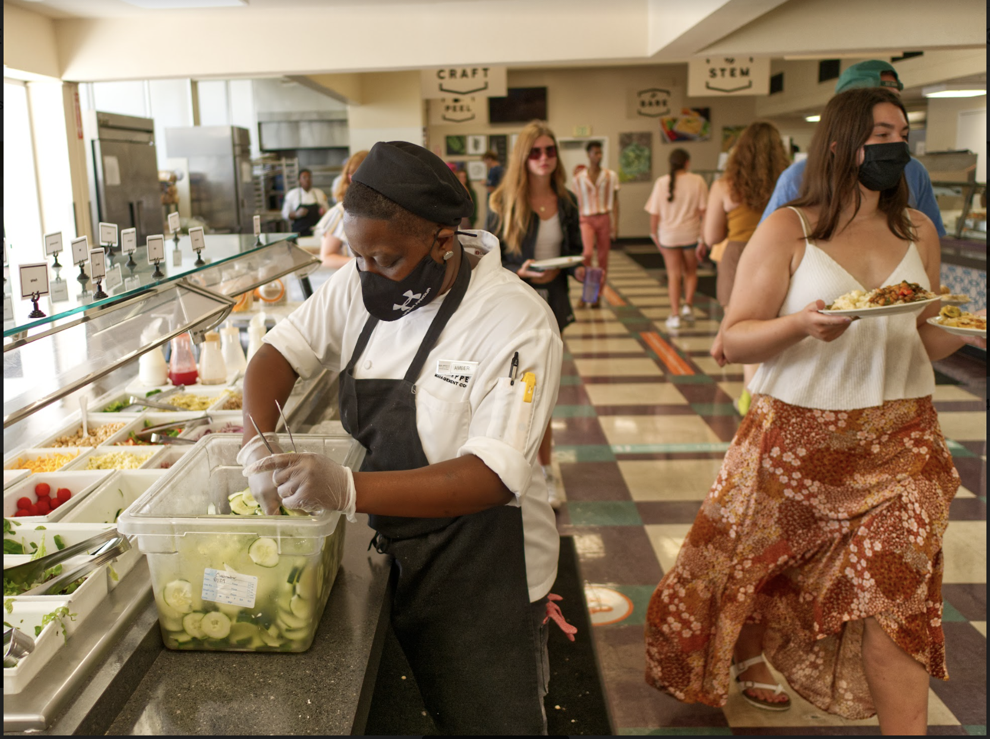 New paint, wallpaper and signage have been placed around the cafeteria. Photographs of the EC Community Farm, Waterfront and other notable spots on campus decorate the walls around the dining hall in order to refresh its aesthetic. There will be six digital signage stations for information regarding nutritional values or promotion of events on campus. Moreover, nutritional information will be more readily available and accessible on TVs around the cafeteria. 
Assistant Dean of Students Jamey Handorf '06 remembers the cafeteria from when he was a student at Eckerd. 
"The cafeteria was always a place, especially when I was a student, where my whole dorm would come over at the same time and we'd have 20-30 of your friends for an hour having a family meal," Handorf recalled. "The sun's going to set right there and you're eating with all of your friends feeling that family vibe. The cafeteria is a major cornerstone of the residential side of the community."
Handorf notes that the COVID-19 pandemic restricted students from having traditional meals, which he hopes the dining changes this year can restore.  
Aside from the cafeteria, other dining spots on campus are also getting a revamp. The Triton's Pub, will be open until 1 a.m on weekdays, and serve new menu options, including a new late night menu. They will be open on Sep. 5 and hope to host more events inside. In collaboration with local breweries and wineries, they will be serving alcoholic beverages. Mocktails will also be provided for those underage. 
Digital signage will also be available throughout the Pub for nutritional values of dining options and events. 
Bon Appétit, Eckerd's dining provider of 18 years, recalls when the place used to be a popular hang out spot, something they're trying to bring back to life. 
The Tierra Tacqueria will replace the former Continuing Education Cafeteria (CEC). During the 2021-2022 academic year, the taco food trucks were one of the most popular dining options. To accommodate students' cravings for tacos, Bon Appetit decided to provide their own. 
Bon Appétit is planning to form a committee that will vote on the theme and menu of the CEC every year to keep refreshing dining on campus. 
Both the Pub and Tierra Tacqueria will incorporate the Boost mobile application to allow ordering from a kiosk. Bon Appetit will also integrate Zingle, an application serving as a platform for students to provide immediate feedback to the dining experiences on campus. The application allows faster interactions through text messages. 
Another addition to dining on campus are the dub boxes, mini food trucks serving a small menu, which will be serving food from 11 a.m. until 11 p.m. on weekdays at academic quads to accommodate students who only have a short lunch break. On weekends, a "shrimp shack" dub box with vegan and vegetarian options will be serving food near South Beach. 
Several aspects of dining remain unchanged, such as the pizza truck between the main cafeteria and Gamma complex. Bon Appétit will continue to work with the EC Community Farm and Office of Sustainability to ensure that they are sourcing from the most sustainable and local options.