All in-person classes and meetings have been suspended until Jan. 19 after nine students tested positive for COVID-19, according to an email from Eckerd President Damián Fernández sent on Jan. 13. The email outlined the college's plans to mitigate further spread of the new cluster of cases. 
The email explains that the nine positive cases were found from the surveillance testing taken from Jan. 10 and 11, compared to a total of 14 positive cases of COVID-19 in Fall Semester 2020. Some of the positive cases were caused by a group gathering, although the email did not specify the type of gathering or how many people attended. The college is conducting contact tracing and identifying close contacts who must quarantine. Eckerd's COVID-19 website says there are 18 active cases of COVID-19, all of which are in isolation. Contact tracing has placed 35 students in quarantine as of Jan. 13. 
"The pause in in-person instruction should help us recalibrate and get the community back on track and embrace safer behaviors. We do not anticipate further interruptions at this time," Director of Media and Public Relations Robbyn Hopewell said.
The college's COVID-19 regulations define isolation and quarantine differently. According to Hopewell, isolation is when an individual who tests positive for COVID-19 is restricted from contact with others until 10 days after their positive test results or their symptoms begin. 
Students are placed in designated quarantine locations when they are awaiting test results after reporting symptoms and can leave quarantine with a negative result. Last semester, Sigma and West Lodge were used as designated quarantine and isolation locations. Students can also be quarantined if they are a close contact of someone who tested positive. These students must quarantine for 14 days.  
The surveillance group testing conducted on Jan. 10 and 11 tested 50% of the student population. Testing Groups A and B were tested at the GO Pavilion. On Jan. 10 at 3:25 p.m., some students waited around 25 minutes to complete their tests, with four people at the GO Pavillion facilitating the testing. The remaining 50% of students will be surveillance tested in Testing Groups C and D next week. Everyone in the Eckerd Community was notified of their group assignment on Jan. 8.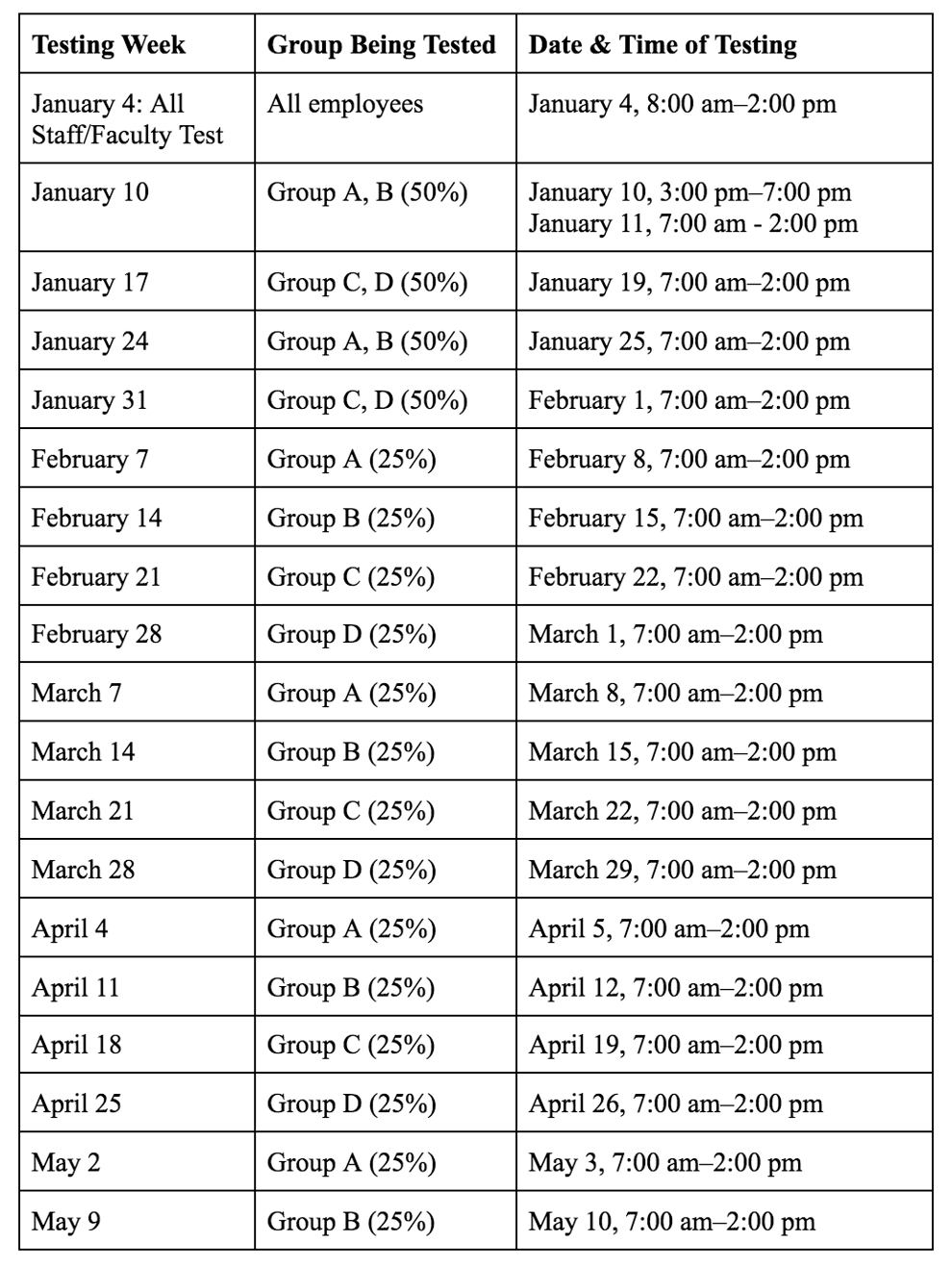 Academic buildings, such as the library, science and computer labs and art studios, are closed along with all dining facilities. All dining will be strictly grab-and-go, and Bon Appetit and other staff will still report to work as scheduled. The college advised students to limit their close contacts to their roommates in order to reduce exposure. This includes student athletes, whose training and scrimmages are also temporarily suspended. 
According to Hopewell, the Fitness Center is closed until further notice. She also said that campus tours are still scheduled throughout the week and will continue to follow COVID-19 guidelines. One student ambassador said that students will not be giving the tours for the foreseeable future. 
Hopewell said these measures are precautionary because of the cluster of positive cases. This is the first time the college has closed academic buildings and suspended in-person meetings due to a COVID-19 outbreak since Eckerd's evacuation in March.  
At 3:00 p.m. on Thursday, several groups of four to six students were sitting close together on South Beach, some wearing their masks below their chins. The email said that students should not meet in groups outside, and that close contact should be limited to roommates. 
"I am feeling really disappointed in my fellow students who are putting socialization above our collective health and well-being," senior AC Pauker said. 
COVID-19 cases are on the rise across Pinellas County with positive cases reaching 1,715 in the past week alone, which is the highest peak since July 2020. Cases across the United States are also steadily increasing with 863,888 new cases in the past week as of Jan. 13. A record number of 4,400 deaths were announced in the United States on Jan. 12. 
Researchers at Ohio State University have also detected a new strain of COVID-19 that has been reported in 11 states, including Florida. This strain has not yet been found in Pinellas County.
Students will receive an update on the college's operations on Jan. 18. 
"Our enhanced testing informs our decisions and will help us respond to the data. We will continue to learn and calibrate our responses to ensure a safer campus," President Fernández said in his email on Jan. 13.