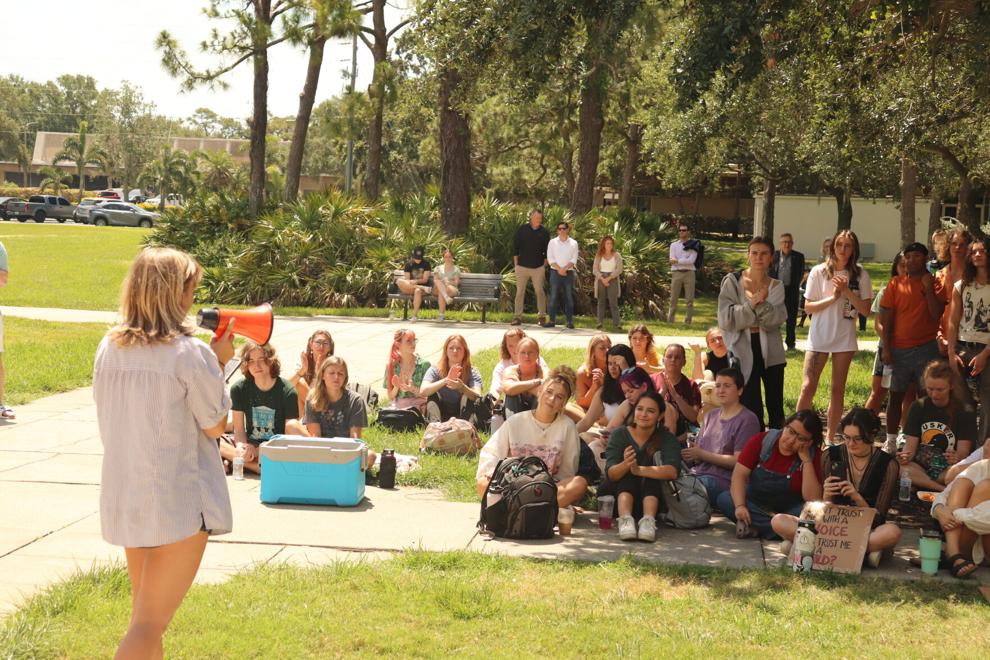 About 50 Eckerd students gathered in front of Franklin Templeton at noon April 21 to protest Florida laws and proposed legislation that restrict the rights of women, teachers, students, and the LGBTQ community. Among the crowd on the lawn were a few professors and President James Annarelli. 
The "Walkout 2 Learn" hourlong protest was part of a statewide student walkout at 300 Florida high schools and colleges, according to News 4 Jacksonville. Students left classrooms to attend their campus protests but many Eckerd students don't have classes on Fridays so they didn't need to skip or be excused.
"To say the turnout was a disappointment would be an understatement. We are an extremely privileged private institution, and just because it isn't happening to us doesn't mean we can sit back and watch dictatorial ideologies affect our state and country," protestor Izzy Connerly, a junior political science and communications major, said.  
EC Democrats was the main organizer of the Eckerd protest and publicized it with flyers around campus. Also, an email announcement was sent to all 1,800 students a few days before the event and then again on the day of. 
Protesters rallied against the latest education policies they believe censor curriculum involving race, sexuality and gender. The walkout was also about the more than 400 anti-LGBTQ bills introduced in states across the country. 
Gov. Ron DeSantis has just extended his so-called "Don't Say Gay" law to apply to public K-12 Florida schools. This bans kids from talking about gender identity or sexuality and could force teachers to "out" students to their families. 
A separate higher education bill includes a ban on spending public university money for programs that promote diversity, inclusion and equity. The law does allow for student groups with these missions if they are funded by student fees.
"The purpose of the walkout is to take a stand against Ron DeSantis and his fascist attack on academia," Zoe O'Brien, president of EC Democrats and a junior political science major, told the crowd. 
The walkout brought awareness to the students that did show up despite the small crowd . O'Brien said she had several conversations with friends that attended who weren't clear about what has been happening with trans rights and reproductive rights in Florida. They all felt they were more informed after attending the walkout, they told her. 
May 5 marks the end of the 2023 Florida legislature sessions and the public will be informed which laws were passed and what those laws entail. 
New and proposed legislation is making teachers and professors fear losing their jobs, and feel silenced about teaching students certain aspects of U.S. history. Even at a private college like Eckerd which isn't directly affected by public school legislation, there is concern about the loss of academic freedom. 
Another reason for the walkout was the six-week abortion ban that DeSantis signed on April 13. This is one of the most restrictive abortion laws in the country but it won't go into effect until a state Supreme Court ruling on a related law, according to CNN.
O'Brien was the main speaker and she energized the crowd with her powerful words.
"Diversity, equity and inclusion have a place in academia, trans kids have a place in academia, queer kids have a place in academia, students of color have a place in academia, and we must do our best to protect the sanctity of education against this bigot," O'Brien said.
Other speakers included Kaden Potak, first-year theatre major; Nadia Plechaty, sophomore sociology major; Stella Robson, sophomore philosophy major, and Clea Dobrish, sophomore sociology and women and gender studies major. 
People from the Pinellas Democrats organization came to the walkout to register voters and were giving out a QR code that led to a pledge to vote DeSantis out of office. The governor is said to be running for president in 2024 but has not announced. During the walkout, about 20 new voters were registered. 
"We are in this together, but you need to do more than just walk out, you need to vote, you need to call your representatives," O'Brien told the protestors.