The Seed Library in the Armacost Library officially opened on April 12, 2021, featuring over 50 varieties of edible plants, herbs and wildflower seeds. Anyone on campus can use these seeds to make their own personal garden or contribute to community gardens. This project has been in the works since the fall of 2020 with Librarians Nancy Schuler, Alyssa Koclanes and Jenica Ibarra spearheading the project.
This self-service collection is located underneath the main staircase in the library, and individuals can borrow up to three seed packets at a time. According to Ibarra, seeds don't need to be returned, but some individuals might want to save seeds to donate back to the collection. By doing this, students can also contribute to Eckerd's commitment to long-term sustainability.
The project initially began when Visiting Assistant Professor of Theatre Antonia Krueger and Schuler were discussing Krueger's Performance and the Environment class in fall 2020. Krueger assigned her class to plant seeds for a butterfly garden, and the idea of saving the seeds to turn into a seed library, an increasingly popular phenomenon, came up. Schuler was also inspired by her own "COVID garden" that she started during lockdown. 
"A seed library seemed like an obvious collection to have at Eckerd, given the educational opportunities and seed saving potential at the Eckerd garden as well as future plans for a farm," Ibarra said. 
The library was able to move forward with the project thanks to an ASPEC Intergenerational Learning grant in fall 2020, which funds the entire Seed Library, and the team of Eckerd students and staff who helped with planning and development. The Faculty Advisors of the project are Assistant Professor of Environmental Studies Hilary Flower, Assistant Professor of Biology Jeffrey Goessling, Environmental Studies Instructor David Himmelfarb, and Visiting Assistant Professor of Theatre Antonia Kruger. Part-time Librarian Kristin VanDiest and several library work scholars and RSL students also joined the effort.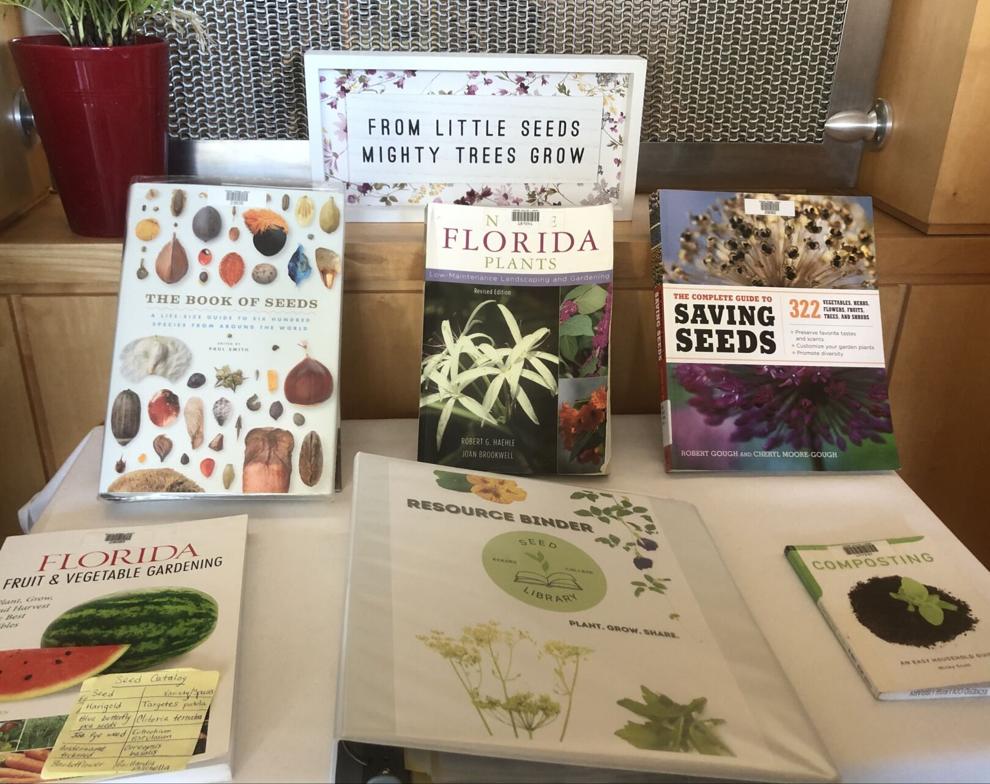 Junior Jake Rider, a library work scholar, assisted with organizing the seeds and creating educational and promotional materials. 
"Because of COVID, we have less hours because we can only have one person at a desk at a time. So they set up these projects for us to work on to also make money," Rider said.
According to Rider, the majority of the seeds come from donations from nurseries in the St. Petersburg area and from faculty and staff. 
Rider said, "I'm so excited about them because we're making relationships with outside sources." One of these connections is a nursery at which Rider got an internship for summer 2021. 
In the future, the founders of the Seed Library hope to start sharing and acquiring seeds beyond the Eckerd community. The librarians encourage students to get involved with the project and reap the benefits that growing something from a seed can bring. They suggest students take seeds to share with friends, have growing contests to see whose seed does the best and share tips with one another.
According to Ibarra, the gardening community is a very inclusive, supportive group, and is open to helping students develop their skills. 
There are multiple ways for students to get involved. For those with gardening experience, students can be a "seed steward" and collect seeds from the plants they grow to donate back to the library. Students can also contribute plant profiles or instructional videos to help others learn about growing specific varieties of plants, or share general gardening skills. The librarians are also open to ideas for service learning projects, internships and community events.
"It's cool seeing the library be seen as more than just a place for books. Now it's like we have something exciting there," Rider said. "It's cool watching the library grow since I started working there as a freshman." 
The Seed Library is one way students and faculty are supporting Eckerd's increased efforts to make the campus more sustainable. It will provide access to seeds and materials that will help educate students on Florida-friendly gardening practices to increase biodiversity and sustainable agriculture.
"Providing a seed library for the campus helps us support Eckerd's efforts on sustainability through a collection that anyone can participate in," Ibarra said. "It was an exciting prospect to bring together interested members of the Eckerd community who are passionate about promoting biodiversity and sustainability through native plant communities and Florida gardening."