Autumn Term usually begins with parents and students bustling around the Waterfront, upperclassmen and first-years bonding at Glow Party and everyone packing into McArthur Gymnasium for the Ceremony of Lights. Last month, for the first time in five months, students returned to campus, and Eckerd welcomed the Class of 2024 to a new reality.
First-years moved into their dorms starting on Aug. 24 to prepare for their Autumn Term, which is being held in person during block one while upperclassmen take their classes remotely. Peer mentors, residential advisors, ECOS and other student leaders returned to help them adapt to life at Eckerd. While only a fraction of the student population is on campus, how students, faculty and staff handle block one could determine how the rest of the year will look with COVID-19. 
As of Sept. 11, 2020, the college has two active cases of COVID-19, with one in isolation, according to the Eckerd College Coronavirus Plans and Page.
Ceremony of Lights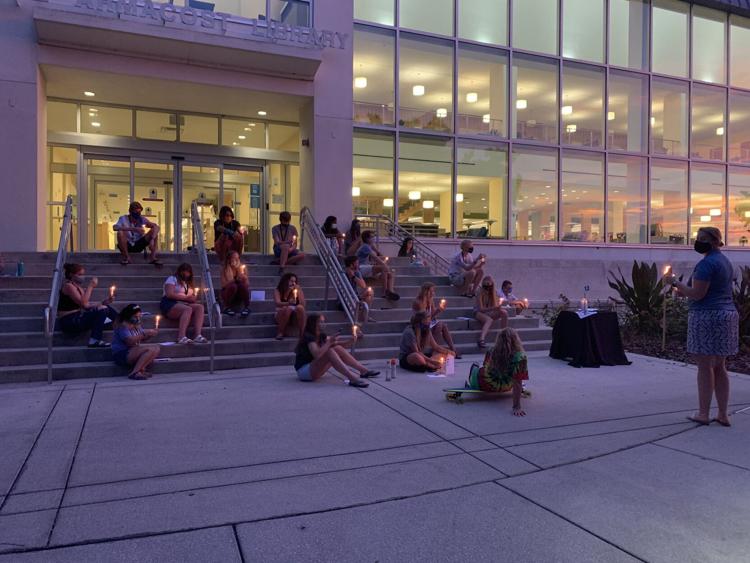 The Ceremony of Lights was held outside around Fox Pond on Aug. 31. Students sat 6 feet apart from their classmates on beach towels as President of Eckerd College Damian Fernandez gave his first welcoming remarks. Students, all wearing masks, were given their candles along with candle snuffers as a way to safely burn out the flames.
"It was so cool, and it's so much more Eckerd than just sitting in the gym," Katie Willgohs, senior peer mentor, said.
Willgohs hopes that the success of the outdoor event might even be the start of a new tradition.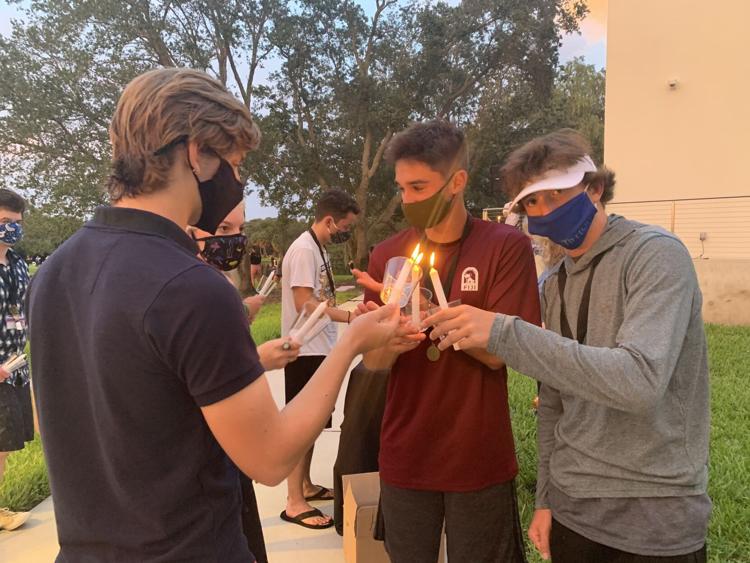 Classes from a new perspective
On Aug. 31, 28 Autumn Term classes began in a different format than usual. Professors and students have adapted their class environment to follow the Eckerd Together Promise, which outlines rules to prevent the spread of COVID-19. Some professors held classes in new outdoor classrooms that were built over the summer. Desks have been separated six feet and everyone in the class wears masks. 
Kat Robinson, general education professor and scholarship and fellowship advisor, has taught Narratives of Sail 10 times, but this year she has had to drastically modify the course.
"I'm having to keep that really discussion-heavy course and change it into a virtual space, and then outdoor space. So the delivery method has changed quite a bit. That means that some of the content has changed," Robinson said.
Classes like Narratives of Sail are using outdoor classes, zoom and in person lectures to get the most out of their three and a half week long classes. 
Autumn Term is not just a time for first-years to go to class, but also to learn about the Eckerd community. Usually students go to lectures about bystander intervention, diversity and inclusion and reflective service learning. Days are usually filled with opportunities to meet other students and learn what the next four years at Eckerd may look like. This year, Autumn Term lectures are over Zoom. Unlike previous years, the class of 2024 will have less opportunities at first to build bonds with their peers.
"I get a great sense of resilience about them," Robinson said. "They made the decision, both with their parents and themselves, to come to Eckerd during this time, so they're already willing to take risk in a sense. They have a sense of grit. I also think they're really lonely."
One group of students that help the first-years adapt are peer mentors. One peer mentor is assigned to each class, and they act as liaisons between their mentees and the Eckerd community. With the absence of activators this Autumn Term and an overall different atmosphere, peer mentors have had to step in and engage in new ways to introduce first-years to the life on campus.
"This year, we really emphasized on making the connection a lot earlier, and we really utilized Zoom and Google Meets, so we actually required the peer mentors to meet three times with their mentees doing a group zoom call," Tom Gilburg, senior peer mentor, said. 
In order to maintain a sense of "Eckerd Culture," ECOS and peer mentors are hosting social distancing friendly events that ensure student safety, but also make them connected with their peers. Virtual events like making DIY dry-erase boards and outdoor events like pool noodle tag are being held to keep students engaged. The Water Front has also been open for renting equipment. 
"The Water Front is open. I've seen people paddleboarding right now, so we're definitely taking advantage of Eckerd's campus which I think is a big part of like our Eckerd life," Willgohs said. "One thing that makes me really happy is that the first years are really utilizing south beach at sunset time." 
Mask bullies and party planners
Rumors of first-years planning off-campus parties, which started days after they came to campus, circulated Eckerd's parent and student Facebook groups. According to Willgohs, a peer mentor heard students planning the party while at South Beach and reported it to the administration to have it shut down. Students on social media were concerned about parties happening behind closed doors which could lead to on-campus cases of COVID-19. 
"That behavior is not acceptable," ECOS President Will Shedden said. "It will not be tolerated. I don't care if you're a first year and you just got here three days ago. You will be removed from campus, and you will take your classes online this semester." 
Joanna Ellwood, associate dean of community standards and Title IX and Section 504 coordinator, sent an email regarding off-campus behavior. It outlined that students who attend off-campus parties could lose their enrollment at Eckerd or would no longer be allowed on campus this semester. 
Rumors of students bullying others for wearing masks also spread throughout social media. Masks are required to be worn in public spaces according to the Eckerd Together Promise, but Willgohs claims that the tables inside the James Center were removed after students took off their masks to sit down in the lobby. Student leaders and faculty have taken the lead to talk about following COVID-19 protocols.
"I think that I've tried to bring up in many cases that regardless of belief structures, we all signed this code, Eckerd Together, and it's our promise that we are going to follow these protocols because that's what's gonna keep us here. If we don't, then we won't be here," Robinson said.