The first school Damian Fernandez ever visited was when he was four years old. In a rural one-room schoolhouse in Cuba, his mother was the only teacher and taught kids ranging from 5 to 13 years old. 
"I thought that what she was doing was magic," Fernandez said.
Fernandez said he honors his parents for the lessons they taught him, the influence they had on him and the sacrifices they made for him. He said his father and mother worked hard to send Fernandez and his sister to the best schools they could afford. When they couldn't manage the cost, he and his sister were able to stay due to their track record of academic success. 
"We saw hard work, we saw commitment to education and giving back to others," Fernandez said.  
His father had a third-grade education, but a strong sense of social justice. The belief that everyone regardless of income, race or gender had their own voice stuck with Fernandez. 
This belief resonates throughout the many academic journal articles, presentations and books Fernandez has written. The importance of inclusion, diversity and the American Story, especially in the Latin American community, inspired much of his work.
"The power of education is one of the individual and societal transformations. America could not be what it is without the role that higher education has played in terms of social mobility, economic development [and] democratic vitality" Fernandez said.
During his junior year of high school, Fernandez was given an opportunity by his principle to lead a tutoring program in the public housing communities in Puerto Rico. In those areas, the income was very low and the schools were poorly resourced.
Inspired by his school's commitment to offering scholarships to deserving and talented students, Fernandez guided his friends on how to support and tutor these students. From there, students took an exam and twenty of them were awarded scholarships to attend the high school.
"The opportunity to experience how education could transform the life chances of others transformed me," Fernandez said. "That experience taught me that I loved to teach and to engage in community service and set me down a path that has been committed to educational growth and providing access to others."
The lifelong impact both his parent's work ethic and the tutoring opportunity had on Fernandez led him to where he is today in obtaining, what he called, the crowning achievement of his career. 
On July 1, 2020, Fernandez will become Eckerd's fifth president, succeeding President Donald Eastman, who will step down after leading Eckerd for 19 years.
New beginnings
Last fall, Fernandez found himself sitting in his office at Penn State Abington when he received a call from Jay Lemons, the head consultant from Academic Search.
A friend had introduced the two a year ago and when Fernandez answered the phone, Lemons told him that Eckerd was searching for their next president and Fernandez was the first person he called. 
Fernandez had a long history of admiring Eckerd, applying and being accepted as an undergraduate student nearly 45 years ago. 
In 2005, he attended Eckerd's Leadership Development Program for executives. His first graduate student was even an Eckerd graduate. 
"It was one of those moments in your life that you feel like a light has shined on you. And you remember that moment like it was frozen in time," Fernandez said.
Later in August, he and Lemons spoke again. At this point, Fernandez had a draft of his letter and researched the achievements of Eastman over the past 18 years.
"I was already hooked," Fernandez said.
Fernandez was unsure that it was time to move on from Penn State to Eckerd. But the opportunity was too compelling to pass up.
"Eckerd's values are aligned with mine. I could not turn down the invitation to explore the opportunity," Fernandez said. "Although you might not know whether the time is right, what was crystal clear to me was that Eckerd would be the right place for me."
The search for Eckerd's fifth president drew 179 applicants from around the nation. Fernandez was one of the three final candidates invited to campus for interviews.
The search committee was made up of Eckerd trustees, alumni, staff, faculty and a student representative. Everyone assembled shortly after Eastman announced in Feb. 2019 that he would retire on June 30, 2020. The search committee worked with Academic Search to find candidates. 
The student representing Eckerd was junior, Kaitlyn Willgohs. To her, a president should know how to navigate budgets, raise money and recruit. Willgohs said she knew other members of the committee would focus on those aspects.
Instead, she said she focused on identifying someone that understood the magic of Eckerd.
"Dr. Fernandez is an extremely intelligent, passionate and humble person, and I am confident that he will listen to student's voices in the years to come," Willgohs said. "I could not be more excited to spend my senior year at Eckerd next year under the leadership of Dr. Fernandez. I know Eckerd will be in good hands."
Eckerd class of 1989 alumnus and college trustee, Ian Johnson, led the search committee for Eckerd's new president. The first thing that stood out to Johnson about Fernandez was his connection to Eckerd.
"It felt to us that he wasn't looking to be a president anywhere," Johnson said. "He was looking to be president at Eckerd."
One thing that stuck out to Johnson and the committee was the respect Fernandez had for Eastman and his desire to build on the legacy that he had created.
A legacy is not easily built.
When Eastman took command in 2001, Eckerd was in the midst of a financial crisis with the school's endowment drained, dwindling from $34 million to $13 million. Within a few years, Eastman had replenished Eckerd's funds and restored its reputation in the community.  
Before he retires, Eastman plans to secure gifts and pledges to exceed $100 million in the college's endowment.
In most of his previous positions, Fernandez had to lead the organization through a quick turnaround. That is not the case at Eckerd. 
"Following the footsteps of President Eastman would be daunting to any humble human being. [He] has taken Eckerd and has advanced the college in phenomenal ways. His legacy will be a long-lasting legacy," Fernandez said.
While serving as Chancellor of Pennsylvania State Abington, Fernandez oversaw about 3,700 students, the faculty, 21 baccalaureate degree programs and athletic programs.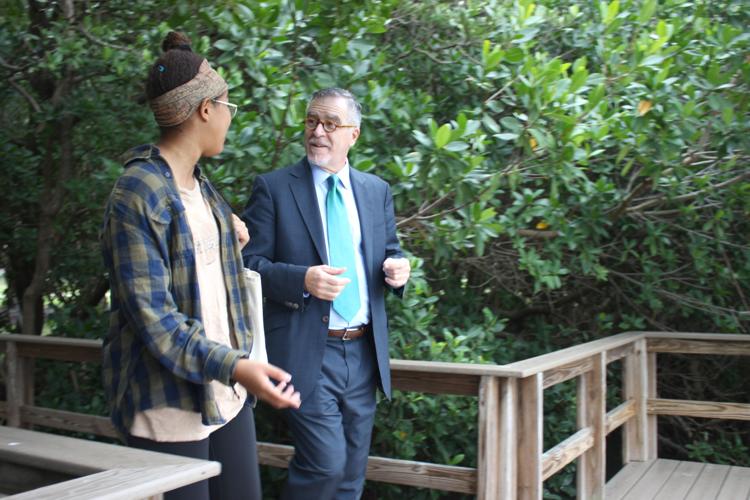 Fernandez's prior experience led the search committee to believe he would be the right fit for the position.
Further increasing diversity at Eckerd is a goal both the committee and Fernandez hope to achieve during his presidency. 
As of the fall 2019 semester, 77% of Eckerd's students are white, according to student demographic data shared with The Current earlier this semester by Chelsea Creaturo, a research analyst at Eckerd. This means that all remaining ethnicities make up less than a quarter of the student population combined.
Johnson was intrigued by Fernandez's ability and desire to reach out to the broader St. Petersburg, Tampa Bay and Florida community; and Fernandez said he has done similar community outreach in previous positions.
"If people judge you on where you are, or where you're ending, they would miss where you started from," Fernandez said.
Fernandez earned a Ph. D in International Relations from the University of Miami, a Master of Arts in Latin American Studies from the University of Florida and a Bachelor of Arts in International Relations with a minor in Latin American Studies from Princeton University.
Additionally, Fernandez's Latin American roots and humble beginnings, allow him to identify with a vast community that is not well-represented at Eckerd.
"If my personal story is emblematic of anything, it is that opportunity in tandem with hard work determine one's trajectory," Fernandez said.
Ascribing to his father's ideals, Fernandez aspires to open opportunities to others at Eckerd. Giving everyone the tools to achieve and promoting Eckerd as a mirror to the world.
"Eckerd has always had a sense of self as a place that will contribute to society," Fernandez said. "One of the contributions we can make now is to be representative of the New America." 
Johnson believes that Fernandez will help continue the innovative experiences and history that Eckerd has and bring new ideas to challenge the school and push the institution forward.
"Really from day one, it was his name [that] rose to the top," Johnson said.
There was a good feeling about Fernandez, Johnson said, from the moment the committee read his application and a long list of references to the first in-person meeting conducted.
"It just felt right," Johnson said. "When you can have that match that both sides come into it as their first choice and know it's right, it's magical. We always talk about the magic of Eckerd and it just really feels like we're going to continue that magic."
Johnson was wowed by a concept Fernandez presented to the committee. He proposed that Eckerd students should major in their discipline but also take a minor in a problem pertaining to current issues in the world at the time.
"What we're going to be challenged to do today, and in the future, is to solve problems," Johnson said. "And that's, I think, what makes up a liberal arts education."
The faculty involved with the committee unanimously agreed that Fernandez was the right candidate to fill Eastman's shoes.
"The future of Eckerd is a project for all of us to engage in. We will honor the past as we inaugurate a new beginning" Fernandez said. 
A distinctive voice
To speak with one's own voice is a lifelong pursuit that Fernandez said he wants to empower all students at Eckerd to learn. To embrace who they are and speak with a personal voice. 
"Nothing compares to that. The power that that gives. Education should have that ultimate purpose: to allow and empower individuals to be who they are, illuminated by reason, but also guided by your passion," Fernandez said.
In his own life, Fernandez says that it has taken him a while to speak with his own voice.
He would also like to bring light to the need for open access to groups that have too often been left out of higher education.
To him, writing his book, Cuba and the Politics of Passion, was one of the times that he as a scholar was able to speak with his voice. His book is unconventional and challenges the notion that emotions are not drivers or meaningful in politics.
In his position at Eckerd, Fernandez wants to lead by example and be true to the values that he shares with the Eckerd community.
"I think that's the most challenging, but also admirable thing that anyone can do," Fernandez said. "One needs to lead one's life and be guided by the values that one holds dear."
Fernandez sees Eckerd as a potential role model in the landscape of higher education. He aims to bring Eckerd into a position of recognition to lead the nation toward an education that unites the arts, humanities and sciences together to deal with the questions we face today.
Growing up in Cuba and Puerto Rico, Fernandez is fluent in Spanish and English. In high school, he started learning French, which he continued with at university. While at Princeton, Fernandez focused his thesis on Brazil, so he took Portuguese as well. 
Fernandez is a lover of reading, traveling and eating, and his knowledge of different languages has acted like a "passport" to these worlds and experiences.
"It's also a way to learn to be almost uncomfortable," Fernandez said. "It's important to embrace that discomfort, to push your limits, to engage with others and try to understand their worldview through that language, and to bridge the gap that exists between humans but also people from different nations."
Outside of the office
Fernandez loves Lady Gaga and Rihanna. His favorite food is stone crabs. And when he's not in his office, one might find him on the volleyball court.
"I really wanted to have a career as a volleyball player, but I wasn't tall enough or talented enough," Fernandez said.
According to Fernandez, his friends would describe him as funny. Or at least he tries to be.
"I think they would agree that I share a relaxed intensity about me. I can be very focused, relentless in the pursuit of something, but I can also be informal and relaxed," Fernandez said. "I don't take myself too seriously. I take what I do very seriously, but not myself."
When Fernandez is not focusing on academics or politics he loves to read, travel and exercise. Back when he had more time, he would play tennis, but now he wakes up at 4:30 a.m, goes to the gym and drinks iced coffee while he sits, unwinds and recharges.
But Fernandez said his proudest accomplishment is adopting his son.
"It's made me a better person," Fernandez said.
He learned patience and how to let go, which he believes is one of life's most important lessons beyond asking for help. For Fernandez, he said being a parent means not having control and learning to see where life takes your child.
"It has been wonderful, inspiring, edifying really, to see this boy turn into this thoughtful, funny, athletic young man who has developed his own character," Fernandez said.
Fernandez compared this lack of control in parenting to being an educator and president of Eckerd. 
"I do not want to leave things to chance," Fernandez said. "I want to make sure that we articulate why Eckerd does what it does so well and with such great power. I want to be able to have that recipe for the magic."
But as a parent, all Fernandez can do is lead by example and trust that his child will make the right choices and land on his feet. 
"It's letting go. Life is also a process, many times, of letting go and of dealing with losses at the same time as we live with gain," Fernandez said. "So, in terms of my achievements, nothing compares to that."