Student political groups make change on college campuses. But this semester, one of Eckerd's most ambitious groups, PIRG, learned the limits of our private campus.
PIRG, or Public Interest Research Groups, are nonprofits that use students to run campaigns for political change. The organization would not exist without its many chapters, which often rely on student-managed organizers to oversee campaigns. Eckerd's risk management team denied Eckerd's chapter's request for an organizer because they do not allow non-Eckerd employees to work on campus.
The Eckerd PIRG chapter President, Isabel Muir, said that she's disappointed, but understands the policy.
"I think [the administration and PIRG] are just trying to work towards a cooperative effort," Muir said. "They could have easily shut this down as a whole." 
Last spring, PIRG asked students to vote on whether the Board of Trustees should raise our student activity fee and put the funds towards hiring a PIRG organizer. Students voted in favor, and the Board of Trustees approved both proposals. As a result, the Eckerd Organization of Students (ECOS) raised PIRG's budget to $20,000 in the fall, which would have been used to support the organizer.
Nearly a month into the fall semester, the Risk Management Committee told Muir that hiring an organizer is a liability. 
Fred Sabota, the associate vice president and associate dean of students, summarized the decision in four bullet points, according to an email sent to Elaine Newbern, The Current's editor-in-chief. 
Sabota said that Eckerd College policy does not permit third party contractors and consultants to have free access to campus facilities and services.
"So they [the Risk Management Committee] saw the campus organizer, as a contractor, and they weren't reporting directly to anyone on campus," Sabota said. "There was no language in there about if they [the campus organizer] can enter the residence halls or what time of day they're allowed to be on campus, and where they can be on campus."
But Eckerd's PIRG chapter had already found an organizer to fill the position, as well as the money to pay her. Risk management had to inform the group that since the organizer, Arielle Mizrahi, was already in the position, she would not be allowed on campus. Adam Colby, a risk manager who worked with PIRG on this issue, did not respond for comment. 
According to Sabota, Eckerd personnel also select all employees, contract workers and consultants after meeting or interviewing them if they are working directly with students. He also said the committee did not agree with how the PIRG campus organizer had been chosen without the college's involvement in the process.
"And we had no input on who that person is," Sabota said. "And we just don't do that. It's not good college policy."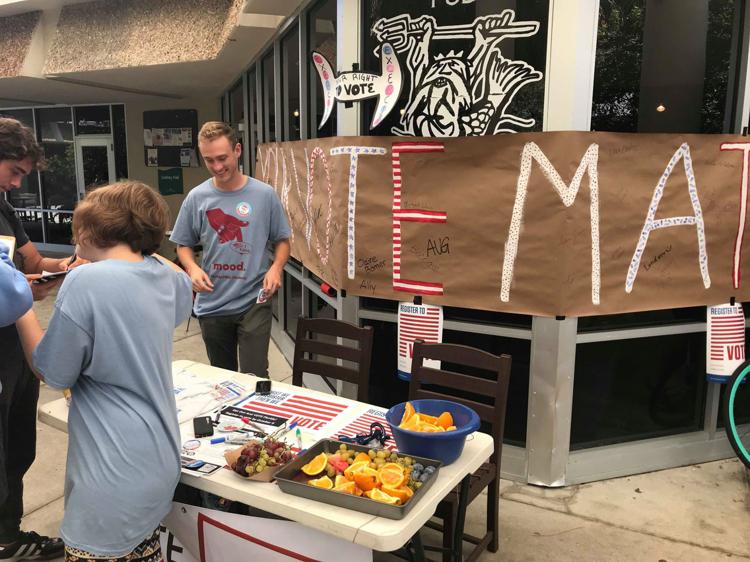 The contract PIRG drafted also did not clearly state the payment process and services of the organizer, Sabota said. Lastly, he said there was insufficient indemnification information, meaning they did not know if there was enough insurance coverage on the organizer to be working with students.
Mizrahi said that she understands the policy, but continues to work with the chapter via phone and computer. 
Muir and ECOS President Bailey Cross hope they can bring Mizrahi on campus next year, and Eckerd's student government sees potential in having a stronger PIRG chapter. According to Muir, the group's $20,000 budget is on hold until they resolve the issue.
"I think that they're a strong group who's gonna figure this stuff out, so I'm not super worried. But I'm also here to be a resource," Cross said.
Eckerd's PIRG chapter is currently helping with a nationwide campaign to make textbooks cheaper, while continuing to register voters on college campuses.
Elaine Newbern contributed to reporting.