In the Office of International Education, Diane Ferris pushes aside paperwork and manila folders on her desk to uncover a faded black box. Its contents reveal photos taken from years of study abroad trips, dating back as far as 1988.
Ferris, director of international education, flips through images of students exploring Mesoamerican ruins in Puebla, Mexico, photographing giant tortoises in the Galapagos and sledding down sand dunes in the American Southwest.
"You never truly know what your country is like until you get out and look back in a different perspective," Professor of Decision Sciences Ed Grasso said.
Eckerd's study abroad program gives students opportunities to get out of their comfort zone and learn beyond the limits of a classroom. Students return to campus with global perspectives that can only be gained from one of the cornerstones of Eckerd's education: international education.
"I like the Eckerd motto 'Think Outside,' but I would say dare to be outside, like get out and get out of your comfort zone," junior Cat Harper said. "I've learned so much and met so many people that I am a completely different person than who I was when I left, to who I am now."
But students may not know is how Eckerd's tradition of international education goes back to the 1960s.
Founding the 'short-term'
In Eckerd's beginning years a set of four core tools were used to construct a quality education: independent studies, interdisciplinary studies, innovation and international education.
In the early 1960s, Eckerd became the first school to adopt the '4-1-4' calendar year. The '1,' representing Winter Term, is an opportunity designed for students to concentrate on a particular subject in January.
What began as simple classes and research on campus transformed into a pathway for students to visit different regions of the world. These trips offer courses that fulfill graduation perspectives and requirements and allows most students to study abroad and still graduate in four years.
In 1962, a new Winter Term course stuck out: "An Introduction to the Fields of Anthropology and Archaeology in Mexico." This was Eckerd's first overseas trip.
On Dec. 29, 1962, 30 students—led by sociology professor and later Director of International Education Clark Bouwman—departed from Tampa to Mexico City. Throughout the trip, students worked in archaeological sites, participated in seminars on Latin American social reform and attended a bull fight.
The pilot trip resulted in wide interest for studying abroad. The following year, the school offered trips to Haiti and Puerto Rico.
The pilot trip resulted in wide interest for studying abroad. The following year, the school offered trips to Haiti and Puerto Rico. From then on, more trips were offered to destinations all over the world.
Some students though were unable to participate in Winter Term due to conflicts of schedule.
The Spring Into Summer program was then created to give them more opportunities to study abroad. Faculty began to create more diverse programs.
Learning through adversity
Peter Hammerschmidt, professor of economics since 1977, is known for his adventurous short-term trips— a few being ascents of Mt. Kilimanjaro, a sailing expedition to Antarctica and an ascent of Aconcagua Mtn. in Argentina. His trips are focused primarily on leadership development and teamwork.
"Students are really thirsty for that stuff that we do in the so-called real world, so I bring that in on my Winter Term trips a lot," Hammerschmidt said.
Over three-and-a-half-weeks, he challenges students to work together to achieve personal and team goals. One commonality in all of his trips were that the teams faced adversity.
During their various ascents, a number of students were unable to reach the summit. Some had to be taken down the mountain on stretchers due to exhaustion and asthma attacks.
On his first Winter Term trip, Hammerschmidt took a group sailing to The Bahamas. The team faced many bumps along the way, including running out of gas in the Everglades, multiple storms destroying parts of the boat and airlifting a student from the boat due to extreme dehydration.
On each trip, Hammerschmidt requires students to keep a journal, documenting their experience.
"We took a look back in and we thought, what a disaster. And [then] I read the student journals: best learning experience of their lives, how they got through it," Hammerschmidt said.
These short-terms continue to provide students opportunities to learn both through success and adversity. They are exposed to different cultures and experiences that cannot be taught in a classroom.
A semester abroad
In 1970, Bouwman introduced Eckerd (then Florida Presbyterian College) to a semester-long program in London, England. The college leased an old Georgian row house in the historic Bloomsbury district at 35 Gower St.
The college's first semester abroad program brought 29 students to the Gower St. house. There, students chose three independent or directed studies courses, and were required to take one core course examining the British natural environment.
Courses available for students included "Subculture to Counterculture" and "Fantasy and Imagination." The classes allowed students to explore the city of London through museums, cafes and theatres.
Today, the program is very similar to its beginnings in 1970. Students select three elective courses and are required to take British Seminar, a course in British culture and history taught by the accompanying professor. The electives include literature, theatre and politics, and are taught by British faculty.
Each week, students visit new museums, theatres and destinations throughout London.
"You walk out of the house and the whole city is there waiting for you," Grasso said.
Eckerd's study abroad program also works with exchange programs to make study abroad as accessible as possible. They allow students to travel while keeping the same tuition and financial aid. Affiliate programs also work with Eckerd students studying abroad, but have a different payment process.
The programs include SEA Semester, exchanges with universities in Japan and Spain, affiliations that house students at universities all over the world, and more.
Harper studied in Malta with the International Student Exchange Program (ISEP) for a semester during her sophomore year. She is the second Eckerd student to study there.
"Going abroad allows you to open your mind and expand your horizons. If you don't do that, you're not allowed to be an ambassador of our culture to theirs and their culture back to ours," Harper said.
Office of International Education
In 1988, Tom Oberhofer, now retired professor of economics, decided to facilitate a four-week term at the Lon- don Study Center. With extra spots on the trip, Oberhofer invited PEL (Program for Experienced Learners) students to join.
Enter Ferris, a PEL student at the time.
At the time of the trip, the study center's breakfast cook had been sick and the spot needed to be filled. Ferris volunteered.
"I had never been abroad, so that's the first time I ever went," Ferris said. "And that's how I learned London, cause they were in class, and I had all these various small chores to do. Then, I was on my own. I got to know London because I got out there and got lost, it's the best thing that ever happened to me."
Ferris had a newfound love for the opportunities presented by studying abroad.
She worked in admissions, financial aid and academic advising at Eckerd starting in early 1990, before leaving to work in the Office of International Education.
In 2000, she assumed the role as full time director of international education.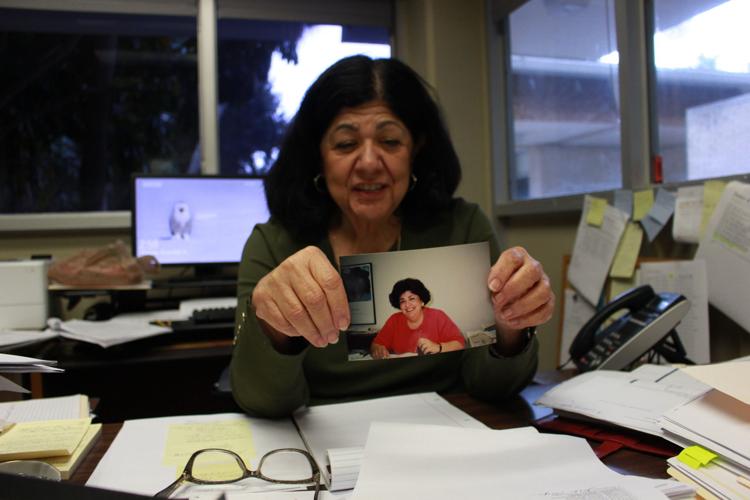 When Ferris began working in the Office of International Education, only 42% of students had at least one study abroad experience.
"It's been our goal over all these years to raise that percentage," Ferris said.
Today that percentage sits at 70%. This year will be the biggest Winter Term in Eckerd's history with 446 out of the 560 applicants studying off campus this January.
Every year, the Institute for International Education releases national rankings for college's study abroad programs. For the 2017-2018 academic year, Eckerd ranked 10th in 'Undergraduate Participation in Study Abroad,' 5th in 'Total Number of Study Abroad students' and 2nd in 'Leading Institutions by Short-term Duration of Study Abroad and Institutional Type.'
Many say that studying abroad is a once in a lifetime opportunity for college students. For Harper, a sociology and ancient study double-major, her experience proved to be worth it.
"If you have the option and choose not to, you're really limiting yourself," Harper said. "It really opens your eyes, we're living in such an interconnected world... If you don't have those experiences, you're missing out on what's around you and what other people understand