On Thursday May 6, Afro-American Society (AAS) held a silent protest in Upham Quad demanding changes from President Damián Fernández and the Eckerd administration regarding diversity, equity and inclusion issues on campus.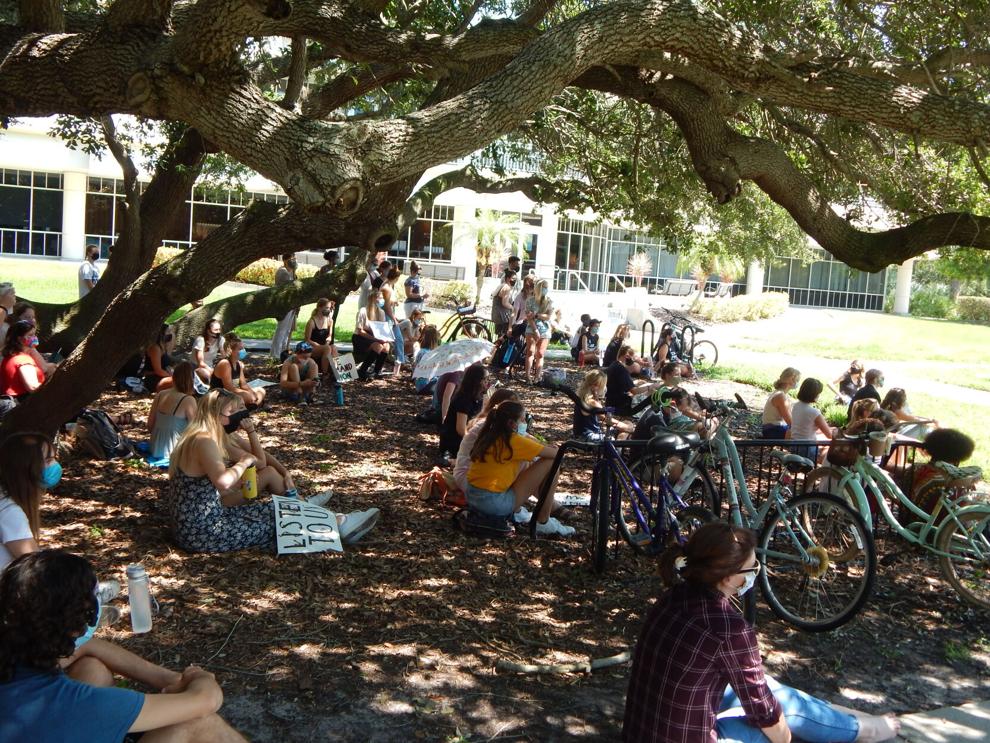 At 11:30 a.m., around 200 students, faculty and staff sat in silence to show support for Black voices on campus. At noon, they listened to AAS members give speeches for the next 30 minutes. Campus Safety and Security approved the protest, along with the sign-making event AAS held Wednesday night on Fox patio.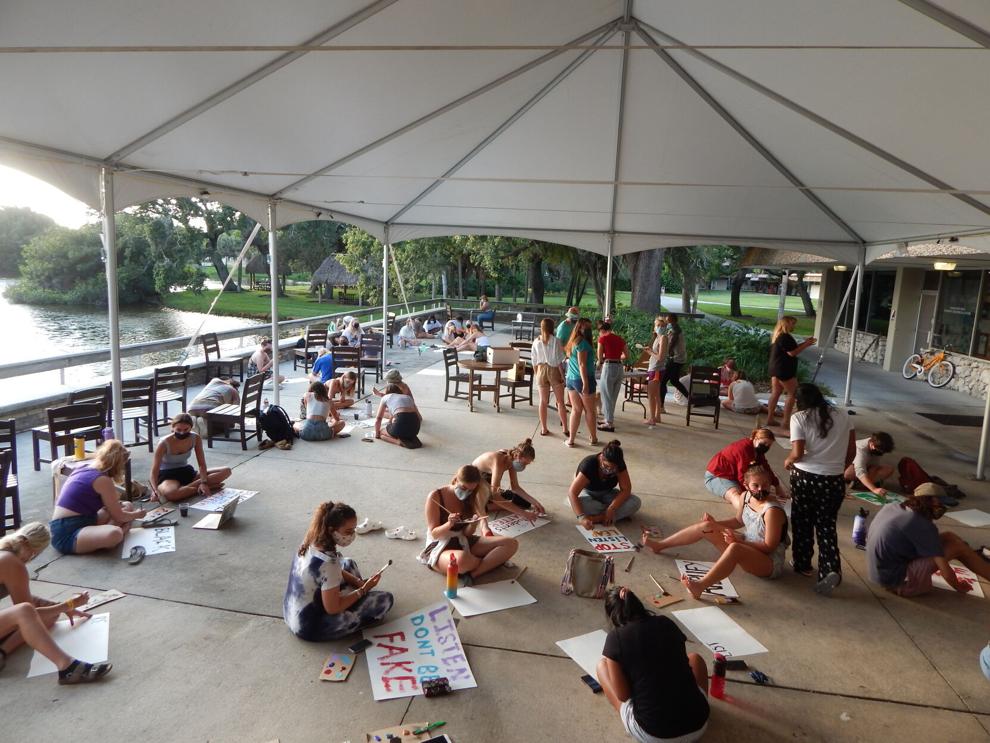 Many participants and organizers wore black T-shirts with the words, "Our Black students matter" on the front. The rest of the crowd wore dark clothes to show solidarity. Many of the students sat on the grass, sweating from the humidity and sunlight. Students held various signs. A few signs read, "Your silence is violence," "Emails are not actions," and "Listen to Black students."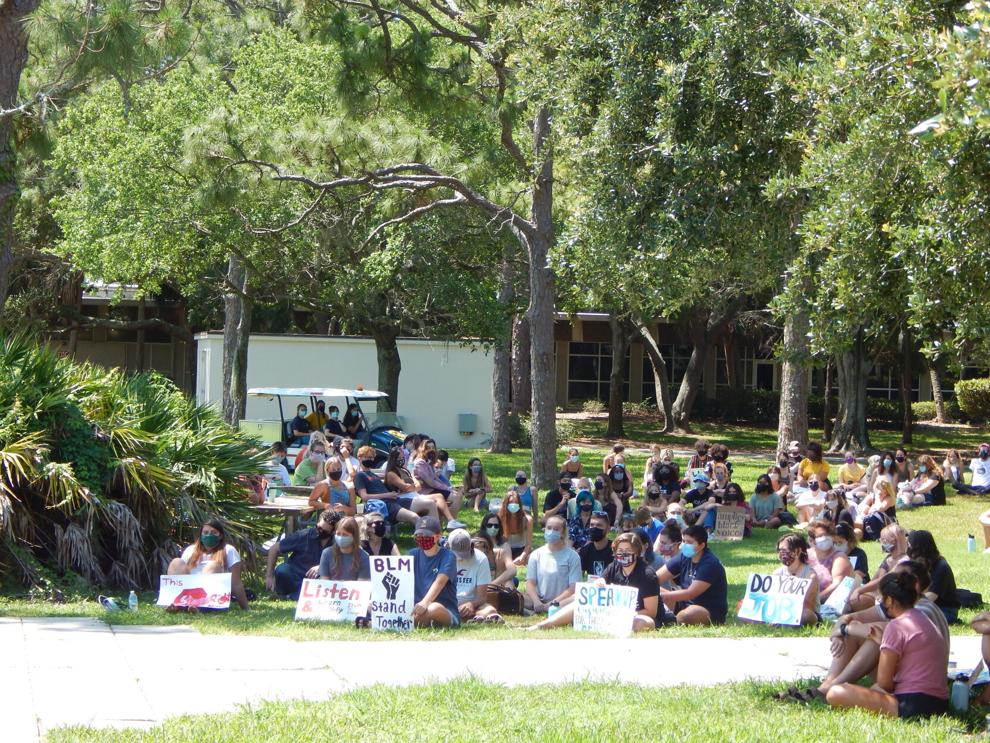 At 11:54 a.m., Fernández's footsteps filled the silence as he walked across the front of Franklin Templeton to stand with participants under the Seibert balcony.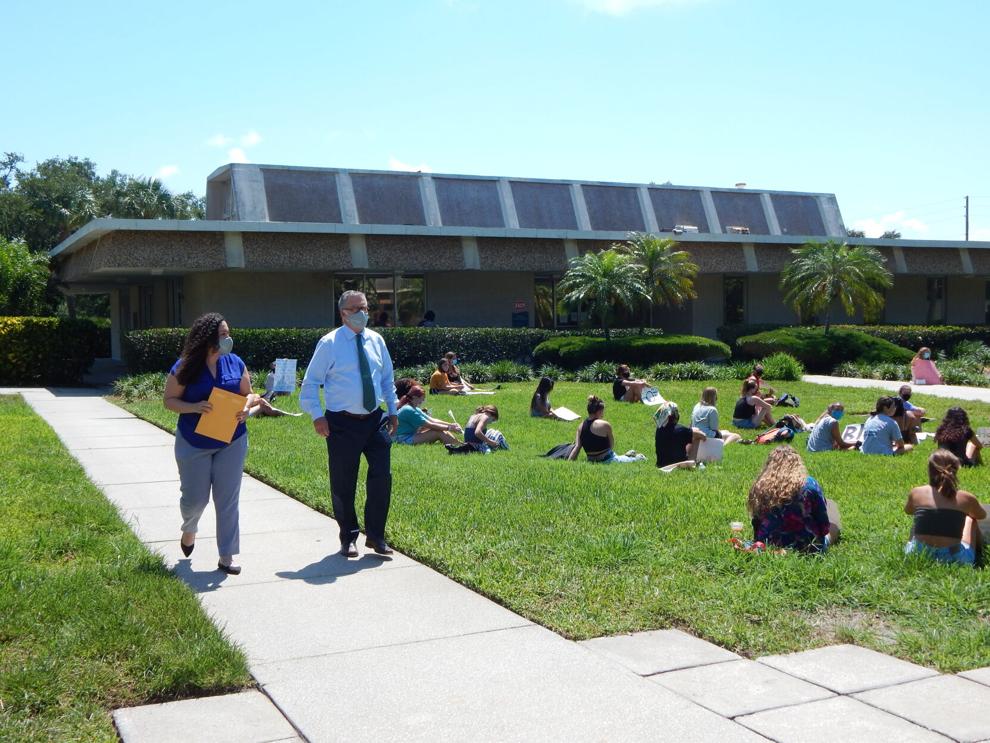 At noon, speeches from four students began. First, junior Aryelle Lipscomb, vice president of AAS, spoke to the crowd about racial trauma they experienced the past two months at Eckerd. They reminded the protestors that they cannot disappear after this event, and they need to continue to fight for Black students.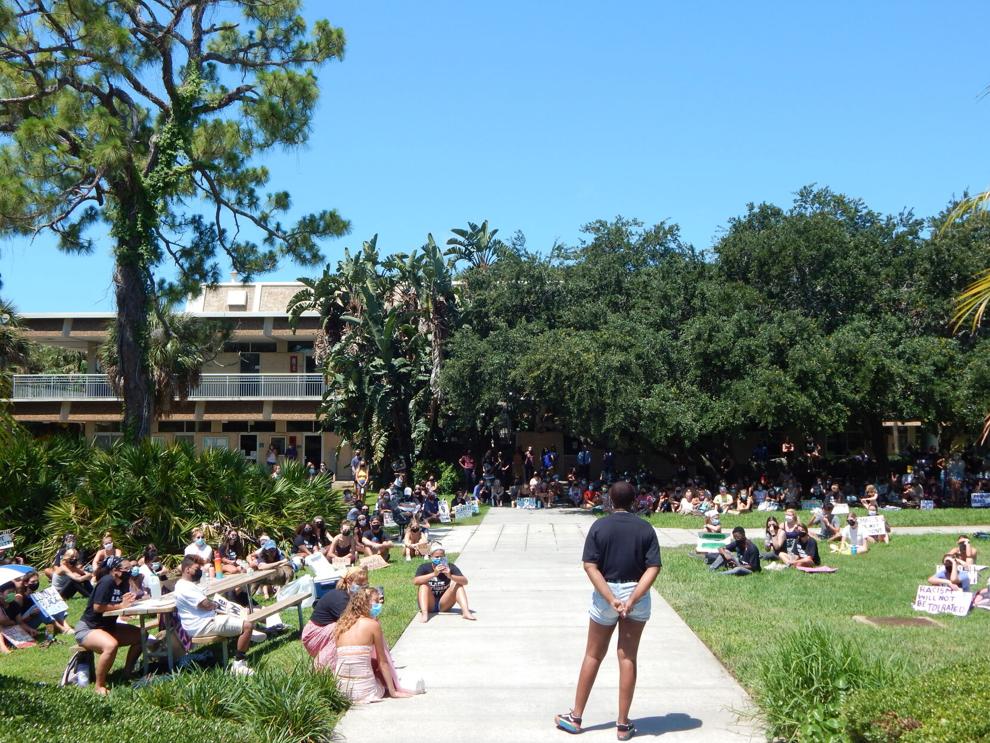 "You cannot follow Afro-American Society on Instagram and say you're doing your part," Lipscomb said. "You cannot go to the 'Beats, Bops and Bars' party once a year and think you're doing your job, because you are not."
Junior Anna Goodin read the protest's purpose to the crowd with junior Cameron Moore standing by her side. She began by acknowledging the impacts made by the former Eckerd College President Donald R. Eastman III.
"As a result, Eckerd is notoriously referred to as 'Eastman's Plantation'," Goodin said.
Goodin then described recent incidents beginning with the first ECOS debate on March 3, 2021. She explained how insensitive comments were made about Black students during the debate. Lastly, she discussed the student tradition of "Jay-Z-easter" and how it took too long for the harmful tradition to end.
 "We are speaking to you directly, President Fernández," Goodin said as she faced him from across the quad. "Because you promised us a more inclusive campus."
With deep emotion, Moore read aloud the protest's call to action. Lipscomb placed their hand on Moore's back for support while holding a sign that read, "Financially support Black students."
Moore suggested a list of actions that everyone in the Eckerd community should take if they want to support Black students, faculty and staff on campus. The list encouraged others to reflect before defending one's point, speak out against microaggressions, listen to Black students, stop saying the "N" word and educate yourself.
"Simply by attending this protest today… We have taken an important first step on our journey to end racism on this campus," Moore said. "We showed up and it doesn't end there."
First-year Maddie Reifsteck read the list of demands for the protest. First she stated the demands they want done as soon as possible, then the rest of the demands. They are expected to be fulfilled by Autumn Term 2021, December 2021, May 2022 and December 2022. Lipscomb later described this list of demands to be a "checklist" for the college.
An email sent by AAS to the Eckerd Community stated, "Our main demands are for the administration to respond effectively to racist incidents on campus, create a reporting process for biased incidents, compensate students for DEI work, and increase the amount of required DEI training for faculty, staff, and students."
Lipscomb concluded the protest with a speech reminding the crowd they need to continue supporting Black students on campus. 
"I do love this campus," Lipscomb said in an interview. "Which is why I'm still here. Which is why I'm fighting so hard for it." 
Many student protestors attended the event out of frustration and support for their classmates. 
First-year Briana Hashim, events coordinator of AAS, said she was glad Eckerd showed up, but it was a shame this all happened in the first place.
"This is an outrage," sophomore Leah Knezevich said. "It's like treading through mud, like why can we not take steps forward?"
Junior Carrie Walker said she protested because she believes every white student should support AAS and all students of color on campus because they shouldn't fight this battle by themselves anymore. 
"At the end of the day, it affects them the most, but it's everyone's problems until it's fixed," junior Kylie Anderson said. 
On Instagram, AAS live-streamed the event, then posted the livestream for anyone to view. The protest's prepared speeches are available to read by clicking the link in the AAS Instagram bio and here as well.