On Oct. 1 every year, an annual crime and fire report is published and distributed to the Eckerd community online, through the office of Campus Safety and Security. 
Director of Campus Safety and Security Tonya Womack sent out an email this year, providing students with access to the report.
The Jeanne Clery Disclosure of Campus Security Policy And Crime Statistics Act was passed in 1990 after Clery was murdered at Lehigh University. This crime prompted her parents to push for mandatory reports of crimes committed on and off campus.
Eckerd's 77-page crime and fire safety report is broken into three appendices. It lists all of Eckerd's policies and definitions relating to crime, amnesty and bystanders in the first appendix, reported crime statistics in the second and fire safety statistics in the third.
The reported crime statistics include numbers from 2016, 2017 and 2018.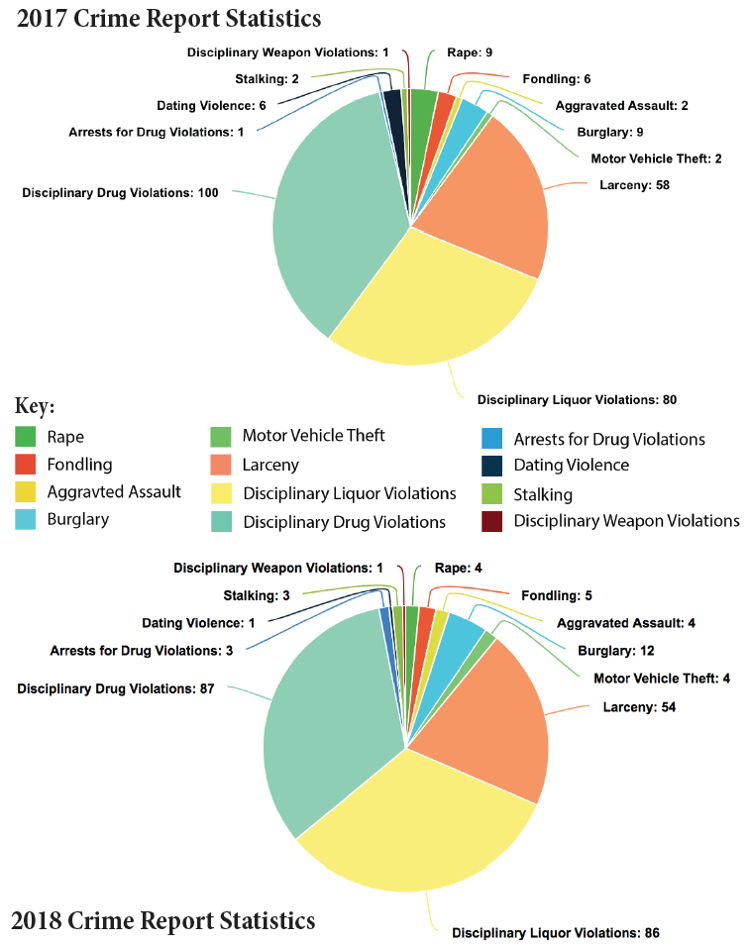 Among the findings were 86 liquor law violations reported in 2018, which is 25 less than 2016 and six more than 2017. No one was arrested for any of these violations.
However, for drug law violations there were 87 violations with three arrests in 2018, 100 violations with two arrests (one on campus and one non-campus) in 2017 compared to one arrest in 2016 for 145 violations. 
For larceny, there were 56 reported cases in 2018. This was roughly the same compared to the 58 larceny violations that occurred in 2017 and 60 in 2016. 
Burglary statistics for 2018 show 12 reported cases, nine cases in 2017 and 17 from 2016. 
In 2018 there were four reported cases of vehicle theft, all of them being golf carts, but all of the stolen vehicles were returned.
In 2018, there were nine registered forcible sex offenses, 15 in 2017 and 11 in 2016. 
No cases of domestic violence, incest or statutory rape were reported in 2018, 2017 or 2016. 
Although there was one case of dating violence in 2018, there were six in 2017 and two in 2016. 
Five cases of aggravated assault took place in 2018, two in 2017 and one in 2016.
Compared to the main campus, no crimes were reported from the Eckerd London Campus in 2018, 2017 or 2016 for any listing.
In the third appendix for fire statistics, there was one instance reported in 2018. The cause of the incident was a trash can fire which caused no injuries and $0 in damages.