Around 10 p.m. on Sept. 10, clad in a gold robe and unitard, Lizzo snatched a microphone and belted her opening number to a sold-out Yuengling Center Arena in Tampa, Fla. on her "I Love You Too" tour.
Starting off the night with "Heaven Help Me," a sassy three minute anthem declaring the only person you need to love is yourself, Lizzo's vocals filled the arena and energized the crowd. The 31-year-old singer blends elements of R&B, rap, pop and soul with messages to radiate confidence, self-love and body positivity. 
Lizzo's "I Love You Too" tour attracted a diverse group of fans dressed from full sparkled attire to those with swaying green ponytails, but all showed off their self-love and confidence. 
Fans roared and exclaimed their appreciation and devotion while Lizzo flawlessly transitioned to her next track, "Worship." Lizzo twerked and powerhoused through up-tempo songs allowing her to land on the slower, well-deserved ballad, "Jerome." 
An incredible sense of community drifted through the arena as Lizzo crooned soulful high notes about a past lover who wasn't mature enough for her. We swayed in solidarity as Lizzo sat on a stool in the center of the bright lit stage, instructing the audience to shine their flashlights on her. This fandom is unique. I felt like I belonged to a bigger community advocating for the betterment of oneself instead of the betterment of the artist.  
Lizzo's relationship with her fans is unlike any other I've witnessed. She kept the audience engaged in the show not only by singing her chart-topping hits, but by telling them she wants them to be happy because she believes her fans are truly incredible. Lizzo is different than other famous people, she is reachable. She doesn't view herself as different because she isn't. She is human like her fans and the reason she named the tour "Cuz I Love You Too" is because she loves her fans the same way they love her. Lizzo prefaced the song "Soulmate" by instructing the audience to turn to the person next to them and say "I'm the one," before she delved into her clever hit about being your own soulmate.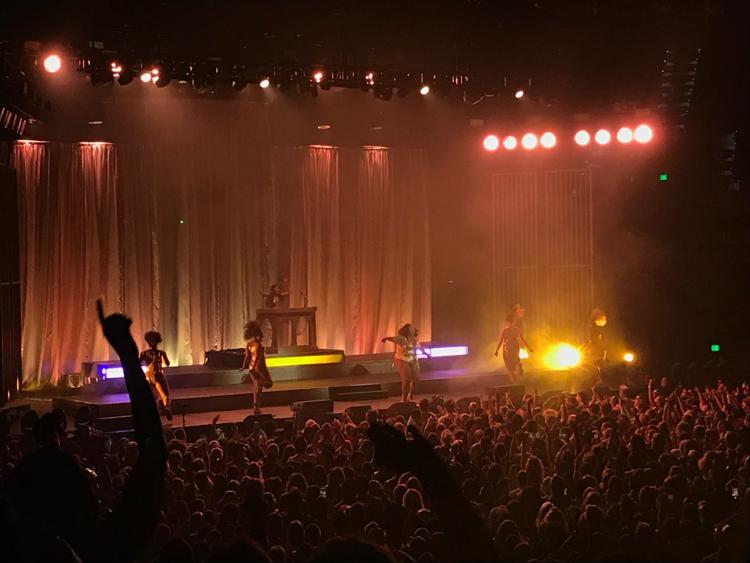 The beat drop signaled Lizzo's final act. The audience erupted into collective screaming that permeated the venue when Lizzo turned around wearing a wedding veil to sing her number one hit "Truth Hurts."
The crowd chanted Lizzo's name eagerly awaiting her return for an encore. She listened. "Be your own superstar in your story of self-love," she said before closing the show with "Juice" a body positive anthem off her debut 2016 EP "Coconut Oil."