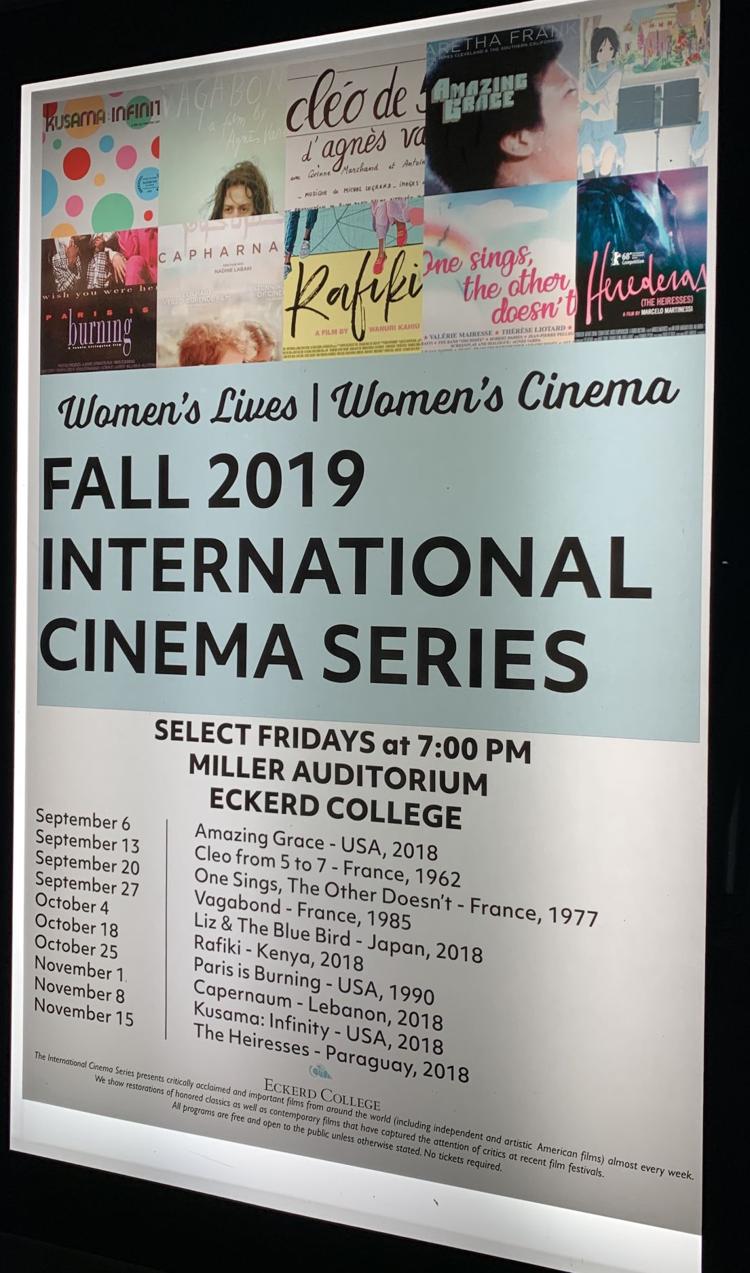 Every Friday at 7 p.m at Eckerd's Dan and Mary Miller Auditorium, the International Cinema Series brings a variety of films to campus from all around the world to give students and the public the opportunity to experience important works that they might not otherwise get the chance to see.
Peter Kunze, visiting assistant professor of film studies, is currently running the International Cinema Series. He aims to bring international, especially arthouse films, to Eckerd to boost the arts community in St. Petersburg and the campus. Arthouse is a term that refers to films that are stylistically and narratively challenging, inventive and innovative.
"[These films] often play for a very short period of time, and often off the radar, because they're not heavily promoted. So it's an opportunity to showcase what we think are really interesting and important works taking place around the world," Kunze said.
The International Cinema Series tries not to show movies that were blockbuster or mainstream successes, but rather things that did well at film festivals and have won awards and might deserve more attention, yet still was swept under the rug.
To help narrow down what types of films would be shown each semester, Kunze came up with the idea to have a focused theme. This semester's focus, courtesy of Associate Professor of Film Studies Christina Petersen, is based off women's film and is titled "Women's Lives, Women's Cinema."
"It can be films by women, it can be films about women, it can be films for women," Kunze said. "Sometimes women were directing or writing the screenplay, or the movies about their lives. So it's very important to have a very broad understanding and definition because film is a collaborative art form."
The movies chosen this semester represent a wide variety of women. There will be films about mothers, daughters, best friends, heterosexual and queer couples and transgender women, and they span across a multitude of genres and art forms.
"The point is trying to get as broad, as inclusive and as diverse a series of films as we can have," Kunze said. "We're always trying to mix up what we're showing, and there really is something for everyone, I think, in this series."
Having access to these films is important to creating a well rounded liberal arts education. According to Kunze, the point of a liberal arts education is to challenge and introduce ideas, learn about social justice and to become a more ethical, moral and intellectual individual.
"Part of it is seeing how other countries are both engaging with a lot of the same ideas, are engaging with a lot of the same cinematic techniques, but are also pushing it in a new direction and in new ways," Kunze said. "So for students [it's] an opportunity to not only broaden their horizons, but perhaps to reevaluate their own understanding of the world around them."
Koen Varley, a junior majoring in philosophy and film studies, helped coordinate the International Cinema Series for Fall 2019, alongside Kunze and junior, *Kendall Bullock.
Varley and Bullock got involved when they ran a French Film Festival on campus last spring with the help of Assistant Professor of French Kathryn Bastin. While they enjoyed organizing the festival, Varley said they did not want to compete with the International Cinema Series.
"Kendall and I decided to reach out to Professor Petersen and see if there was any way we could contribute to the ICS. In the end we got the privilege to work with the amazing Professor Kunze on this semester's ICS, and so far we've been having a blast being student programmers," Varley said.
Having the opportunity to view a wide range of films of varying genres and themes is something that boosts students' perspectives on the world around them, enhancing their studies and giving them a chance to become more well-rounded individuals.
"Being global citizens, Eckerd students ought to try understand cultures from near and far, and viewing foreign cinema is an excellent way to explore ways of thinking and acting different from what our everyday norms prescribe," Varley said.
According to Varley, this semester's theme of women is cinema has integrated well into Kunze's "Film & Identity: Feminism" class. On top of that, he believes it is important to emphasize the female perspective in both cinema and life.
One of the films, shown on Sept. 27, was "Vagabond" by Agnès Varda, which won the Golden Lion at 1985 Venice Film Festival. The French film surrounds the discovery of a disfigured woman's body while the events leading to her death are explored in a way that blurs the line between fiction and documentary.
On Oct. 18 the International Cinema Series will be showing, "Rafiki," a Kenyan film directed by Wanuri Kahiu. This film was originally banned in Kenya because it shows a romance between two women, taking a look at queer politics in Kenya. The film won top prize at multiple queer film festivals around the world.
For more information on the International Cinema Series, and to see upcoming films, visit their website or find them on Facebook.
*Junior Kendall Bullock is also the assistant multimedia editor with The Current.