Eckerd opened in 1958 preaching diversity and inclusion, but four years later, the campus saw protest.
In 1962, all but two professors submitted their resignation letters. According to the Eckerd website, they demanded their school admit its first black student: Howard Kennedy. Eckerd, then Florida Presbyterian College, agreed. But today, students and faculty admit we still struggle with inclusion.
The Current investigated our school's past and present to gauge an uncertain future of diversity and inclusion.
A history of protest
The 1962 professor walkout was the first of three major protests at Eckerd. In 1970, 23 students left campus to protest a lack of black studies programs.
One year later, members of the Afro-American Society held sit-ins at Brown Hall to spread awareness of what they claimed was institutional racism in the Eckerd administration.
Both events were covered by two former Eckerd student newspapers MAD and The Thimblerig, respectively.
The May 5, 1970 issue of MAD was denser than others that week. It included letters from students and letters from faculty regarding the protests.
The Black Studies Committee, whose suggestions resulted in the protest, were laid out along with an explanation of their stance.
"The black culture has long been neglected in education; for this reason both white and black students are not aware of racial problems; black contributions to white society and black culture as a whole. However, since the majority of FPC [Eckerd] are white, any [black studies] program should be directed primarily toward the white student," the committee said in its 1970 statement.
Their suggestions said Eckerd should expand on black studies in core courses, include more issues regarding African Americans and sub-Saharan African in their individual departments, consider starting a black studies major and hire an African American professor with a background in black studies.
According to MAD, Eckerd held a meeting outside of the cafeteria with faculty, students and administration one week after the protest to discuss what happened.
Eckerd's student newspaper archives did not have the next issue of MAD to provide a follow up, but they did have the Nov. 22, 1971 issue of MAD's successor, The Thimblerig, which discussed a similar protest that occurred the following year.
According to The Thimblerig, Eckerd's Afro-American Society again held sit-ins outside of Brown Hall to protest institutional racism, and to also demand the school fire faculty member Blair Caldwell for a racist action they claimed to have witnessed.
The front-page article states that 70 students spent the night outside of Brown. The next morning, administration officials threatened to call the police and over 200 students gathered to protect the black protesters.
The administration decided to negotiate and did not call the police. Several issues of The Thimblerig followed the negotiations.
Talks between the administration and the Afro-American society lasted from late November to early December, and according to the Dec. 9, 1971 issue, they agreed to continue building a black studies program, admit black students and hire black faculty.
The administration refused to fire Caldwell, but agreed to demote him. Throughout Eckerd's first two decades, there was racial turmoil. Faculty protested to demand desegregation, and black students protested systemic racism.
Today, our school still does not have a black studies program, and according to a racial breakdown provided by Eckerd Research Analyst Chelsea Creaturo, our school is 77% white, as of fall 2019.
Eckerd's current diversity breakdown shows a racial gap, but Morgan Harthorne, coordinator of Eckerd's diversity and inclusion programs, said our issues with inclusion are more complex than the numbers. First, we need to change our culture.
An unprepared present
Numbers show that Eckerd is not racially diverse, but Harthorne said that diversifying the school is not the core solution to that problem.
"[Eckerd] could round up all the black people in the US and bring them to Eckerd and enroll them here. The reality is the campus is not ready," Harthorne said.
But based on the protests of the '60s and '70s, Eckerd seemed like it was once ready for change.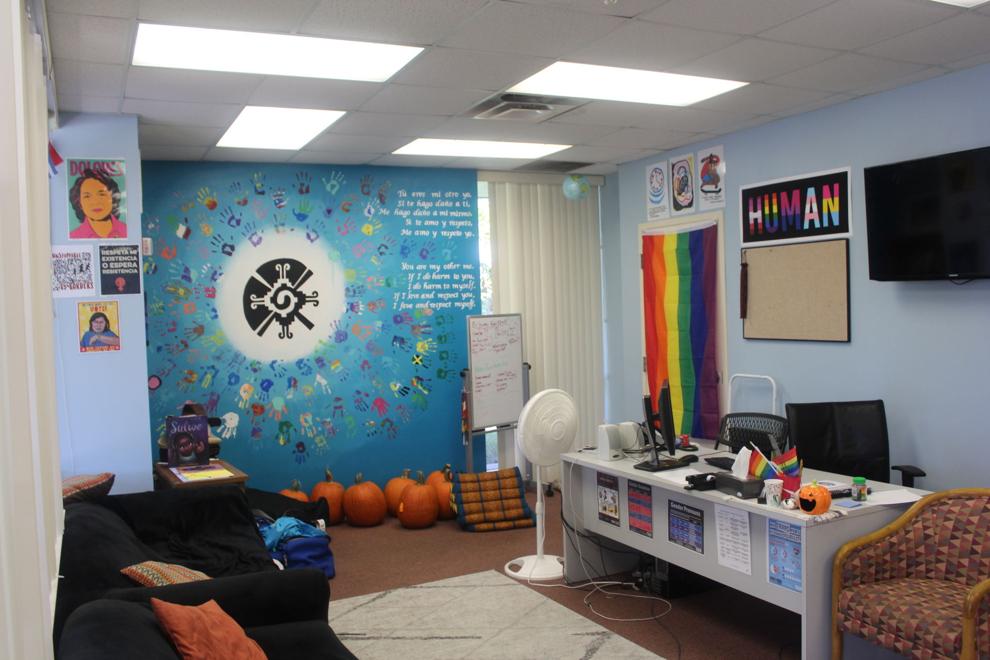 The President and Vice President of the Afro-American Society (AAS) Isha Joseph and Joelle Clayborne, explained what has changed, and why protests have become rare.
"We [AAS] don't necessarily take that approach anymore," Clayborne said. "We'll go to Eastman, we'll go to Dean Annarelli, we'll go to those people behind closed doors and ask them to make changes, or we'll just make the changes ourselves."
Joseph and Clayborne agreed that protest is still an option, but that advocacy is their preferred method to provoke change.
The two also agreed that, for many Eckerd students, change is only argued for what they choose to care about. Since black and minority issues do not affect them, they remain silent.
Both students listed first and second-hand stories of racism on campus. Students using hate speech and being generally ignorant toward minority is- sues is commonplace at Eckerd, according to Clayborne and Joseph. This hate, combined with a lack of racial diversity, create disparities in student life and breeds intolerance.
This year the Day of the Dead altar created by Latinos Unidos outside of the Pub was defaced.
Harthorne said the act of hate was one of many she had heard about since coming to Eckerd in February 2019. These acts of hate combined with scarce cultural resources make some students feel isolated.
"I feel like it's hard to find a place where I can really fit in," Cedrica Jackson,* an employee at the Office of Diversity and Inclusion said. "Like yeah, I have the office but I don't feel like it's fair that I have one out of all the other things that I can do on this campus."
There is still no official black studies program, but Harthorne continues to work with the admission counselors, administration and college staff to encourage a culture of inclusion.
A hopeful future
Along with Harthorne's initiatives, Robbyn Hopewell, director of media and public relations, told The Current about the Diversity Action Council's recent work.
"The Diversity Action Council has selected groups of students for focus groups,
so that we can use that data to formulate a climate survey for the campus," Hopewell said. "Once that's completed, then we'll have a better understanding of where we are culturally as a campus, and we'll be able to move forward from there and implement programs."
The plan falls in line with Harthorne's belief that gauging campus culture is an important step toward inclusion.
"It's less about the numbers. I think once we can change the culture, to be more inclusive and to be understanding and critical about the conversations that we have, I think students of color will come," Harthorne said.
Another important factor for the future of inclusion is Eckerd's new president.
On Nov. 18, 2019, Chair of the Board of Trustees, announced Damian Fernandez will be the fifth president of Eckerd.
Fernandez worked to encourage diversity as a chancellor at Pennsylvania State University, Abington College, and has a background in international relations and Latin American studies, according to his biography for Penn State.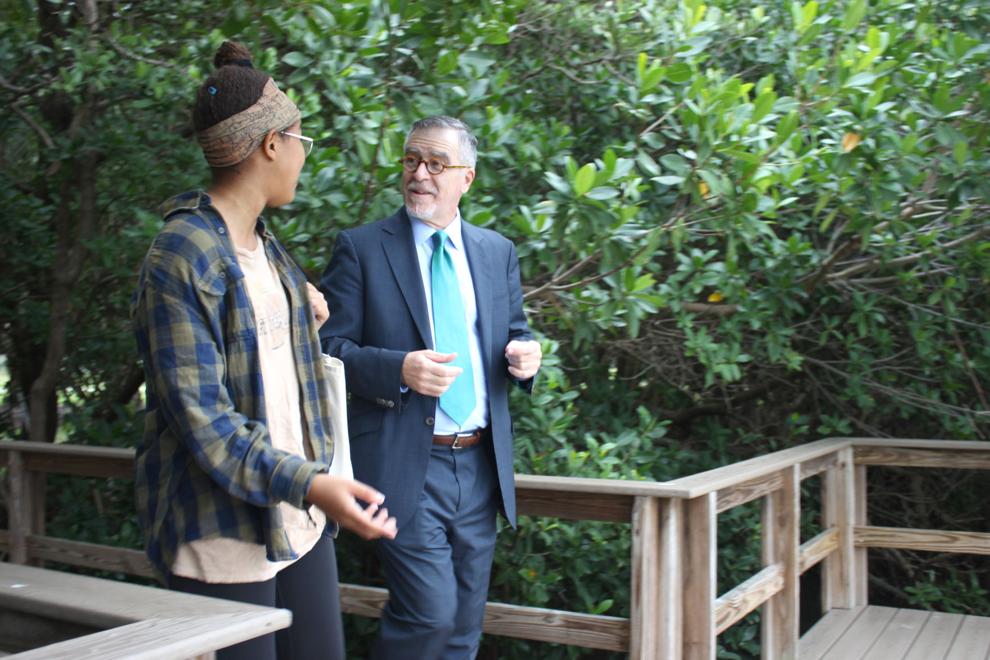 The new president represents a new era. Clayborne and Joseph both believe that Eckerd is a special place and has the opportunity to become inclusive in the future, but that we, led by Fernandez, have work to do.
"I think the goals that Eckerd has are noble and I think that they are practical and I think they're being met... for most students," Joseph said. "But without that full diversity of thought, without that full spectrum of ideas, without that full spectrum of backgrounds, we are really missing out on some critical opportunities to challenge what people think. To challenge what they believe and to challenge the stereotypes."
While Eckerd presents itself as a welcoming community to all, the administration, faculty and students agree there is more work to be done, and the AAS and Office of Diversity and Inclusion continue to advocate for demands made half a century ago.
*Cedrica Jackson formerly worked as a member of The Current's PR team.