Fire by Night is a non-denominational Christian club at Eckerd. The Fire by Night Club is one of the few religious clubs on campus. Although it has a religious base, anyone is welcome to attend any of their events on campus. 
"It was so refreshing because I didn't think there were this many Christians on campus," first-year club member Sydney Rebro said. "It just felt like a community."
The Fire by Night club is led by co-presidents and juniors Harrison Barnett and Jared Stephens. Over the past year they have developed their club's goals and even developed a mission statement. 
"To help students encounter Jesus in a real way," Barnett said.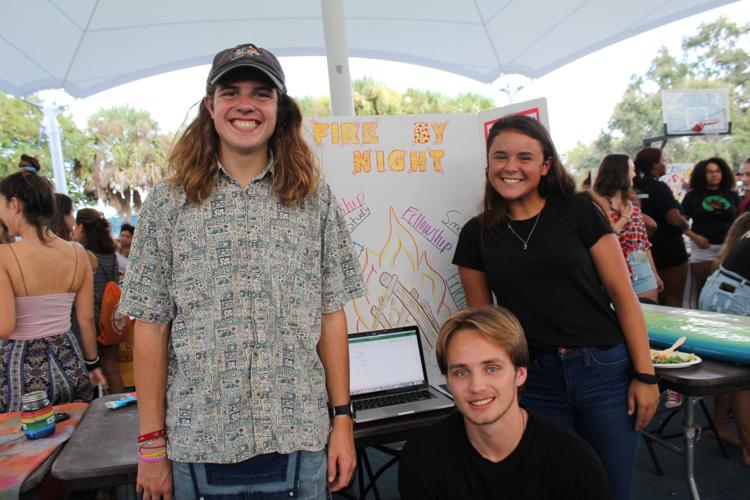 The Eckerd Christian community is small on campus, but the number of students in attendance of the Fire by Night events proves it is here. One of the main purposes of the club is to connect people with similar interests and to support each of the members in all their endeavors. That includes supporting them as they change their major, take a difficult test or even with the struggles that arise being a Christian in the world today.
"You're gonna have to be bold about your faith here. And that's why we have that community," Barnett said.
This faith-based club hosts weekly events on campus every Tuesday night at 8:00 p.m. There is a Bible study that occurs bi-weekly outside of Starbucks and a bi-weekly worship meeting that occurs on Tuesdays.
Barnett and Stephens are currently leading the club through the book of James during Bible study. Barnett and Stephens start the session with the reading and then the group gets a chance to reflect on its meaning silently before sharing their thoughts with the larger group. The worship meetings consists of a small praise team leading praise and worship, a message or testimony and a bonfire with smores for all attendees. 
"I think it's really cool that we have worship on campus that works," first-year member Isabel Moyer said. "It's not like a weekend morning or during classes, so it's really awesome to be able to fit into the schedule."
The club schedule, along with meeting locations, is sent through email to Eckerd students and can be found on posters around campus.