Flamingo Resort and Entertainment Complex hosted a Farewell Party on July 28, before it permanently closed on July 31 with plans for the property to be redeveloped into an apartment complex.
Flamingo was a destination hub for Eckerd students, especially on Thursday nights during the resort's designated "College Nights." 
An eclectic spot, Flamingo hosted a pool in the middle of the resort area, an outside stage where Eckerd DJs performed and a dance floor and bar inside the main entrance.
Flamingo was also a hotspot for LGBTQ culture. The resort hosted The Tampa Bay drag show that former Eckerd student, Kirkland Mawae won. 
Assistant Professor of Music Brian Jones teaches the course "Art and Culture of the DJ." For the course, students are required to attend at least one live DJ performance. Flamingo was a popular pick for students to visit because it allowed patrons 18 years of age and over in on college nights, while other local venues have strict 21 and up policies.
Jones believed that Flamingo was important to Eckerd because it provided a special space for students that they might not have been able to find in other venues.
"It led to a sense of community with the kind of music and the one night, allowed for an intimate community," Jones said.
In addition to attending, Eckerd students also have a history of DJing during the college nights, including 2019 Eckerd alumnus Trigg Hurley.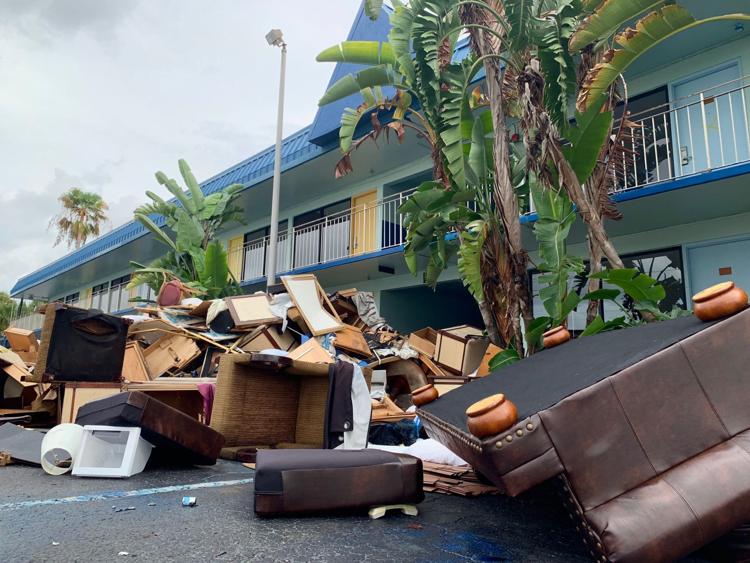 What used to be an overflowing parking lot, is now strewn with boxes, old furniture and trash that once decorated the resort's rooms. The parking lots are barren except for moving trucks and portable restrooms. A giant sign displaying the upcoming apartment development is stuck below the notorious blue "Flamingo" sign in front of the resort that previewed its events. The palm trees in the middle of the parking lot are still decorated with lights.
Although first-years will not get to experience the same Flamingo Resort that alumni and returning students have, the owners are interested in moving the Flamingo to another location, according to Watermark, a Florida-based media company that focuses on LGBTQ coverage. The new location has not been disclosed, nor when it would take place.
Flamingo was known for being a social outing that provided students from all years a chance to interact with each other off campus, however it did not reach every student's interest. Some students prefer to stay away from activities that take place at a bar or club. According to ECOS President Bailey Cross, ECOS and Palmetto Productions will try to make a more inclusive alternative such as game night at the Pub, therefore students with all personality types feel included and welcome.
Sophomore Lindsay Schweizer is sad to say goodbye to Flamingo. She attended the college nights a few times a semester, and thought it was a great social outing because she could experience St. Petersburg nightlife for cheaper than downtown offers, and she was allowed to get in even though she was under 21. When asked what she would say to Flamingo as a goodbye, she gave credit to all the workers who ran college night and thanked the resort for all the memories.
"It was great, everyone let loose. It really was great because you got to see everyone from school just in a different environment and a different location," Schweizer said.
Although Eckerd students won't be able to experience quite the time they used to have on Thursday nights: walking through McDonald's drive-thru, waiting in a rideshare queue or walking home, much appreciation is given to the resort and the staff that put together college nights.