Commonly referred to as the future of pop by Pitchfork, Vanity Fair and herself, Charlotte Aitchison, better known as Charli XCX charmed a sold out Buckhead Theatre in Atlanta, Georgia at 8 p.m. on Sept. 20. She played a setlist of nineteen songs, including all of the tracks off her third studio album, "Charli," and a few popular singles.
6:41 a.m.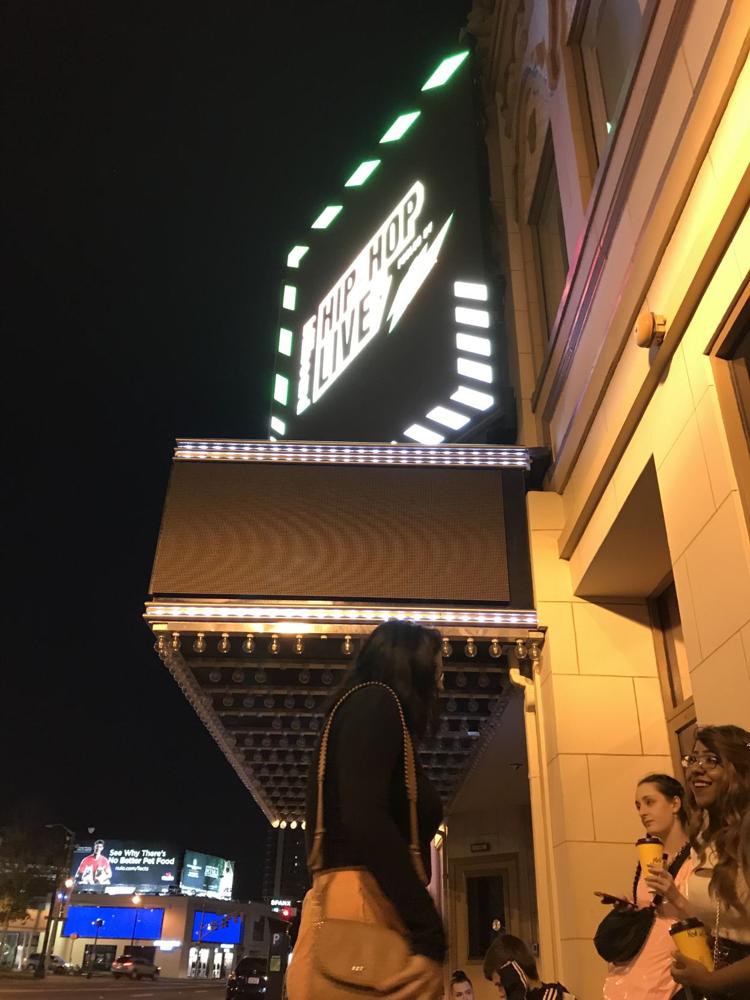 The sun hadn't risen yet. It was 60 degrees and dressed in tights, platforms and bright eye shadow, Angels (her fans) were camped out in blankets and lawn chairs with bracelet making kits to pass the time as comfortably as they could. The day before, Charli XCX announced on Instagram and Twitter that the first 50 angels in line would have the opportunity to meet her. The first fans arrived at 5 a.m. I joined the queue at 6:41 a.m. marking my spot as twelfth.
10:41 a.m.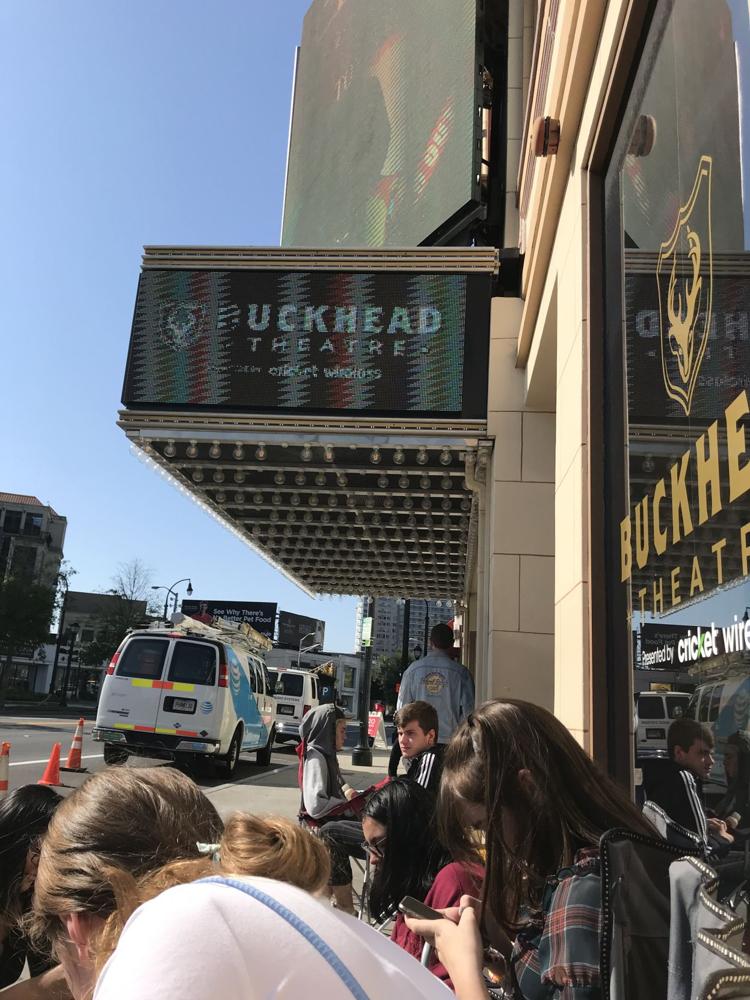 Angels are incomparable to other fans, they held my spot in the line while I went to eat and stepped out of line to use the bathroom. Any other fandom would've stolen the spot and lied to security that they were there since 4 a.m. Two people even told me I was actually in front of them and deserved the spot closer to the stage. 
4:11 p.m.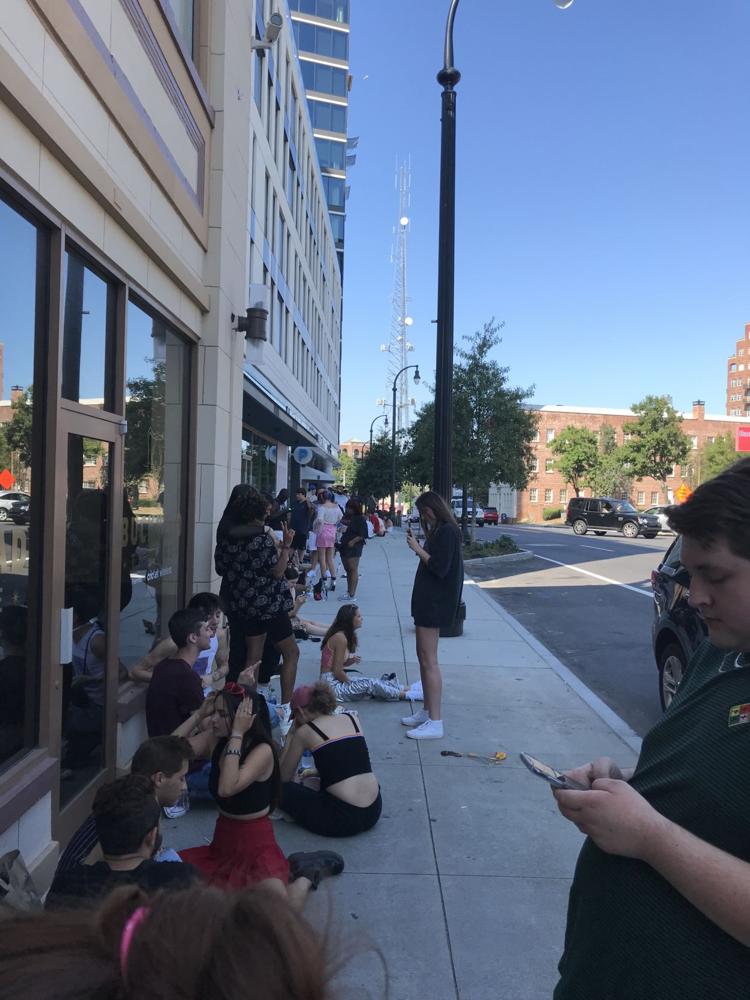 A Buckhead Theatre worker distributed gold wristbands to the 50 lucky angels. We bounced in excitement as he wrapped the band around our wrists one by one. As he got closer to the 50th guest, fans behind me started holding their breath, hoping they would be so lucky to meet Charli.
6 p.m.
The selected 50 were ushered into the lobby of the theatre where we were instructed that we could not have Charli autograph anything, nor could we give our gifts directly to her. Both of which we did because Charli's management was okay with it. We each got about thirty seconds to hug and talk with Charli while her photographer, Henry Redcliffe took several photos. We were allowed to purchase merch immediately after the meet and greet. 
6:51 p.m.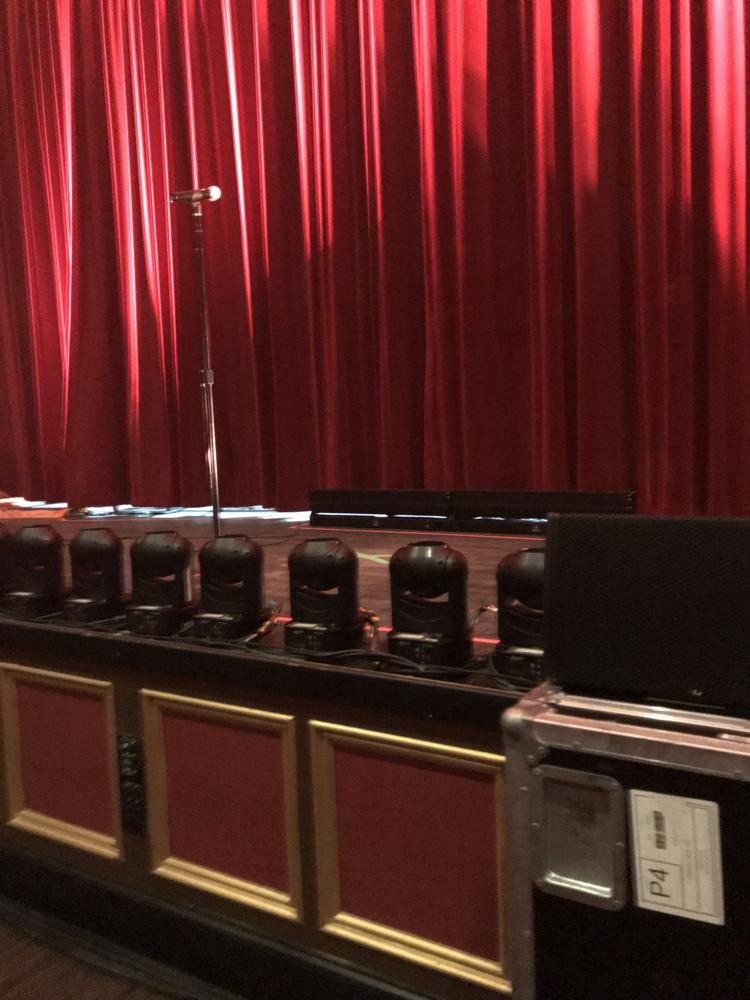 After all 50 of us met Charli, we lined up in group single file. We were instructed to walk, but we power walked on the breach of running when the bouncer opened the cedar wood double doors hiding a dimly lit stage shielded by maroon curtains. I landed directly in front of the right side speaker smashed up against the barricade, and I couldn't have been happier with placement. 
9 p.m.
Curtains rolled back, displaying a set comprised of several stage lights and a diamond shaped centerpiece.
"Tonight is gonna be the best night of your lives. Trust me. So get ready to rave, get ready to party and get ready to roll with your number one angel. The motherf*****g savior of pop music, Charli XCX," a recording of Charli played to the audience. "I'm gonna take you to heaven, I'm gonna take you to the next level." 
Charli continued to thank all of her features on the album before the music launched into the first track on the album, "Next Level Charli." Charli strutted on stage with dip-dyed red extensions, orange and black camo pants, a black unitard with flowy sleeves and sunglasses. She raised her hands to gather the collective screaming of some 2,000 fans in attendance.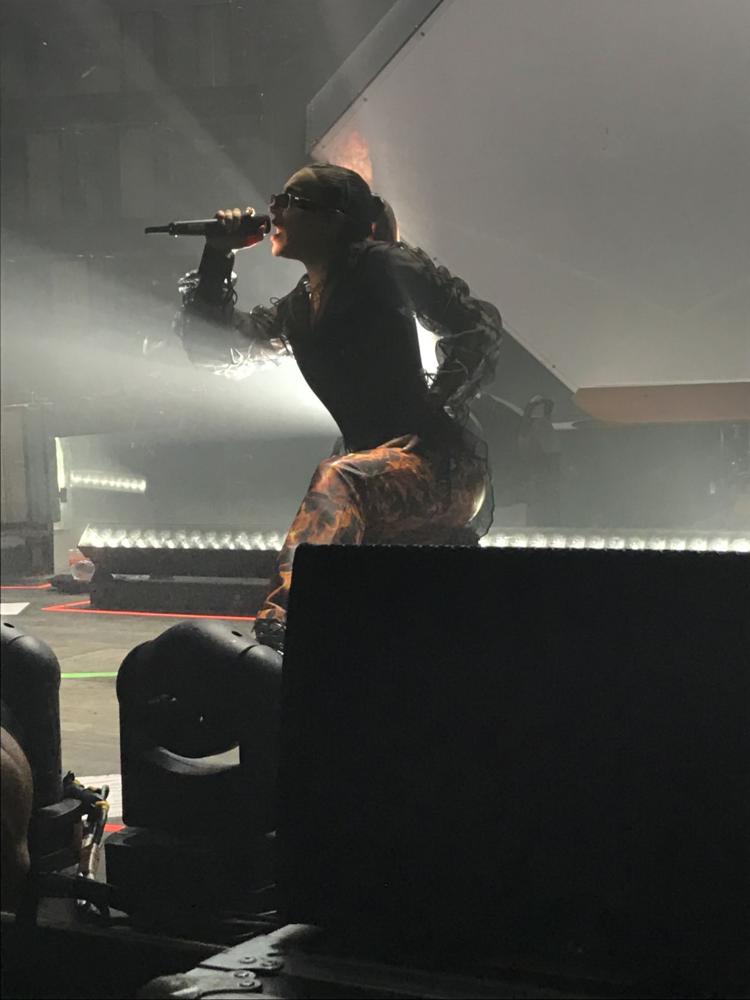 She jumped to signal her start of the show, transferring all of her endless energy to the audience who had waited all day for this exact moment. As soon as Charli started jumping, we knew we wouldn't stop the entirety of the show. 
Charli danced as if her body was synced to the sound system. She popped and enunciated each word, captivating the audience with each punctuated progression of her powerful lyrics.
Charli moved into several upbeat tracks that required only the most energetic of dancing and screaming: Click, Vroom Vroom and Gone. Once the initial notes of this song reverberated through the audience, we lost it. Elbows were flying, people wearing glasses were in the danger zone and those close to the front were smashed against the cold metal barricade. 
Sweat lingered throughout the room, but it didn't matter to us. We were all there for the same reason, to appreciate Charli as a family. We didn't know each other, we probably would never see each other again, but we wanted to spend an hour and a half of our lives to take a break from the harsh requirements and just rave. 
Charli transitioned to her slower songs. She forgot the lyrics of her track, "Thoughts," for a brief moment, but that only made the crowd erupt into more screaming. She said, "first show, come on," angels cheered her on and continued to sing the lyrics while she explained what happened.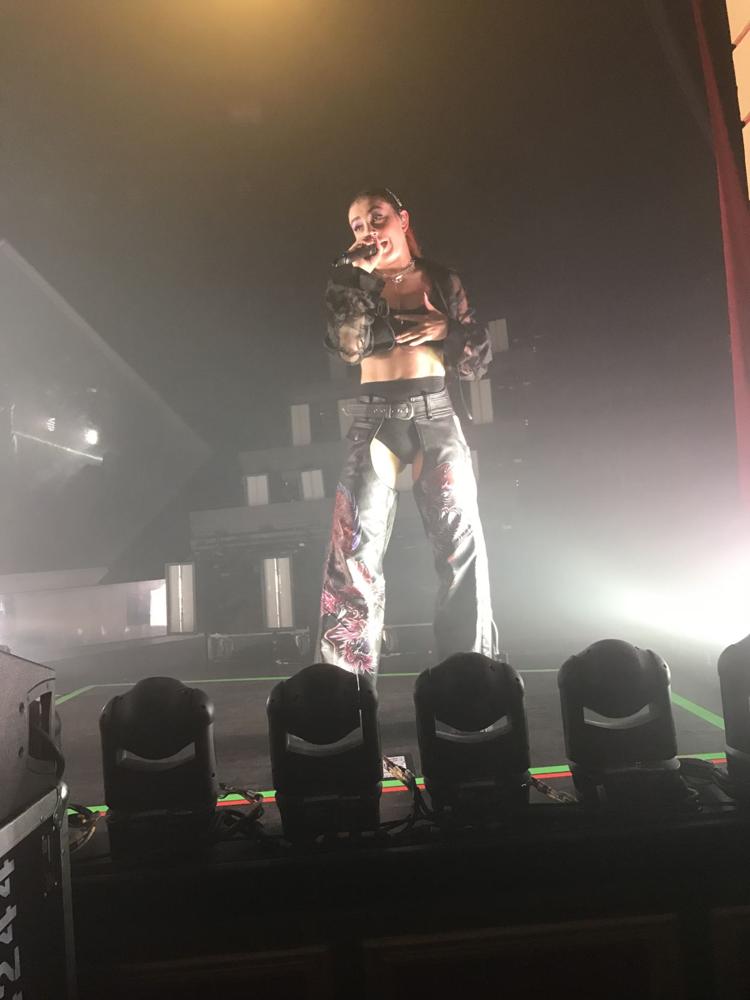 The lighting alternated between strobe lights, fluorescents and purple hues, while she stole the audience away with her high hitting, powerful notes and euphoric excitement. The collective audience merged into one large mega fan screaming the words of each Charli song as she powerhoused through every note sounding even better than she does on her records, which I did not think was possible.
For Charli's song "Shake It," she opened up an audition process on social media. She said she would pick four angels who commented on her post to come up on stage and "shake it" with her. 
She picked four separate groups, seven people in total, who had the opportunity to dance to the featured verses by Big Freedia, CupcakKe, Pabllo Vittar and Brooke Candy. A drag queen in a neon pink, purple and blue wig and a matching fur coat spun into a 360 split while Big Freedia sang the lyrics, "Shake it like a dog, I don't shake it like that." The crowd shouted as she hit the floor, encouraging the next six guests to come on the stage and party with Charli. 
Charli closed the show with "2099," a sequel to her 2017 single with Troye Sivan, "1999." The vibe served to calm the crowd down with a futuristic, chill vibe to soothe the nerves of exhilarated fans. Charli slayed her final performance, said bye to the fans and quickly ran off stage. 
The chants for encores soon begun. She performed "I Love It" the first of three encores."It's the f*****g hits medley baby," Charli said during her penultimate performance of "Boys."
Before her final song she took a moment to address her past insecurities about her musical journey 
 "This whole thing, I don't know. I just feel like over the past two years, we've really found each other. I feel this connection with my fans," Charli said before jumping into her final song, "1999." 
Angels invested their whole hearts for the last song. They were running out of breath and liveliness, but not determination. They didn't want Charli to see them run out of vigor because they didn't want her to leave.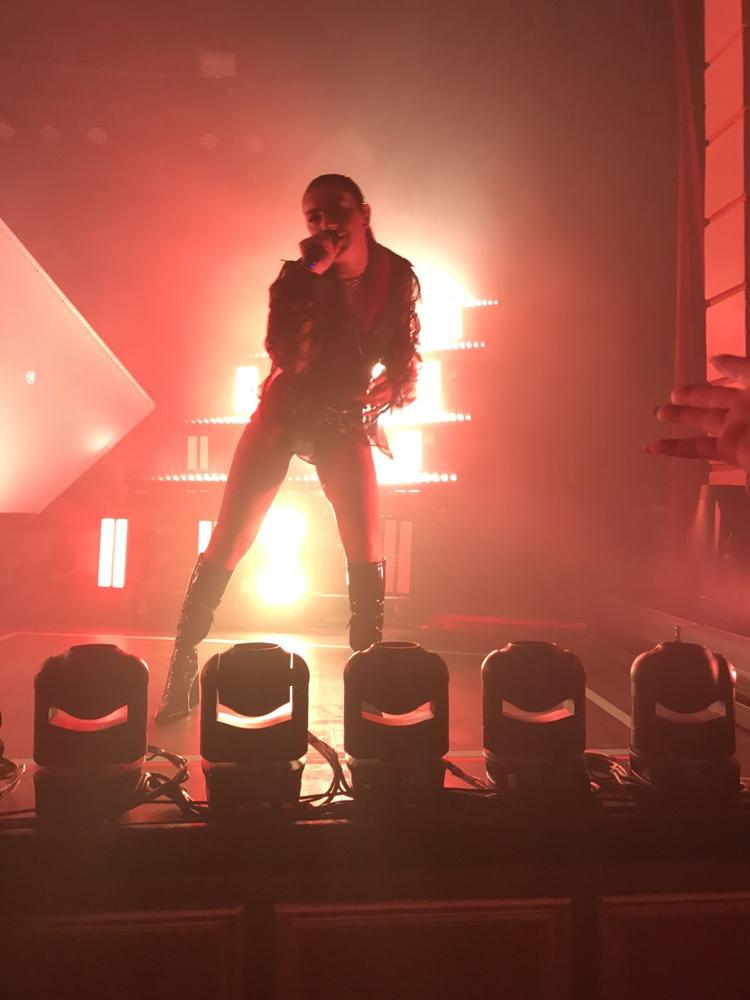 As soon as she sang the last word, Angels screamed, "No." Charli extended her arm to the roof and said, "I f*****g love you Atlanta." She scurried off stage and the stage lights flicked on while us Angels remained in the remembrance of what we experienced. The workers laughed at us, wondering when we would leave, but we didn't budge. We stayed in our spots for five minutes before we finally accepted the show was over.